Wednesday, November 25, 2020 2:21 PM
Godspeed good and faithful Sailor...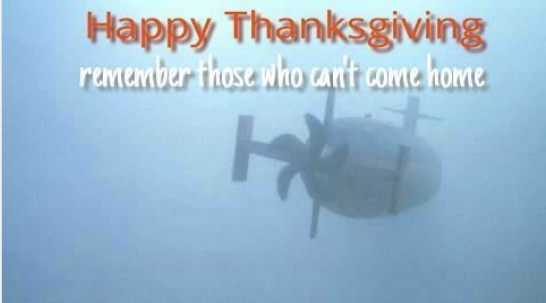 Been there, done that...
Those preparing our meals for these occasions put a wondeful meal on the table... yet something remains missing. Each ship, when sitting down says grace and a prayer recalling the importance of their duty far from home and family.
We have our submarines on watch the world around and some are in places you wouldn't know were places.
Godspeed, good and faithful sailor...
---
Wednesday, November 25, 2020 5:58 AM
2021 Legislative Session Delayed to Springtime
The Legislature's leadership has delayed the convening of the 2021 Legislature. There will be a one day session in January to conduct a small amount of Constitutionally required business. Then, probably in April or May on a date to be determined, the two month long General Session will convene.
---
Thursday, November 19, 2020 3:59 PM
Toys for Tots is even more important these days.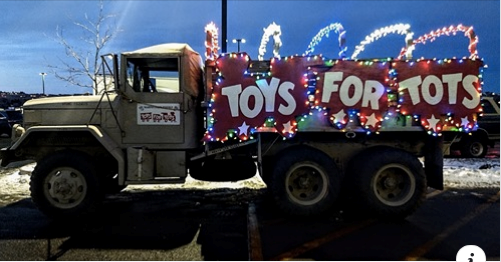 This program is even more important in this world of Covid-19. Keep them in mind as you donate.
---
Thursday, October 29, 2020 9:04 PM
roscoe completely misrepresents my position on Multiple Use of Public Lands
I stand Four Square behind our current system as published by AMPL (Advocates for Multiple USe of Public Lands).
In a mailing delivered Thursday, jim roscoe doesn't even know who his opponent is... Just Plain Wrong about my position on Multiple Use of Public Lands. Here is a shot of his mailer. Along the way he also says he was a 30 year republican... Yet he doesn't tell you he was a democrat when he was in the House circa 2008-2012...

Apparently he pulled up a mailing from his last campaign and sent it out without even reading it over. He gave no thought to my position on Public Lands. I made my position on Multiple Use of Public Lands emphatically clear in Wednesday's Star Valley Independent forum in Afton.
My position is that our current system of Multiple Use of Public Lands is key to today's Wyoming: ranching, minerals, hunting, fishing and other recreational uses. I stated Wednesday evening that I stand Four Square behind our current system as published by AMPL (Advocates for Multiple Use of Public Lands).
---
Wednesday, October 28, 2020 11:06 AM
AMPL - Multiple Use of Public Lands
I stand strongly for Multiple Use of Public Lands.
For the coming General Session, I am very concerned that, given the heavy emphasis on budgets, Multiple Use of Public Lands could be forgotten in the rush. This would then expose these lands to a low level run on the access of the public to them. I will keep my eye out for such a run and will ensure people will know of it and in turn I will work hard to prevent any limits on public access and useage of public lands.
I have spoken with Amy Edmonds, the Executive Director of AMPL and fully understand where AMPL stands on this. I strongly support the goals and missions of AMPL.
Bill Winney
---
Saturday, October 24, 2020 6:25 PM
Bill Winney Rated Education Friendly by the PAC-E.
The Wyoming Education Association PAC-E did not endorse a HD-22 candidate.
---
Thursday, October 22, 2020 6:36 AM
False conley newspaper ad
A man named bill conley has put up newspaper ads about me. Much of the information in it is false. At the top of my candidate page you'll find a video in which I rebut his false claims.
---
Thursday, October 15, 2020 4:45 AM
At the front door
---
Wednesday, October 14, 2020 4:36 AM
Etna Forum Posted
The Etna Forum from October 6th is now posted on this website, see the Etna Forum Tab. This forum went for a bit over 3 hours.
---
Friday, October 9, 2020 11:38 AM
Susan Riggs FB Post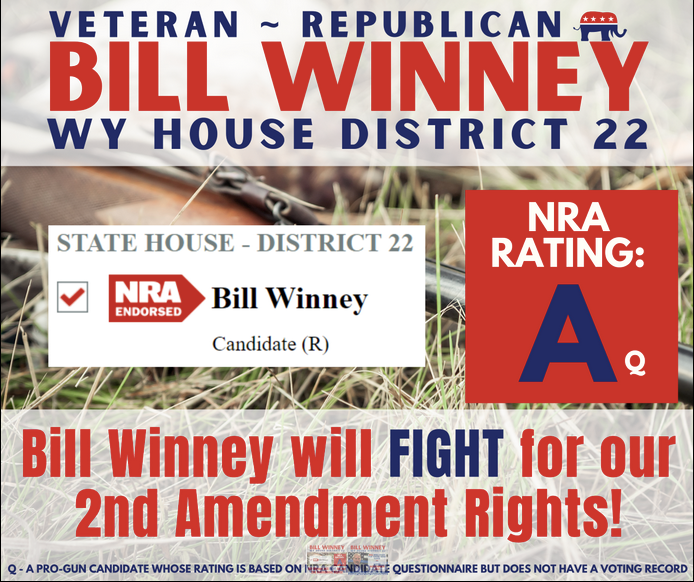 Susan Riggs
We would be lucky to have this fine storied man representing us. His background is rare and stellar. Commander of submarines. Stable family life without blemishes. He hasn't had to reinvent himself. He is a honest upright leader we can rely upon. If you value your guns. Respect morality. Admire honesty. Bill is your candidate. By the way he's been attending legislative sessions on his own $ and is very versed on the process.
---
Sunday, September 20, 2020 2:54 PM
Common Values PAC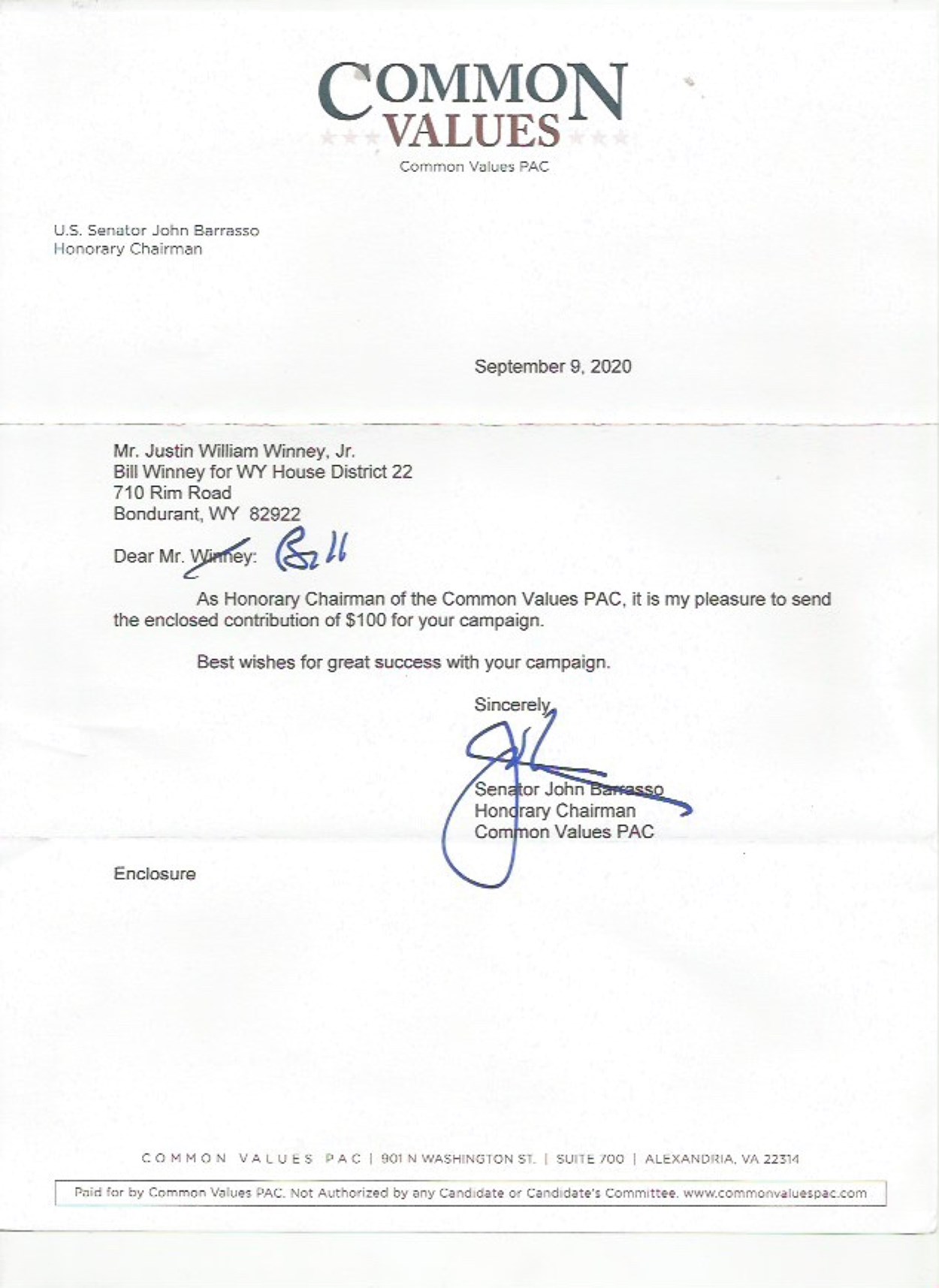 Received this donation from the Common Values PAC. Honorary Chair is Senator John Barrasso. Every little bit helps.
---
Friday, September 18, 2020 9:19 AM
Endorsed by Co Wy Petroleum Marketers Assn

The Wyoming Petroleum Marketers Association and Convenience Store Association (WPMA) endorses Bill Winney for House District 22. When considering a candidate for endorsement, WPMA takes into consideration many elements. Primarily, the candidate must demonstrate that they are prepared to take on the difficult task of crafting the laws of the state and implementing a budget that fits within the appropriate role of government and the Constitution.

Bill Winney has been observing and participating in the legislature for over twelve years in a voluntary capacity and has honed skills and knowledge uncommon of most candidates and even current legislators. He has been honored for his participation by the President of the Senate and Speaker of the House. The fact that Bill was responsible for budgets the size of Wyoming's while serving in the U.S. Navy in the Pentagon and as a nuclear submarine Captain, further reflects the training and experience "Captain" Winney represents. He will hit the ground running if elected.
---
Thursday, September 17, 2020 4:36 PM
Flag & General Officers Supporting President Trump
Here's a list of some 235 Flag & General Officers that are standing for President Trump.
---
Thursday, September 17, 2020 8:12 AM
Thin Blue Line - Black Rifle Coffee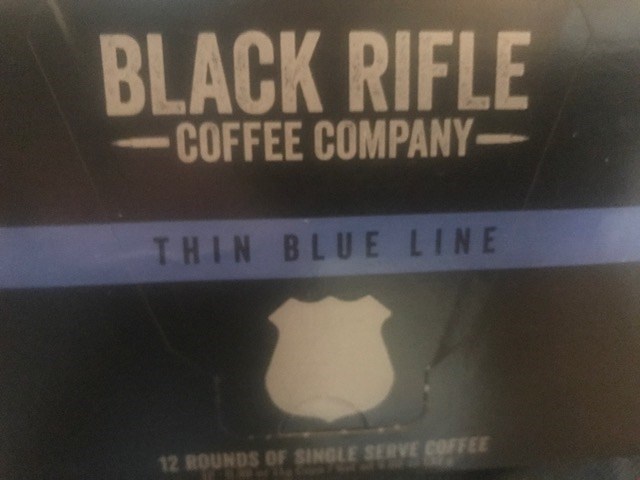 Found this at a store in Rock Springs... Been looking here in western Wyoming but haven't found it yet. The Thin Blue Line supporting Law Enforcement seemed quite appropriate. Go Black Rifle!
---
Monday, September 14, 2020 5:25 PM
Fuzzy Caterpillar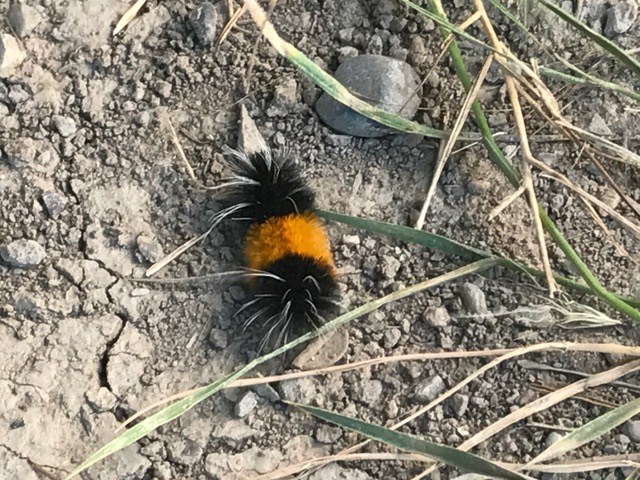 Saw this guy today. He was making a beeline for... not sure... but he was sure trucking along in a pretty straight line. It was as if he was heading right for the sun.
I'm taking bets... is he wooly enough to mean there's a really cold winter in the offing?
---
Monday, September 14, 2020 11:23 AM
Yellowstone Lake Sunrise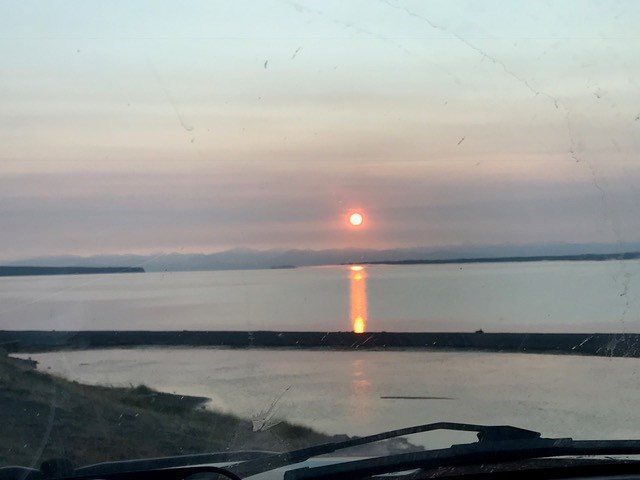 A truly beautiful sunrise over Yellowstone Lake Sunday morning.
---
Saturday, September 12, 2020 6:29 PM
Wilson Moose Munching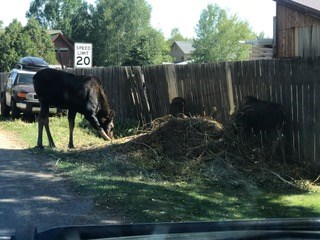 Only in Wyoming... I was out in Wilson this afternoon talking with people and putting up a few signs... Came across this Moose Mama and two calves... munching away on some brush cuttings for lunch. The calves are in the shade, center & righthand. The road traffic and bicycles didn't even phase them...
---
Friday, September 11, 2020 3:39 AM
To Those Who Run to the Danger... Godspeed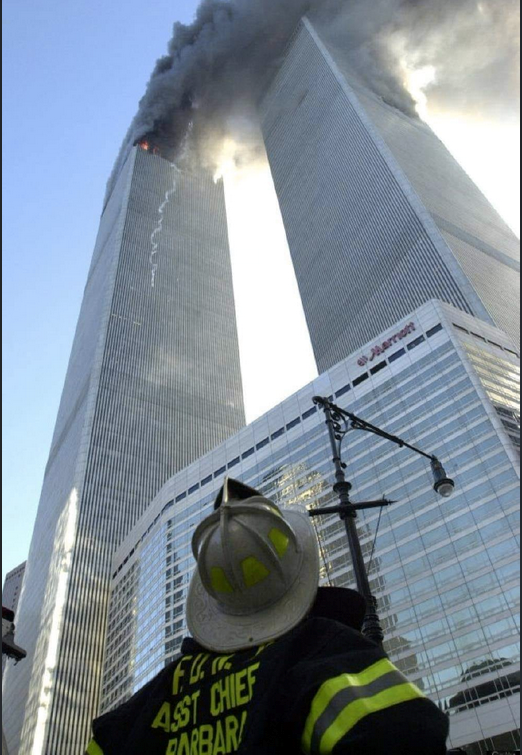 To those that support the riots, believe all cops are bad or attack firefighters take a minute and remember this! 343 Firefighters and 222 Police Officers lost their lives trying to save others. At no time did these men and women give a thought to the color, gender or political affiliation of those they were trying to save. No Firefighter or Police Officer that day placed their safety first, it was all about those trapped in the towers, it was about their oath to serve their fellow citizens and simply do their jobs.
In this modern era where it is chic to demonize Law Enforcement, we should recall that they face tough situations where split second reactions make a difference few of us understand. There are many, many out there doing their duty well and faithfully.
Well Done, Good and Faithful Servant, and Godpseed.
---
Wednesday, September 9, 2020 7:14 AM
How California National Guard crews rescued hundreds in Creek Fire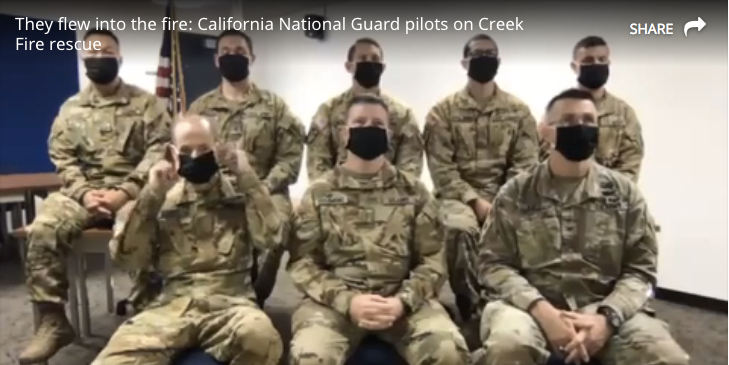 It was the most dangerous flying of their lives, but the crews of an Army National Guard CH-47 Chinook and UH-60 Black Hawk kept going back across the Creek Fire line, down into the smoke-filled valley and toward campers desperate for help.
They didn't have to go. And as they approached the first fire ridge, each crew member had an opportunity to stop the mission. No one did.
"When we arrived at the fire's edge and we first we made a decision to enter in — that was a crew decision," said California National Guard Chinook pilot Chief Warrant Officer 5 Joseph Rosamond.
---
Tuesday, September 8, 2020 6:21 PM
At a Polocrosse Tournament
Spent the Labor Day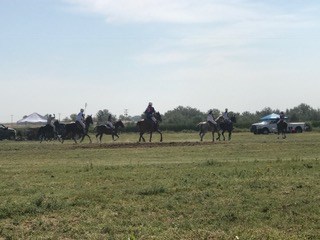 weekend in Nebraska at a Polocrosse Tournament. #1 grandson was one of the top players... he's a dead-eye shot and was the Shooter for his team... Good show.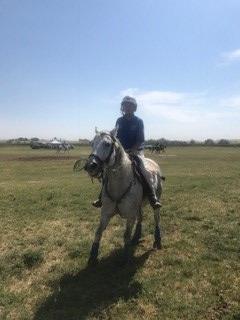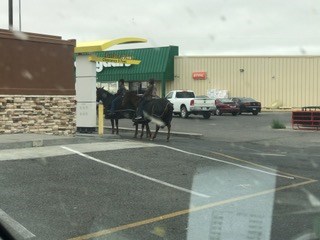 ...And on the trip home Louise & I stopped at a McDonalds... and saw an only in Wyoming picture... Two teenagers going thru the drive-up line on Horseback...
---
Wednesday, September 2, 2020 7:38 PM
At the Hair Salon...
---
Monday, August 31, 2020 4:13 PM
Shoal Creek Fire Nearly out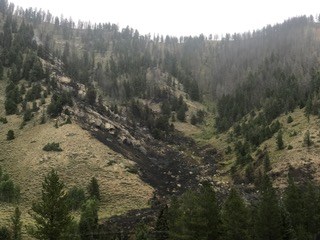 The Shoal Creek Fire is nearly out. There's a small smoke plume way up high but little and the rain started this afternoon. There are power lines across the bottom of the pictures. Power was out from about 2 PM until 11 PM last night. A helo was staged about 4 or 5 miles away but not active when these pictures were taken.
Picture from about 2:30PM today (8/31).
---
Sunday, August 30, 2020 6:18 PM
Shoal Creek Fire - West of Bondurant
Fire Started in Hoback canyon. Near Cliff Creek and HWY 191/189.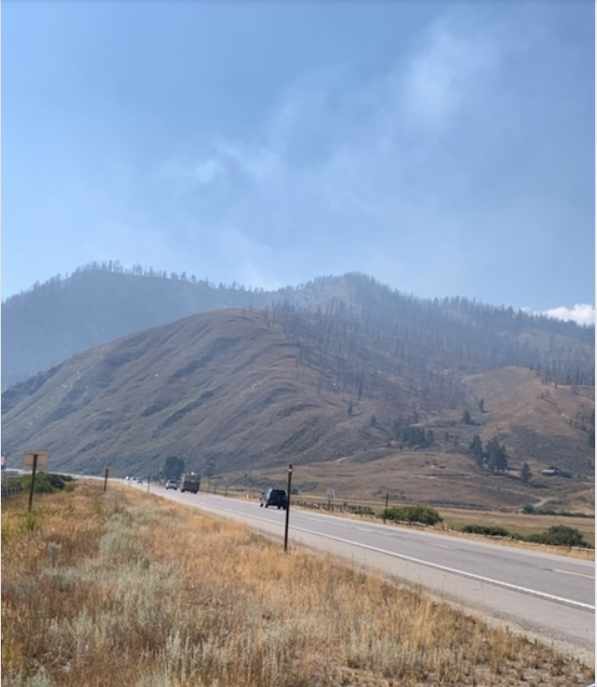 Name of Fire: Shoal Creek
Fuels: Fire is in Timber and Scrub on the North East side of the Hoback river just west of the Bondurant valley.
Weather: Red Flag conditions with Low Humidities and High Winds
USFS Assets assigned to the Fire:
2- type II helicopters
1- Air Attack
1- Type 4 Engine
1- Type 6 Engine
5- Sublette County Unified Fire units
Power from Lower Valley Energy is out from Camp Creek to the Upper Green River Valley.
Source: Bob Rule, KPIN Radio
---
Thursday, August 20, 2020 7:49 PM
Smoky Sunset... Fires in California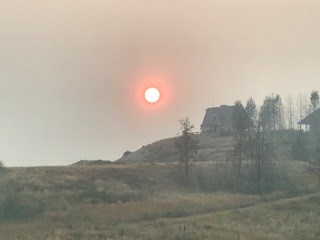 Looking out my window to the west... So-o-o much smoke from California fires... Cannot see the Gros Ventres... completely obscurred.
---
Wednesday, August 19, 2020 5:28 AM
Over 200 Straight Days at Sea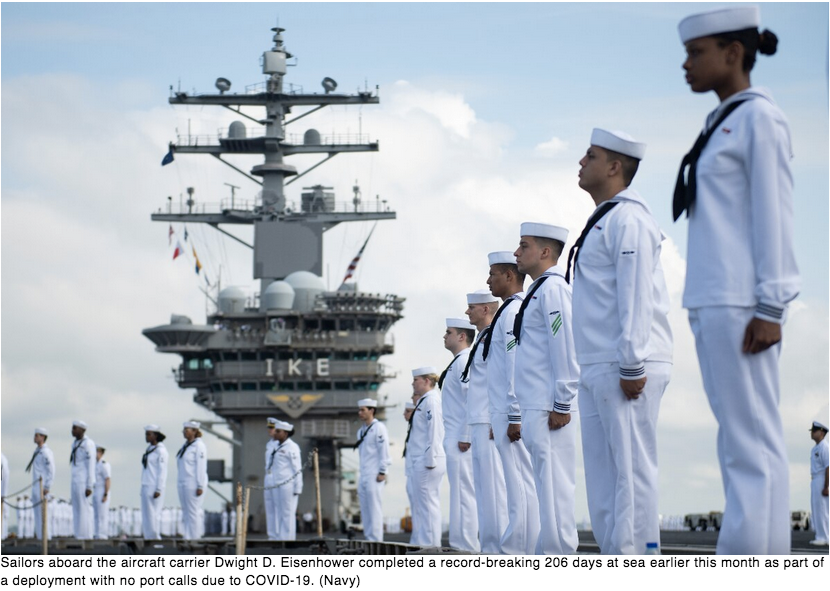 The USS Eisenhower departed home port in early January 2020. They recently returned home after over 200 straight days at sea. Their world at home is far different than the one they left from. May God Bless their reunions and assist them in weaving their way through the world as it now is. Godspeed good and faithful sailor.
These sailors broke my personal record of 110 straight days at sea. We ask much of our military, our FireFighters, EMS and, of course, Law Enforcement... This vignette shows just how much they must deal with as they live their life. Sometimes day by day, in this case year by year...
---
Wednesday, August 19, 2020 4:51 AM
Primary Election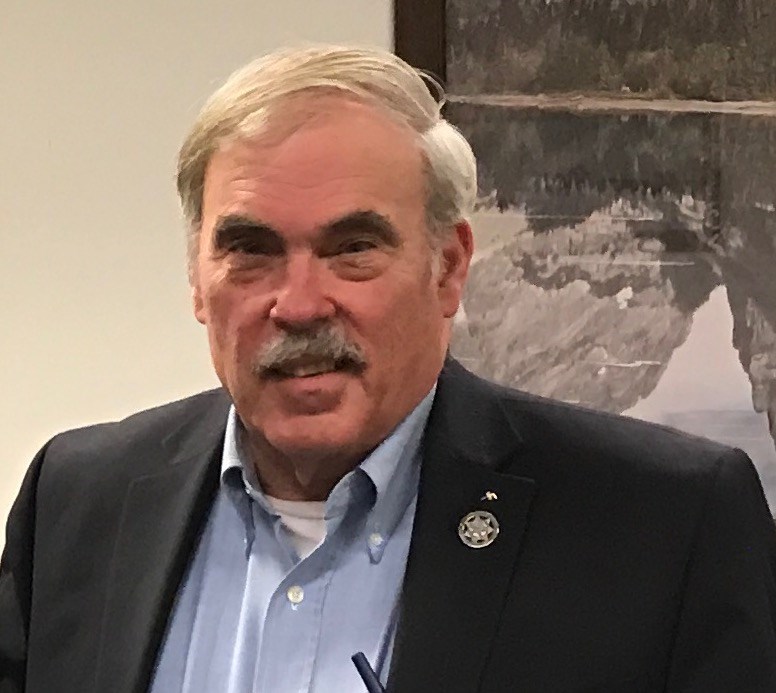 Many thanks to the people of HD-22. In this Covid-19 world campaigning has been foreshortened. I've talked with many people, yet there are more out there. What is important is for me to listen to you and take your desires back to Cheyenne and get them into legislation. I've observed our legislature for many years now, yet I remain quite unhappy with how the budget has been handled. Our state's savings accounts meant that instead of making some tough decisions, far too much was taken out of that savings.
Call me, email me, or let's stop and talk as you see me around the district.
---
Monday, August 17, 2020 8:29 PM
To the People of HD-22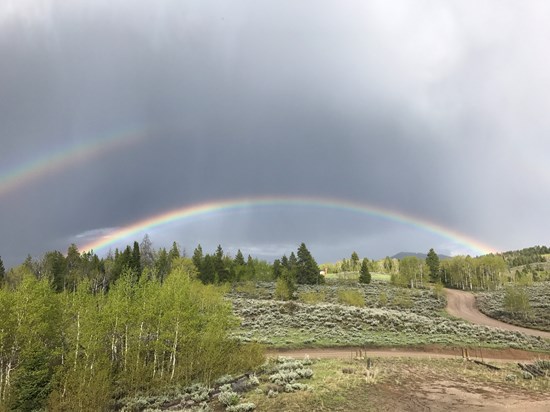 With the primary election tomorrow, August 18th I think it only appropriate to thank my many friends and supporters who have helped me through the primary campaign season.
House District 22 and the State of Wyoming face some major challenges in the next two years. A Revenue receipts crisis and how the COVID-19 pandemic plays out in our economy being just some of the issues. My background as a problem solver, managing service organizations and a committed work ethic make me capable of helping move District 22 forward and not take a step backward.
Although I've not had an opponent in the primary and that combined with the Covid-19 restrictions have made the primary an interesting event. Wyoming can be a tough crowd in politics and there are those out there with sharp elbows, sometimes really sharp elbows. One person I spoke with related something said about me that was just absurd. Oh well, that's politics… and back chatter. In my observation Cheyenne did not handle the budget well for about 6 years now. What you want done in Cheyenne is what's important. Tell me, call me, email me.
One of my anchor points is faith in the people of Wyoming.
How do we go forward in the dire revenue world we face? No easy answers there, but I stand strongly against an income tax as one solution. Another side of this is reducing state expenditures: read program cuts. We have to recognize that program cuts all too often mean sending some state employees home. These are people that are paying mortgages and sending kids to college. Cutting our way out of the revenue problems is not the solution.
What do you want Cheyenne to be doing? In one conversation a resident along Hwy 89 said they want the large volume of heavy truck traffic on Hwy 89 cut back. I'll work on that. In conversation with the Mayor of Alpine he related things he needs. I'll work on them. In another case this Sunday morning I was out working on signs. Some one stopped and wanted to talk… right there in the road (a side road) we talked for some 30 minutes (and didn't block traffic). Good talk. If you see me, stop and talk. I have thoroughly enjoyed such conversations. Such conversations inspire my hope for the future. We'll get through these tough times.
This is my second anchor point: Hope, we'll get through this.
Education has to be carefully handled. Our Children are the future of Wyoming, we begin by ensuring that classroom instruction is not hazarded.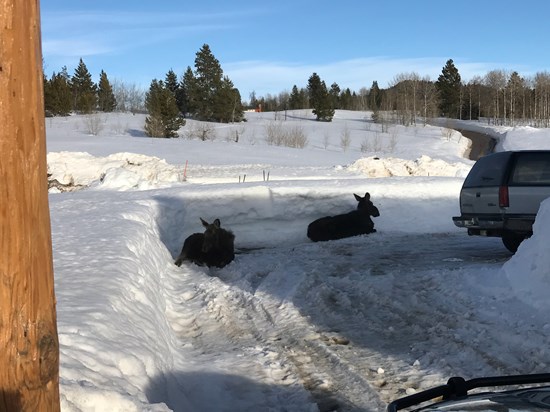 Lastly, we must ensure we keep beautiful Wyoming open to all. That is the soul of our state. Call it 'multiple use' or something else, we must ensure that we don't throw the baby out with the bathwater as we solve other money problems.
This legislature must have real courage to take on the money problems in front of it. We have to look beyond slick talk and comfortable people. Thus that brings me to my third anchor point: Courage to face the reality of today. We cannot fix it all, but we can fix our corner of the state and the nation.
God Bless America and Wyoming and Godspeed to our people.
---
Sunday, August 16, 2020 5:57 PM
Spent the morning in Star Valley
Went to Star Valley to put up signs and talk with people. Along the way chatted with people. In one conversation it came up that a former opponent had attributed statements to me that were just outlandish. What you want done in Cheyenne is what's important, not the back chatter. Wyoming is in real trouble with revenues and the legislature side stepped the issue for some years now. I will get into the budgets and make what you want happen. You could also contact me: email: bill.winney@hotmail.com or phone number: 307-413-1506.
---
Friday, August 14, 2020 3:52 PM
Hoback Jn Fire Station Ribs - Get'em today while they last...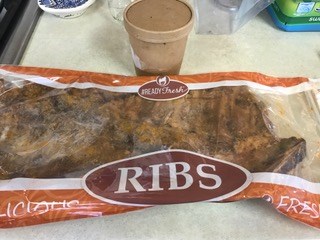 The Hoback Junction Volunteer Fire Station is selling their famous ribs today. The traditional barbecue is unavailable... Covid-19... So they're selling their ribs.
$25 a rack... Get on down there and get'em while they last... They give you their sauce... it's in the brown paper cup in the picture.
I'll be eating good tonight...
---
Wednesday, August 12, 2020 3:08 PM
News & Guide Article - Candidates
As you read this article note that I've stood for the people of Wyoming as I attended and spoke in Committee Hearings. Key successes were the Rangeland Monitoring Bill (Jaggi) of some years ago where I assisted in obtaining full funding in the House Ag Committee; Sublette's Fire Chief Shad Cooper personally thanked me for speaking up on the Presumptive Injury Bill for fire fighters; or the Computer Science education bill that changed Wyoming statewide.
Bill Winney, Republican, House District 22
This write up was by Billy Arnold for the News & Guide, August 12th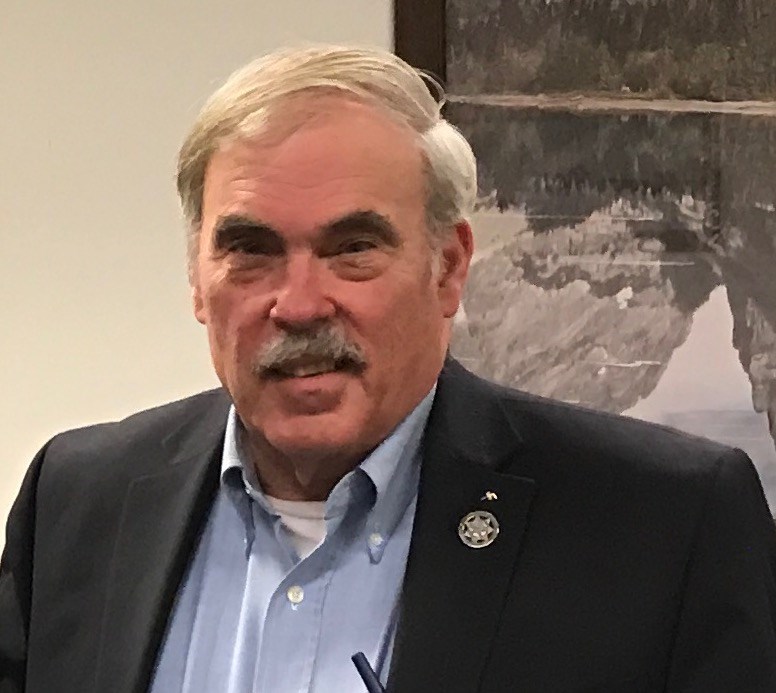 Perennial candidate Bill Winney, a Navy veteran and Republican from Bondurant, is back on the horse this year, running unopposed in the primary to address three priorities: education, the state budget and preserving multiple use of public lands.
The state is projecting a $1.5 billion revenue shortfall over the next two years, and Winney said bringing things back into balance would require a mix of cutting spending and increasing revenue. The candidate, who managed budgets for the Submarine Launched Tomahawk Cruise Missile Program and the Sea Lance ASW Standoff Weapon, said he would like to start on the spending side, but carefully.
"We've got to be careful about 'reducing expenditures,'" he said, "because that's probably going to mean real people, either being furloughed or losing jobs.
"You can't cut your way out of it," he said.
On the revenue side of the equation, he said he doesn't support an income tax but could get behind an expanded sales tax because it doesn't bring bureaucratic overhead and "it's not that difficult to change later on."
Winney also said that in the state's dire financial situation it's vital to "protect the classroom" (teachers and other supporting staff) but he thought cuts, if needed, could come from administrative overhead.
---
Wednesday, August 12, 2020 12:13 PM
Event Tonight at The Wort
Teton County's Tea Party will have an event tonight at The Wort, 7:30 PM. I'll be attending.
---
Saturday, August 8, 2020 6:17 PM
Reservation Schools will be Online only for first weeks of year
Reservation schools move classes online, cancel sports
By Seth Klamann
Casper Star-Tribune
Via Wyoming News Exchange
CASPER — Four Wind River Reservation-based school districts have announced they'll keep their students at home and learn virtually for the first weeks of this school year, as Fremont County remains the Wyoming county hit hardest by the pandemic and tribal governments continue to institute a limited shelter-in-place order.
The four institutions — Fremont County school district Nos. 38, 21 and 14 and St. Stephens Indian School — moved together earlier this month to move their first quarter of instruction entirely online, removing more than 1,500 students from the classroom and onto computer screens. They also canceled all of their fall sports. The decisions represent the first move by Wyoming school districts to do anything but reopen for in-person instruction in the coming weeks.
The county — and tribal communities in particular — have been especially hard hit by the virus. As of Thursday, 431 cases of the novel coronavirus have been confirmed in the county (with 371 recoveries). The county also has the most deaths — 12 — all of whom are members of the Northern Arapaho Tribe.
The tribal councils have had a shelter-in-place order in place for months, the only one of its kind in Wyoming (Teton County briefly had such a mandate in the spring). On Thursday, that order was loosened slightly, removing a curfew and allowing for businesses to reopen. But it still expressly blocks schools from opening for in-person instruction.
Superintendent Frank No Runner, who leads St. Stephens, said the decision was undertaken to protect students' elders. While the virus isn't particularly dangerous for younger people, the risk is that the students would bring the disease home and infect more vulnerable groups. That's been a persistent concern across the state and country; indeed, it's the heart of the debate whether to reopen schools.
Superintendent Debra Smith's Fort Washakie-based district sent out a survey to parents, 60% of whom said they were uncomfortable sending their students back to school. Superintendent Michelle Hoffman's Ethete district conducted a similar survey, which had slightly more even results but still indicate widespread apprehension about school returning.
"The majority of the community is relieved that we are being very cautious because of our small community and the situation," Smith said. "We do not want kids to be spreading that virus back home to community members, to elders, to family members. That's something the board and administration are taking very seriously."
The decision to cancel fall sports was particularly hard, officials said. No Runner said his son was set to start this year, for which he been waiting "forever."
Hoffman said that it just made sense to cancel sports, given that students weren't allowed to congregate in other settings.
"We have a lot of students that go out for cross country and volleyball, and I know that disappoints them," she said. "You don't want them in school, so you don't want them out participating in sports. It kind of negates the whole idea of doing virtual learning if you still take them and throw them back into the same situation you're trying to avoid."
All four districts will reevaluate their distance learning in October, when the first quarter ends. In the meantime, they'll all begin standing up a virtual learning program. They, like the rest of the state's school districts, had little time to prepare when school was canceled in March. Now, they're distributing laptops and training staff.
Hoffman said that in March, the district had to install a Wi-Fi hot spot in the parking lot of the high school so students could park their cars and use it. She said the tribes are working with the schools to expand access to technology and internet.
No Runner said St. Stephens would be distributing laptops in the coming weeks. Hoffman said days have been set aside to train staff.
The decision — and the particularly vicious outbreak on the reservation — has been influenced by the tight family structure of tribal families. No Runner said he grew up in a household with multiple generations and with different branches of his family under one roof.
"Native Americans, we really value family, and that's our wealth, is our family," he said. "So that's what we value a lot, and it's really important that we keep our elders safe because they have a lot of valuable traditional knowledge and cultural knowledge that can't be replaced if they're lost."
---
Monday, August 3, 2020 8:44 AM
Teton County Candidate Zoom Forum Tuesday 8/4 Link added
At noon, August 4th, the Jackson Chamber of Commerce and Rotary Club held a Zoom link forum for county and state candidates. About 60 people signed in and observed it. Here's the link.
---
Saturday, August 1, 2020 7:24 PM
Near earth asteroid discovered by two Indian HS Women.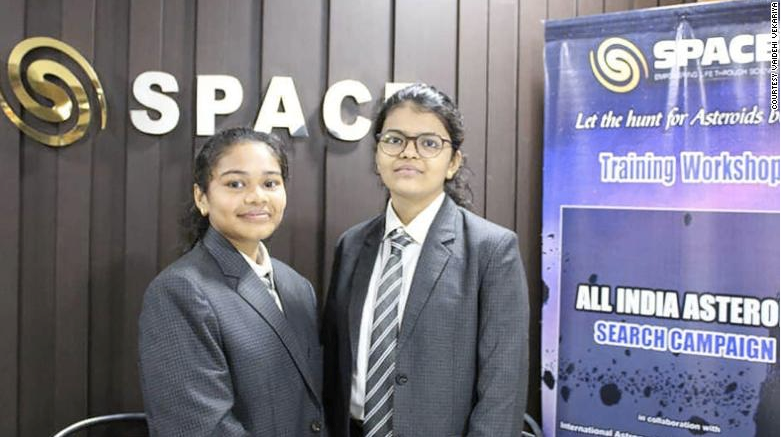 Two High School women discovered a near earth asteroid... don't worry it won't pass nearby for a million years or so and then outside the orbit of the Moon.
You never know where the good ideas will come from. Leadership must be alert for them. My promise as I campaign for HD-22 is that I will listen to you and what you want. I will do my best to carry your thinking and ideas into the Legislature.
Listening to my people is how I ran the two ships I commanded with very good results. I often said my toughest job was to stay out of the way of my crews. ...And they kept me hopping. I will listen to each of you and take what I hear to Cheyenne.
---
Monday, July 27, 2020 9:29 AM
Wyoming's First Bitcoin Bank will Open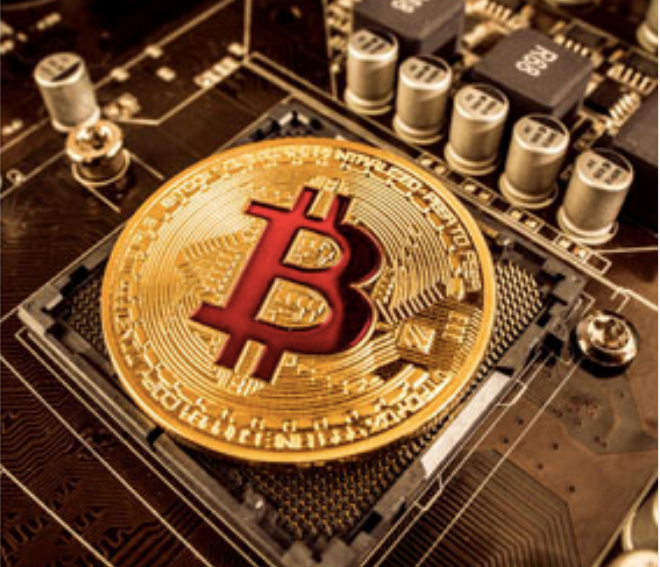 Wyoming's first Bitcoin bank will open this October.
"Wyoming's first bank for cryptocurrencies will likely open in October, months ahead of its originally scheduled opening of some time in 2021.
According to a news release from Avanti Financial Group Inc., founded by Wyoming native and blockchain advocate Caitlin Long, the group received formal notice from the Wyoming Division of Banking that Avanti's application for a bank charter was accepted on July 15.
Avanti applied for a bank charter under Wyoming's special-purpose depository institution law. It will likely do business under the name Avanti Bank and Trust."
I have observed the efforts of key legislators for several years to get this going. Notably Tyler Lindstrom (R-HD 01) was the key spark plug with many others in his court. His foresight, planning and gumption ensured that legislation was ready to support this work.
---
Sunday, July 26, 2020 8:28 PM
Went to Wilson for coffee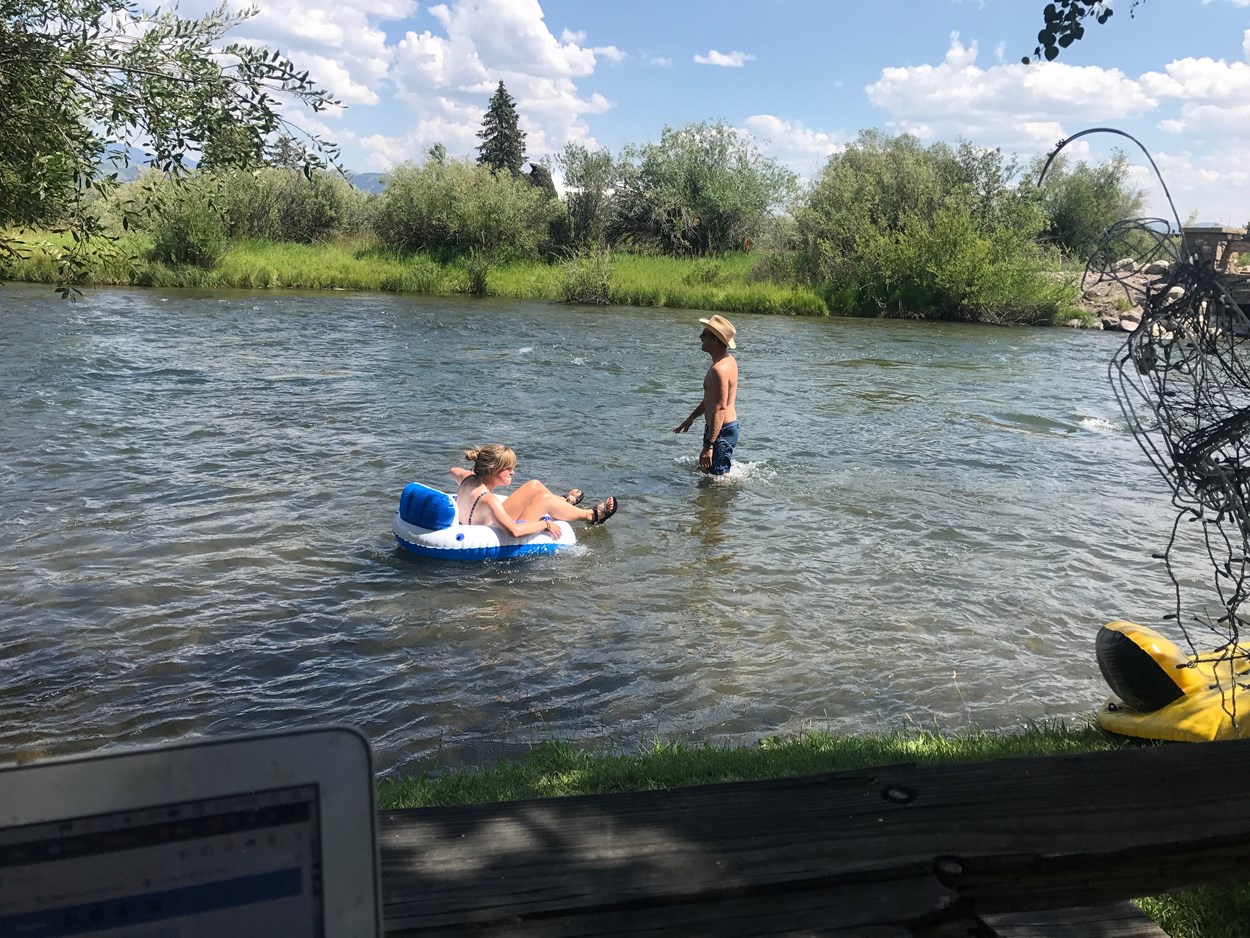 Went to Wilson today (7/26) for coffee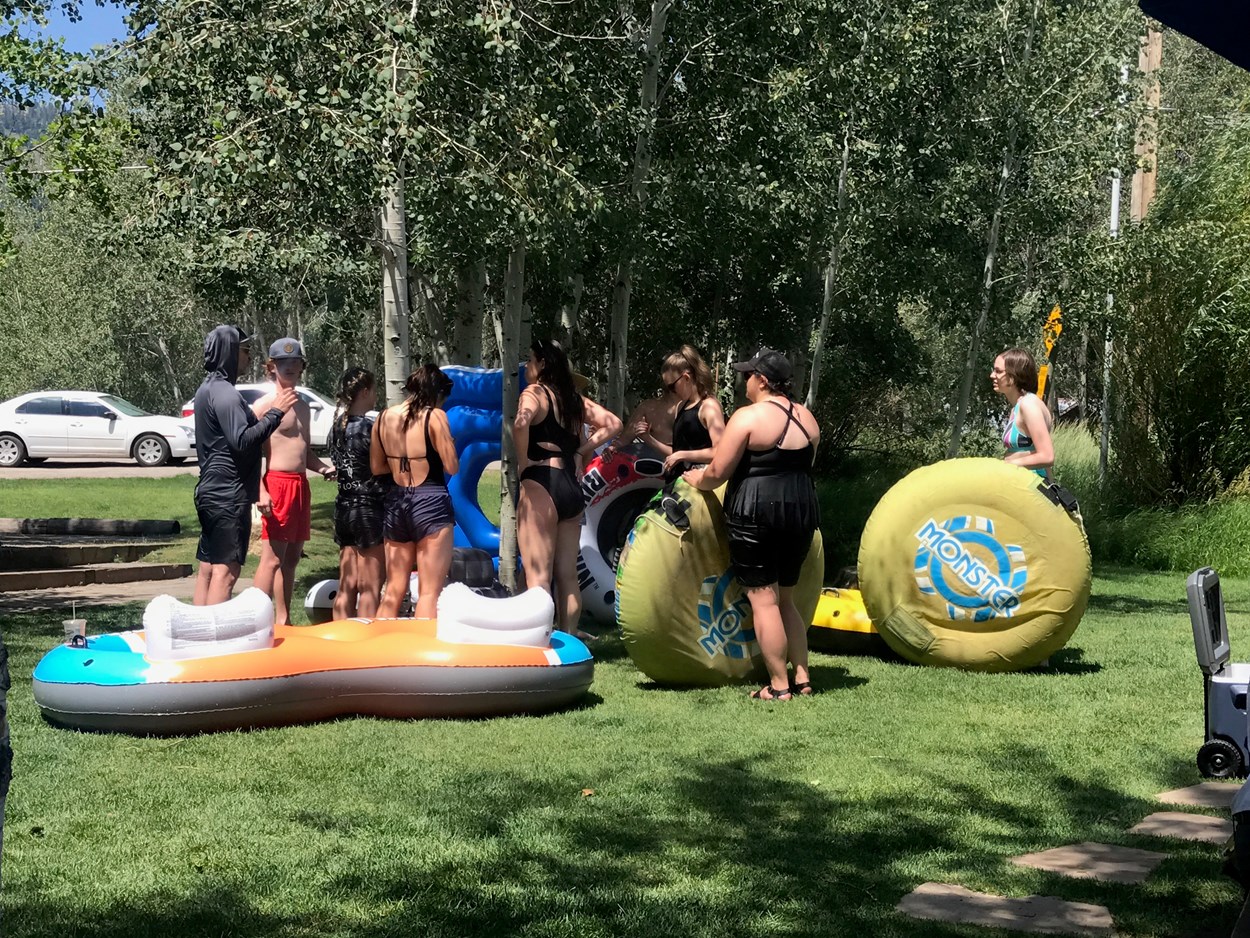 and to chat. Along the way Tubers came by and got out of the water... If you look at these tubes, they have some drinks in their cup-holders! One had a bag of (soggy) potato Chips.
---
Friday, July 24, 2020 7:33 PM
Sublette County Fair - Kay Malkowski Live
Kay Malkowski is walking around the Subette County Fair at the Fairgrounds in Marbleton. Here is her live walk-around video.
---
Thursday, July 23, 2020 5:32 PM
Candidate Speed Dating - Jackson Conservation Alliance
The Jackson Hole Conservation Alliance sponsored a "Speed Dating" for candidates this afternoon. Each candidate had about 15 minutes with 4 prepared questions and a few questions sent in on their FaceBook page. Here is the link to their page.
---
Tuesday, July 21, 2020 4:00 AM
Natrona County School Board to Reopen Schools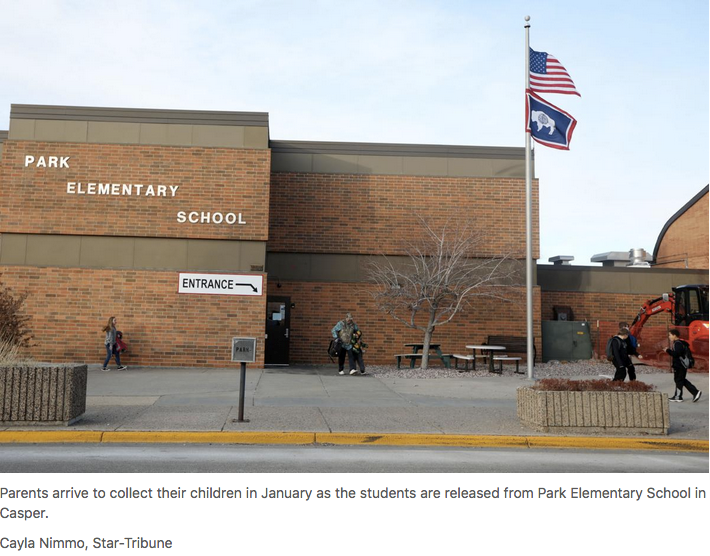 The Natrona County School District's proposed plan to return to in-person learning includes robotic cameras to aid remote instruction, the purchase of 45,000 cloth face masks and predictive models that anticipate entire schools shutting down due to COVID-19 outbreaks. The district's Board of Trustees heard the plan during a work session Monday evening.
---
Sunday, July 19, 2020 10:33 AM
Cattle Drive Tradition Endures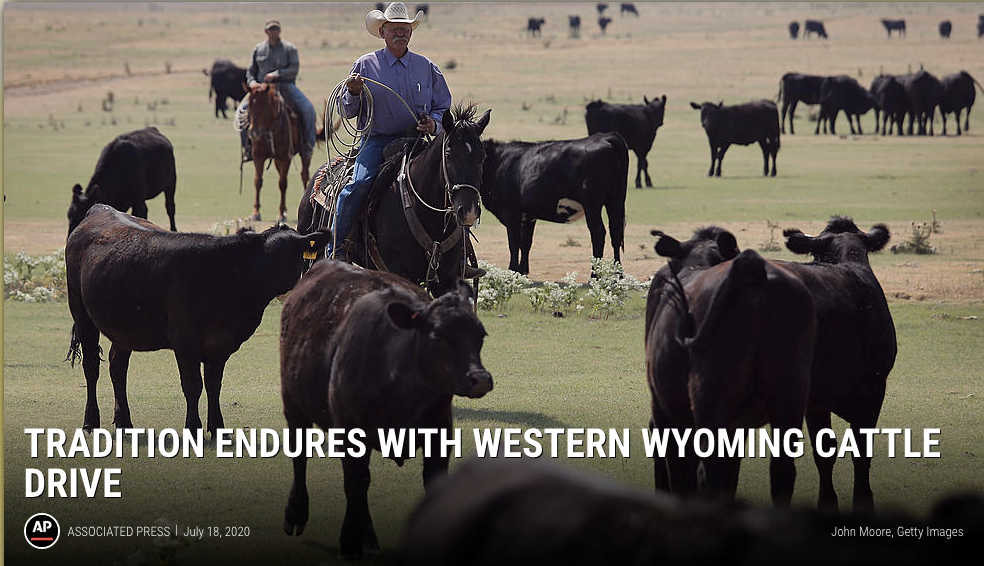 JACKSON, Wyo. (AP) — Each spring since the 1890s, cattle ranchers in western Wyoming have pushed their herds from the lowlands to summer pasture along the upper Green River.
Ranchers work their herds along the river, usually a handful of miles at a time before leaving them to graze and rest overnight.
The prospect of an easy meal draws grizzly bears — a point of contention between ranchers and conservation groups that has led to litigation.
The Jackson Hole News & Guide reports the noise of the outside world is missing on the range, replaced by the sound of hooves and ranchers' whistles and whips.
---
Thursday, July 16, 2020 11:52 AM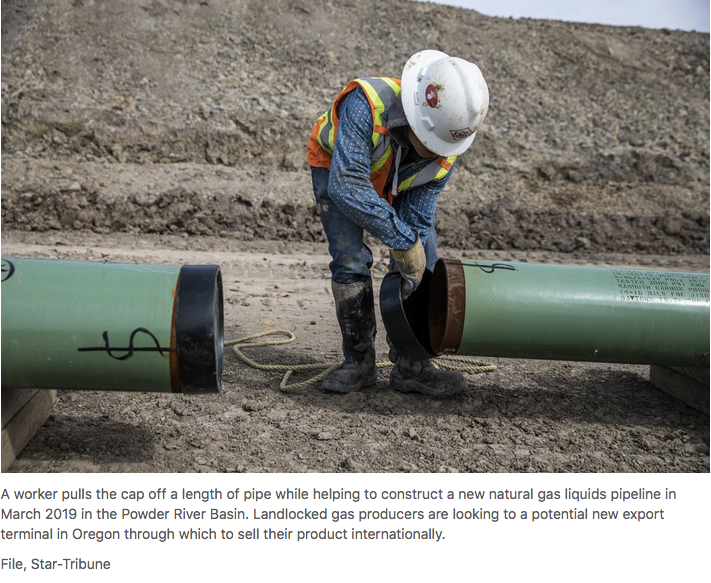 A proposed Liquified Natural Gas Terminal at Jordan Cove on Oregon's southern coast is a step closer to reality with the US Department of Energy's announcement of approval for export form that planned facility. There remain significant steps yet to go. Once in operation Wyoming's Natural Gas would be far closer to the Asian markets. This could mean many, many new jobs in Wyoming.
However, there are significant hurdles in the way. "[Last] March, Randall Luthi, chief energy adviser for Gov. Mark Gordon, called the export terminal simply a "glimmer on the far horizon." Though supportive of making additional markets and export capacity available for Wyoming's energy sectors, Luthi said it will likely take years before the export terminal is complete and the benefits trickle over to Wyoming."
---
Tuesday, July 14, 2020 5:57 AM
Wy Game & Fish looking to manage Grizzlies

Wyoming's Game & Fish seeks to manage Grizzlies as they expand. The current system with the Federal Government controlling things is slow and ponderous.
---
Monday, July 13, 2020 8:17 PM
Wyoming's 115th Field Artillery returns home - after almost a year
Wyoming's 115th Field Artillery returns home - after almost a year overseas...
---
Monday, July 13, 2020 3:59 PM
Governor Gordon announces $250M Cuts to State Budget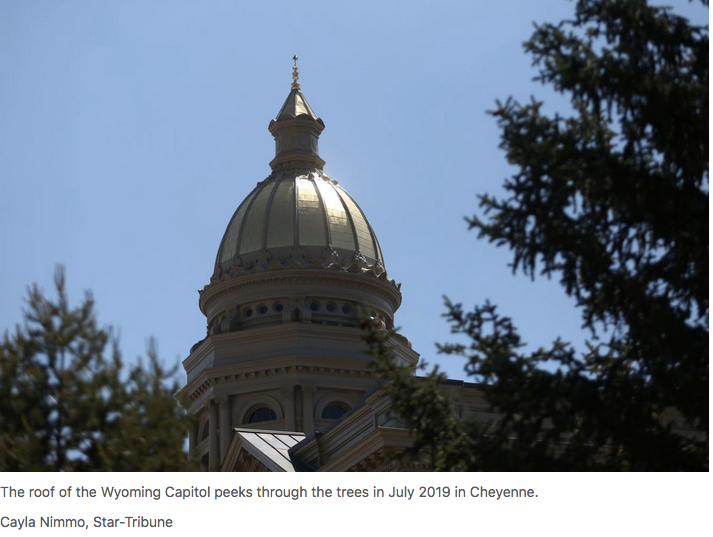 Governor Gordon announced budget cuts of $250M with more to come. Included are furloughs and layoffs along with a $90M reduction to the Wyoming Department of Health.
---
Saturday, July 11, 2020 4:52 PM
Today we said goodbye to Jim Malkowski...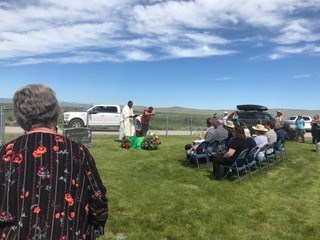 Today services were held for Jim Malkowski at the Father DeSmet memorial near Daniel, WY.
Well done Good and Faithful Servant, and Godspeed...
---
Thursday, July 9, 2020 7:56 PM
Covid $$
Spent a good part of the day going down to Thayne to the Meat Block. Picked up beef & pork to fill the freezer bought with Covid money from Allred's Appliance. Spent that money here in western Wyoming.
Drove the Suburban (577,000 miles on it - helped pay for three boys in UW) around to the basement entrance to speed the unloading. Took awhile to get it all into the freezer... needed gloves handling all of that frozen meat (no surprise there).
---
Thursday, July 9, 2020 7:32 PM
Gov Gordon now at net 30% cuts
In a News Conference July 8th, Gov Gordon spoke of an additional 10% cut to state programs over a 20% cut already tasked to department heads. He also for the first time as I recall explicitly spoke of a reduction in force for State Employees.
---
Thursday, July 9, 2020 5:01 AM
Candidate Event at The Wort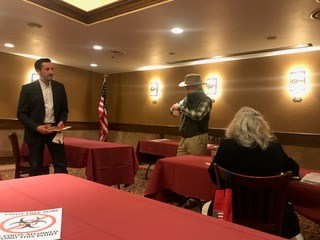 Wednesday evening (7/8) the Jackson Hole Tea Party held a meet the candidates event at The Wort. Each Spoke and answered questions. I was given a few minutes to speak and answer questions. Good talking and good questions. Questions focused on the budget, both locally and state level. Governor Gordon's recent announcement of a 20% reduction underlay much of the talk.
---
Wednesday, July 8, 2020 4:45 PM
Gov Gordon doubles on 10% cuts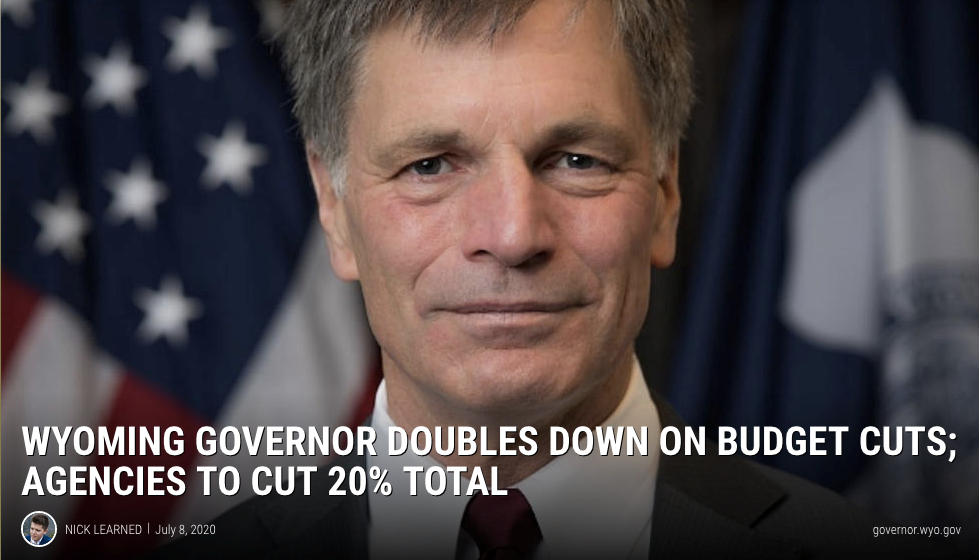 Governor Gordon makes clear that state expenditures will be cut in a major way, at least 20%. For now he has directed the planning, implementation to follow.
---
Monday, July 6, 2020 11:21 PM
Jackson's Chief of Police - Todd Smith - will retire
Although not formally announced yet, Todd Smith, Jackson's Chief of Police, will retire. Apparently he is disenchanted with a failure of support by civilian authorities. Godspeed, good and faithful servant, Godspeed. More to follow when known...
---
Sunday, July 5, 2020 9:35 PM
Sunset on the Hoback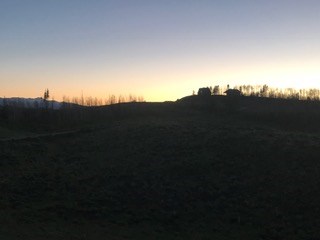 Another great Wyoming sunset on the Hoback...
Had a great parade in Alpine yesterday. I walked the sides handing out cards & candy. There was a World War One Doughboy right behind the Colors leading the parade.
---
Thursday, July 2, 2020 4:08 PM
Wyoming Education Assn Endorsed Bill Winney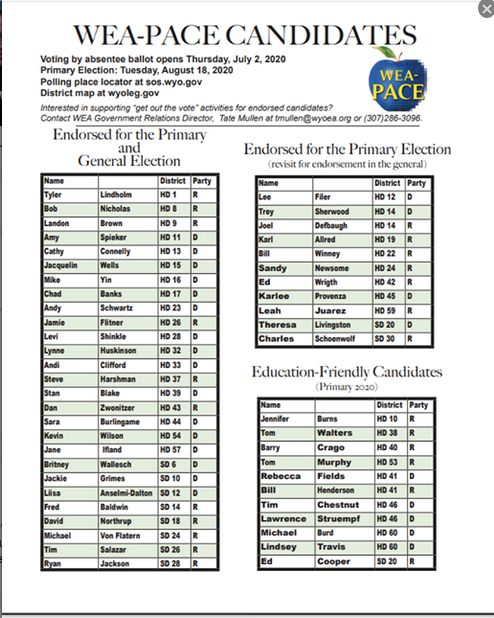 The Wyoming Education Assn PACE has endorsed Bill Winney, candidate for HD-22. I have worked long and hard, as a private citizen, on improving Wyoming Education. This endorsement acknowledges that work, Thank you.
---
Thursday, July 2, 2020 5:26 AM
Wy Dept of Education Plan to Reopen Schools
The Wyoming Department of Education has released its plan for reopening schools in the fall. Three modes: full open, hybrid opening, and closed with remote education. Here's the beginning of the article: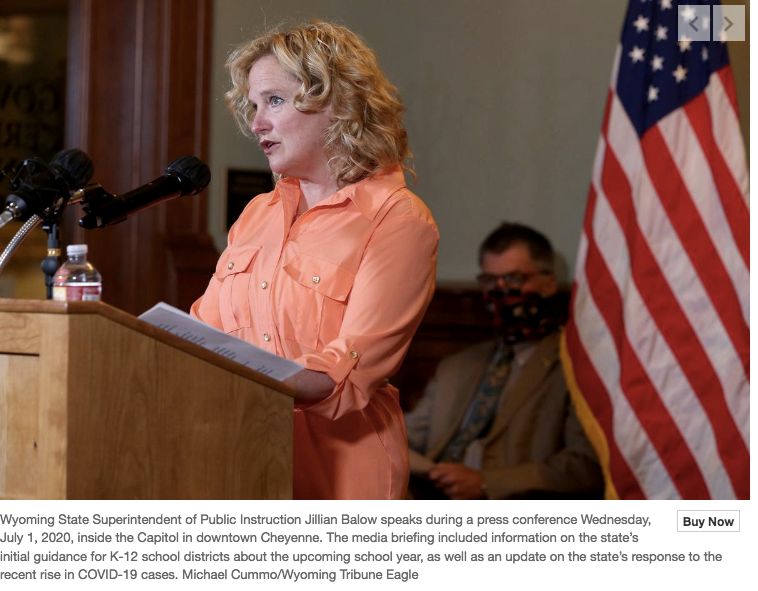 "CHEYENNE – Lunch in classrooms, widespread hand sanitizer stations and face coverings are just a few of the features Wyoming students can expect to see if the state's schools return to in-person instruction this fall.
"The Wyoming Department of Education's initial framework to reopen K-12 schools, which was released Wednesday afternoon, requires districts to prepare for three possibilities: fully open facilities, fully closed facilities and a hybrid model somewhere in between.
"If buildings are open to students, procedures for social distancing and face coverings will be followed "to the greatest extent possible," the plan states."
---
Wednesday, July 1, 2020 9:38 AM
Wyoming's New Food Freedom Law (HB-84)
Lifting Restrictions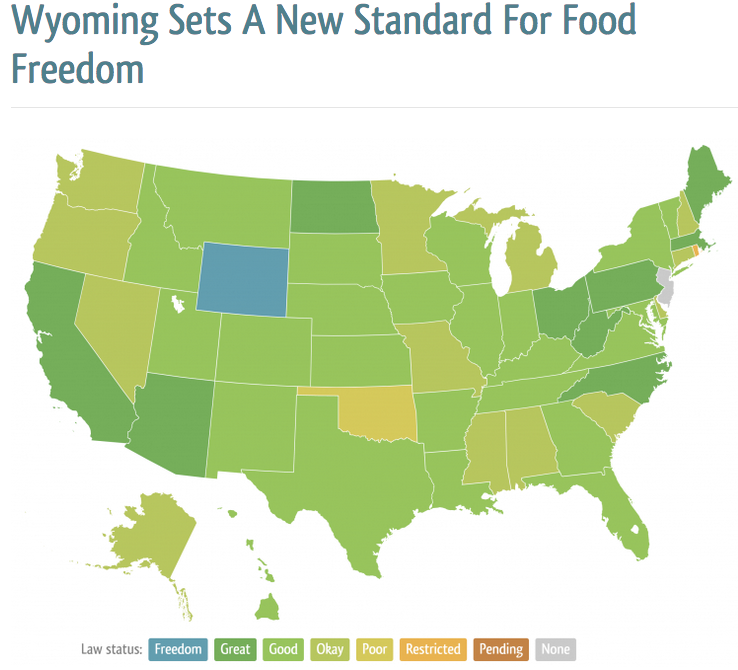 "It's July 1st, 2020, and for the first time in over 7 years [a new rank has been added] to Forrager's map. [N]amed it "freedom", and Wyoming has the honor of being the first state to reach this status! (See the whole article Here.)
"As of today, Wyoming's new amendment (HB 84) to their food freedom law takes effect, and it's a big improvement. Because although their 2015 law has always been the best food freedom law in the country, truthfully, it still lagged behind some of the best cottage food laws in some ways.
"Up until now, Wyoming's law has been limited in two major ways: the home consumption restriction, and lack of indirect sales. Today's amendment removes both of these restrictions."
---
Monday, June 29, 2020 3:31 PM
Gov Gordon extends current Covid-19 restrictions to 15 July
Governor Gordon has extended the restrictions related to Covid-19 through July 15th. From the SweetwaterNow website.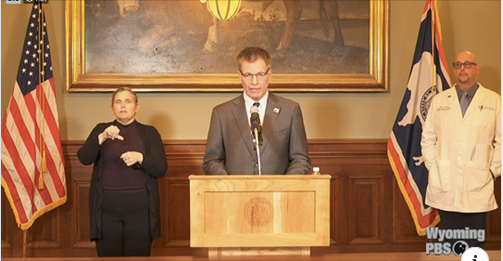 "The Wyoming Department of Health and the Governor continue to recommend the use of face coverings in public settings where it is not possible or reasonable to stay physically apart. On Wyoming's COVID-19 dashboard the number of new cases continues to be rated, "Concerning."
"The continuing orders allow gatherings up to 50 persons in a confined space to occur without restrictions and permit events of up to 250 persons with social distancing and increased sanitization measures in place. Faith-based gatherings such as church services and funeral homes will continue to be permitted to operate without restrictions, with appropriate social distancing encouraged. All public health restrictions that apply to restaurants, bars, gyms and performance spaces will remain in place.
"As of June 29, Wyoming has recorded 1144 lab-confirmed positive cases of COVID-19, 299 probable cases and 20 deaths. The current health orders will remain in place until July 15.
"The continuing orders are attached and can be found on the state's COVID-19 website."
---
---
Sunday, June 28, 2020 4:57 AM
Alpine EMS: 50% cut.
50% cut: Saturday morning: Stopped in to chat with the Alpine EMS. They related that their funding will be cut.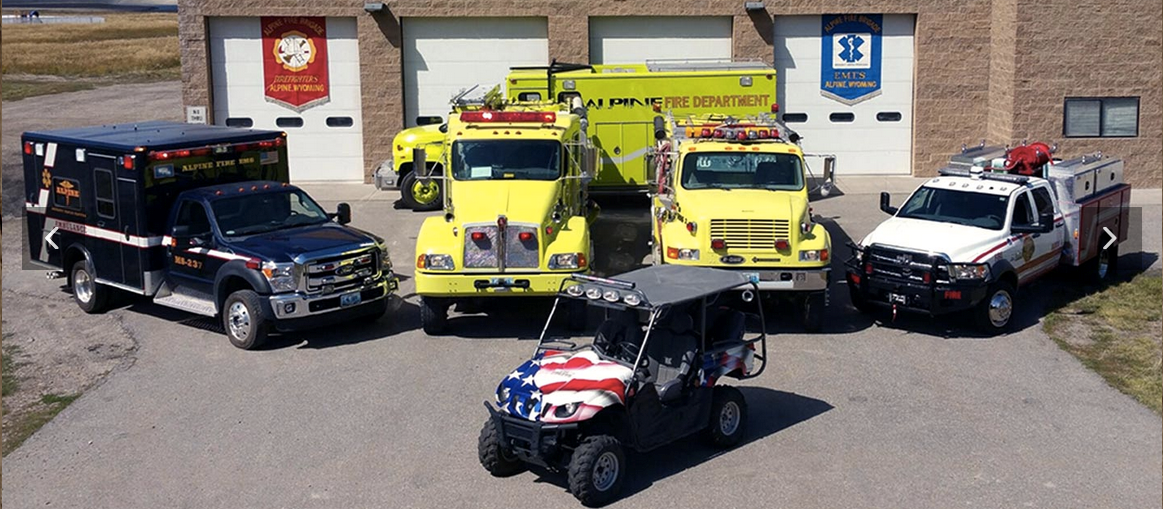 ---
Saturday, June 27, 2020 10:22 AM
Brains, grit, determination, This young woman is headed to Pre-Med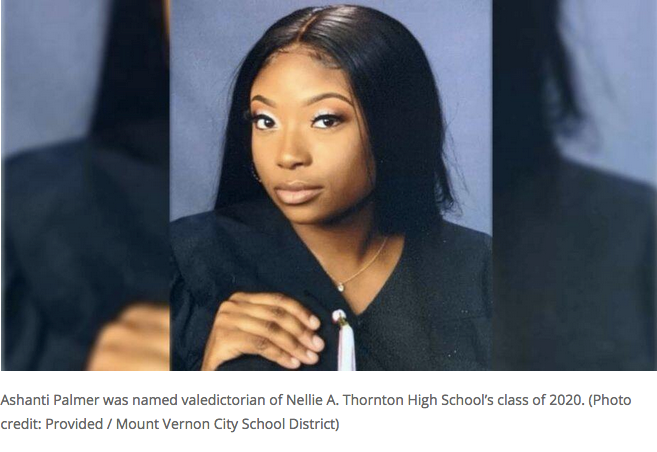 MOUNT VERNON, N.Y. - The Valedictorian at a high school in New York not only earned more than $430,000 in scholarship money, but she also never, ever, missed a day of school.
This young woman does not want things handed to her. She's working on a Pre-Med College program. Good Show. Can you imagine not missing a day in school from pre-K through HS Graduation! ...And brains to boot.
Godspeed to this young woman, she might be your doctor one day!
---
Wednesday, June 24, 2020 6:05 PM
Triplets!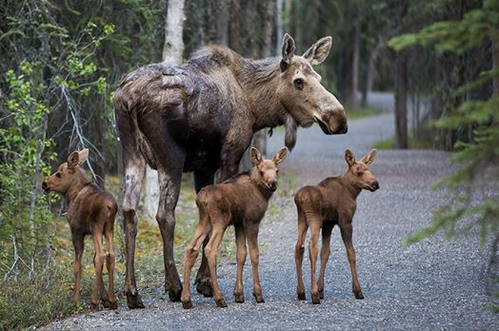 ---
Wednesday, June 24, 2020 12:12 PM
Green River Drift Wins another Round
US District Judge Mehta refused to halt the killing of grizzly bears, killings that protect a historic Wyoming cattle drive and ranching operation on the Bridger-Teton National Forest. Judge Mehta noted that there was no evidence of irreparable damage to Grizzlies.
---
Tuesday, June 23, 2020 7:17 AM
Wyoming Covid-19 Data June 23rd
This June 22nd Covid-19 data Trib.com gives the most recent data for Wyoming County by County.
Sublette: 3 (2 probable)
Lincoln: 11 (4 probable)
Teton: 80 (31 probable)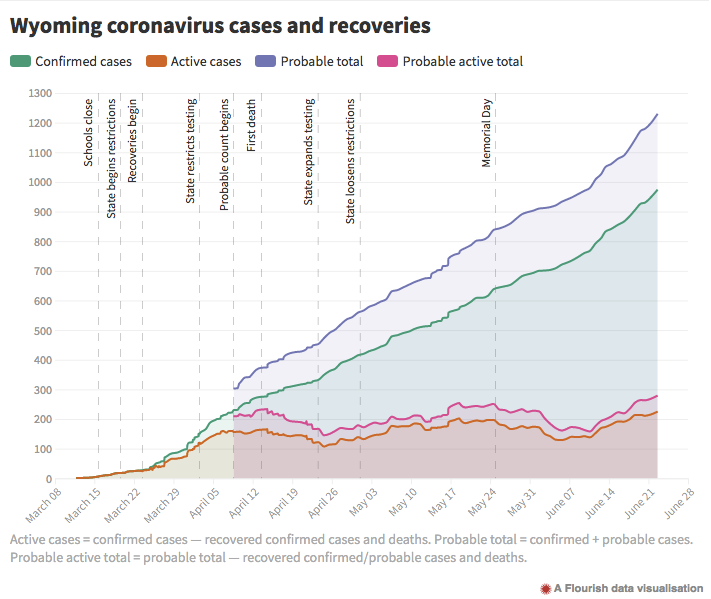 ---
Sunday, June 21, 2020 7:28 PM
A great Father's Day Dinner with family!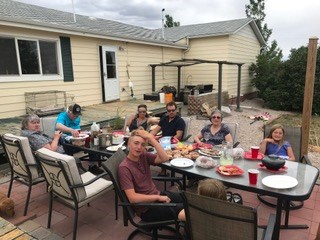 A great Father's Day Dinner. Family around the table, great Ribs & burgers... and a Birthday cake for Peyton...
---
Sunday, June 21, 2020 10:08 AM
Wyoming's Beauty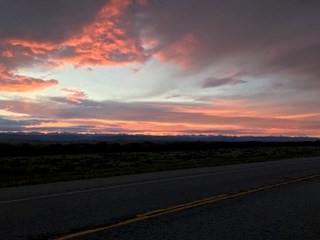 On my way to Casper for Father's Day & a family dinner.
A beautiful sunrise over the Winds...
---
Saturday, June 20, 2020 6:21 AM
PBS - Dire Finances
Four Key Legislators discuss what may be coming as Wyoming copes with the severe turndown in revenues. This Wyoming PBS show discusses what's facing us and how they may go forward.
---
Friday, June 19, 2020 8:20 AM
Wyoming State Fair is ON!
The 2020 Wyoming State Fair is ON! Click for the schedule.
---
Wednesday, June 17, 2020 3:49 AM
Upper Green River Drift Wins Early Round
Ranchers Win Early Round In Fight to Save Historic Cattle Drive
Denver, CO — June 15, 2020 — Wyoming's last great cattle drive, the Upper Green River drift, began as scheduled last weekend, just as it has since the 1890s, after a federal judge rejected a preliminary injunction sought by anti-ranching groups that hoped to derail the annual event.
The injunction would have prohibited the lethal removal of documented nuisance bears on their summer grazing range, a regulated practice allowed under the Endangered Species Act since 1975. MSLF argued that the plaintiffs should be denied "standing" because they failed to show how such removals would directly harm them.
The no-kill rule would mark a sudden departure from longstanding bear management protocols on the forest, according to ranchers and their lawyers at Mountain States Legal Foundation, putting numerous ranchers and their livestock at risk. Removal of a problem bear is not done by the rancher, but by state wildlife officials, in consultation with the US Fish and Wildlife Service, after a pattern of repeat behavior has been documented and non-lethal means of deterrence have failed.
"The plaintiffs hope to deprive ranchers of the lawful use of their grazing rights by making the use of this summer range more dangerous than usual for cowboys and cattle," said Brian Gregg, MSLF's lead attorney on the case. "Turning the livestock that have traditionally grazed these lands into a grizzly bear buffet threatens the economic survival of these ranches and will destroy this living connection to our history and heritage."
The Green River Drift is a vital link to the West's ranching history. The route and manner of the cattle drive are largely unchanged since the 1800's, and it is operated by the descendants of the families who homesteaded the area and began the cattle drive in the 19th century. Because it is so unique, the Upper Green River Drift is listed as a "traditional cultural property" on the National Register of Historic Places—the only ranching-related entity to be so recognized.
Mountain States Legal Foundation (MSLF) filed a motion to intervene in the case in order to defend the rights of American ranchers to access federal land, as they have for generations, and to protect the legacy of the people who built the West. Western Watersheds Project et al. v. Bernhardt et al. is being heard before the Federal District Court of Washington, D.C.
Against all evidence, environmentalist groups involved in the suit falsely claim that these grazing practices, which have been practiced soundly for well over a century, will harm grizzly bear populations in violation of the Endangered Species Act. In reality, grizzly populations in the region have recovered to the extent that Fish & Wildlife Service officials have twice recommended that the Greater Yellowstone Grizzly be removed from the endangered species list, most recently in 2017. Notably, this remarkable recovery has not been hindered by this ongoing annual cattle drive.
MSLF represents the Upper Green River Cattle Association and the Wyoming Stock Growers Association as well as several family ranches: The Price Cattle Ranch, Murdock Land & Livestock Co., and Sommers Ranch, LLC. The "land ethic" is a part of this historic way of life. For instance, the Sommers Ranch won the Leopold Conservation Award in 2012 for their remarkable stewardship of Wyoming's Upper Green River Valley.
"These families have cared for the land far longer and far better than any agency or activist has," said Gregg. "The Green River Drift provides 124 years of evidence that ranchers are the real conservationists."
---
Monday, June 15, 2020 11:05 AM
Rep Chuck Gray on Income taxes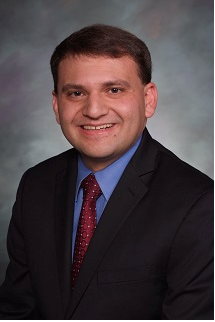 On the radio show Weekend in Wyoming this weekend Representative Chuck Gray (Casper) spoke about his serious concern that the budget woes of Wyoming will be used to begin an income tax. He said that had Wyoming taken a more serious look at putting more money into the Rainy Day fund Wyoming would be looking at savings of some $3.5B in stead of the current $1.5B.
---
Monday, June 15, 2020 9:32 AM
Covid-19 Dollars to businesses distributed
Cheyenne - Wyoming Business Council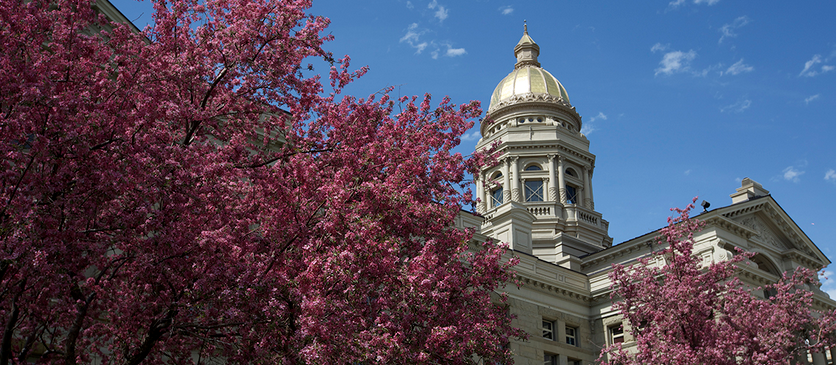 Governor Mark Gordon announced that the first grant payments (about $150,000) to Wyoming small business owners who applied for COVID-19 mitigation assistance have been issued. Additionally some $2.6M has been approved.
The Business Interruption Stipend is a $50 million program created by the Wyoming Legislature and funded by the federal CARES Act. It is designed to provide grants up to $50,000 for eligible businesses with up to 50 employees and headquartered in, or operating principally in, Wyoming.
---
Sunday, June 14, 2020 12:21 PM
Fiery Railroad Derailment near Rock Springs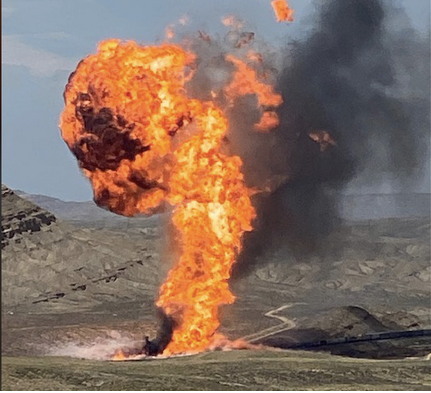 Saturday afternoon near the Rock Springs Airport on the Union Pacific
East of Rock Springs on the UP: This recent derailment shows that our nation will always need those who run toward the danger: Firefighters, Police, EMS, Armed Forces... If we need to change how we certify them, get on with it, but don't fool around with "we don't need them."
---
Friday, June 12, 2020 8:28 AM
Second Special Legislative Session Cancelled
President Perkins and Speaker Harshman have cancelled the anticipated second Special Legislative Session. The work done in the first Special Session was good, solid work that did what was needed. In this letter to members they outline what may be needed in the future and speak to the work being done in Interim Committee Hearings.
Letter_to_Legislature_June_20.pdf
---
Wednesday, June 10, 2020 6:36 AM
Wyoming Joins 23 States Against Navigable Waters Reinstatement
Wyoming joins 23-State effort against Waters of the United States reinstatement
CHEYENNE, Wyo. – Wyoming joined 22 other states last week in litigation alongside property owners, ranchers, farmers, and energy producers to convince a federal district judge to uphold the Trump administration's Navigable Waters Protection Rule. The rule gives greater certainty to landowners by providing predictable and reasonable lines between waters subject to federal and state regulation under the Clean Water Act.
---
Tuesday, June 9, 2020 9:13 AM
Lower Valley Energy Outage Bondurant
Apparently some tree felling in the National Forest took out a main supply line. Estimated restoration time is 3 hours or about noon.
---
Tuesday, June 9, 2020 8:23 AM
Ranchers: Lawsuit can run them out of business
Sublette County Ranchers Say Environmental Lawsuit Could Run Them Out Of Business
Sublette County ranchers say a lawsuit challenging a U.S. Forest Service grazing permit could run them out of business along with additional negative consequences.
The Bridger-Teton National Forest approved the continuation of livestock grazing just northwest of Pinedale this past year. Part of that decision allows up to 72 grizzly bears to be killed within ten years.
Sublette County rancher Albert Sommers said removing and relocating grizzlies as far north as Cody doesn't work.
"Those bears have been back killing cattle within the same grazing season," said Sommers. We really think it if you don't control and manage those deprecating animals that it becomes increasingly difficult to run up there."
Sommers said for most of the ranchers, this contested area is the only summer grazing they have. If the bears continue to kill their cattle, they won't have enough cattle to sell to make a profit.
"If we start going out of business, and that [land] becomes developed, then you'll see more and more impacts to other wildlife. And, I'm not sure that's a good thing," said Sommers.
Sommers said grazing pastures keep the values of the West together.
Environmental groups have sued the document that allows up to 72 bears to be killed. They say the animals are still endangered and this puts the population at even higher risk.
Have a question about this story? Contact the reporter, Kamila Kudelska, at kkudelsk@uwyo.edu.
---
Monday, June 8, 2020 6:33 PM
What's going on?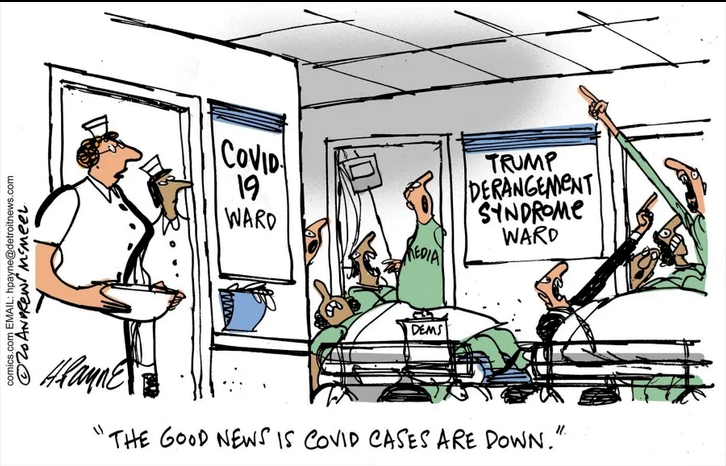 ---
Sunday, June 7, 2020 3:19 PM
Yellowstone's open for business!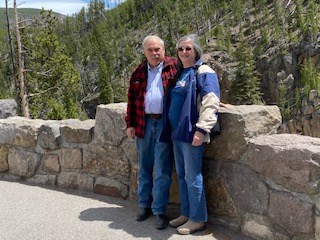 Last week Louise & I went up to Yellowstone. It's open for business (limited). Here's a picture of Louise & I at Gibbon Falls.
The General Stores at Canyon and Old Faithful are open for business. They ask for social distancing and masks. Restaurants are closed. Gas stations are open although some like Grant Village are credit card only at the pump (no one is available).
Other things like the displays at Canyon are closed. So things are limited to what you can see and walk to.
---
Saturday, June 6, 2020 9:35 AM
D-Day Normandy 1944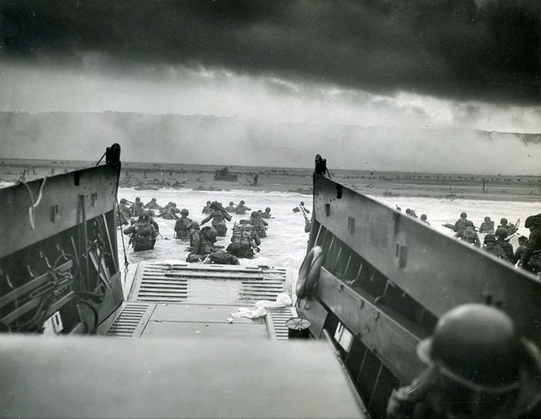 D-Day Normandy, France, 6-June 1944 If we forget those travails we are doomed to repeat them.

---
Friday, June 5, 2020 3:56 AM
Cut State spending by 20% is coming. In his Thursday Weekly News Breifing Governor Gordon spoke about the loss of State Revenues from mineral production. This article by Jim Angell of the Cowboy State Daily gives a top level look.
---
Wednesday, June 3, 2020 7:31 PM
I received the Covid-19 Money. Spending it locally took some work.
---
Monday, June 1, 2020 6:15 PM
President Perkins and Speaker Harshman commended me during the 65th Legislature General Session for my service to the State of Wyoming and to the legislature. The Resolution is also under the Candidate tab and the "On the Issues" pull down tab.