Monday, August 20, 2018 1:09 PM
US Term Limits says Thank you to Bill Winney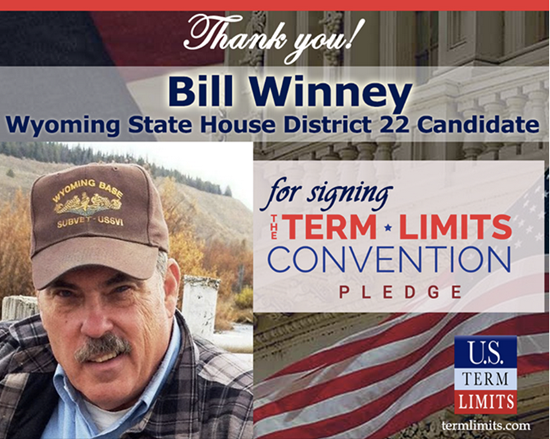 ---
Saturday, August 18, 2018 8:03 AM
Here is the recording of the Alpine Candidate Forum from Monday, August 13th.
---
Thursday, August 9, 2018 8:53 PM
Nurses Rock... And so do teachers...
This article offers some thinking about just how important nurses are to medicine and our health.
Here's my experience: on my way to command of a nuclear Submarine a number of "old salts" that had served in command said things like follow your gut. If something isn't right root it out, get to ground zero, don't accept half answers... And just like the 'old salts' sage advice, these long experienced nurses don't accept half answers and we are better for it.
Now stop and think about teachers in front of the classroom. The same thing applies. This is one reason I have followed education closely. Wyoming's system makes administrators pre-eminent. That is an error.
---
Friday, August 3, 2018 8:18 PM
I kinda like this one. My take: when an NFL player takes a knee change the channel...
---
Thursday, August 2, 2018 8:13 PM
White House Press Secretary takes on a self-righteous cnn kind of guy...
---
Sunday, July 22, 2018 4:45 PM
Andy Wheeler has taken over the reins at the EPA. In his talk with the Washington Staff he spoke of listening to the people of the EPA. Further he spoke of holding the government accountable first as the EPA does business. Specifically the small business owners suffer the most from excessive regulations.
---
Saturday, July 21, 2018 9:15 PM
It's about time for the last two holdout states to protect mothers nursing their child. Good article. I was approached by women crew members on USS Holland in 1995 about nursing their child when the ship was in homeport. Not a problem, we just made room for them. Nursing is important for the infant and for the mother. Its about time these states got on with this.
---
Friday, July 20, 2018 11:12 AM
In the Land of the Whoppers
I heard some real Whoppers this week. You know... it takes real work to stand up to liberal-progressives.
---
Wednesday, July 18, 2018 8:36 AM
The Budget Tug-of-War
You'll hear the real tug-of-war between the Houses on my page: "The Status Quo Just Ain't Good Enough." There is now a file for Speaker Harshman's closing speech to the House Body and then a file of Senator Scott's objection to a funding bill in the closing of the Senate. These illuminate the problems facing our Budgeteers in the two Houses.
You can also just click on the links in this news item.
---
Wednesday, July 11, 2018 11:22 AM
Halverson talks over the fence
HD-22 has a Gossip-in-chief. Her post below is plain old back fence, gossip circuit talk. You would expect a Legislator to check things like this out... She didn't. You deserve far better.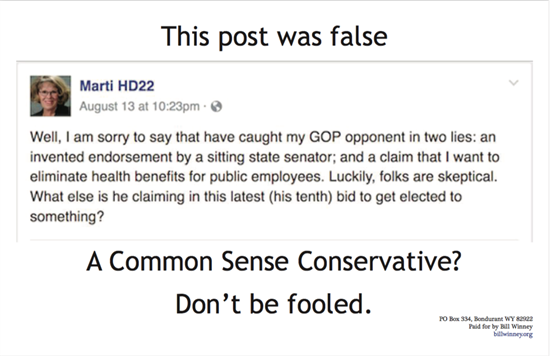 Vote for a straight shooter Vote Bill Winney HD-22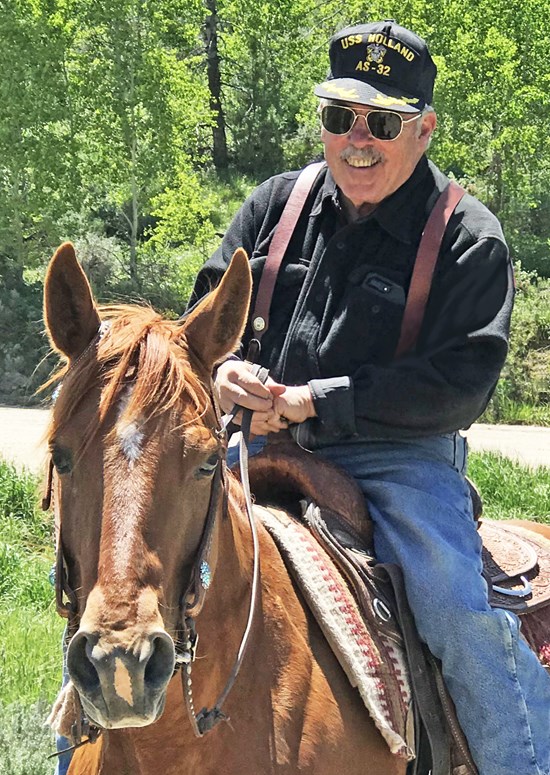 ---
Friday, July 6, 2018 8:44 PM
Running for HD22
The Status Quo just ain't good enough...
---
Tuesday, July 3, 2018 7:07 PM
HRSID Records Review
Last week I was finally given access to the records of the Hoback Ranches Service improvement District. After an 18 month battle, sort of like Charlie Brown with Lucy holding the football, a judge ordered the records opend.
The districts records were illuminating and I believe will show how they do business. Look over the link above.
---
Sunday, July 1, 2018 6:30 PM
Flapping in the Breeze
This neighbor (we don't get along) put up these signs for my opponent... they seem to be flapping in the breeze... He didn't do a very good job of set up... maybe if these are the kinds of support my opponent has I have less to be concerned about! Well, a nice thought anyway... :-)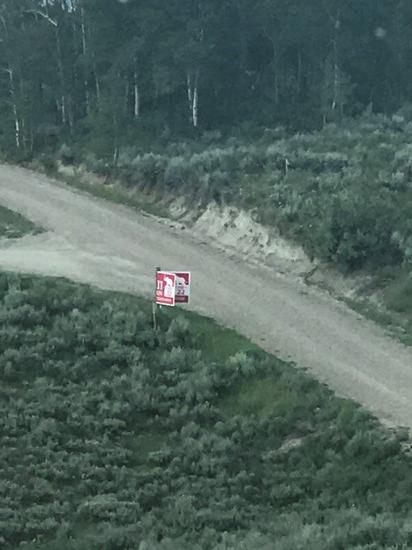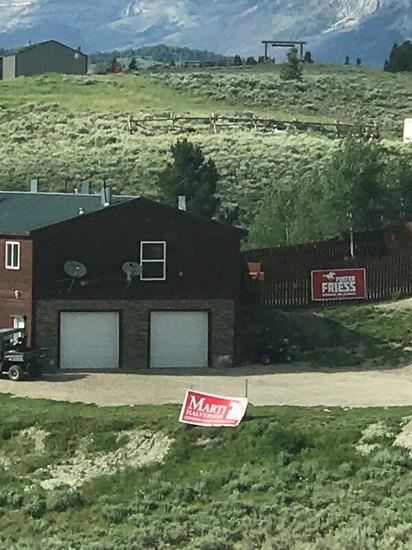 ---
Saturday, June 30, 2018 4:14 PM
Women in Wyoming
As I observed how a school district treated my wife I was disgusted. Wyoming calls itself the Equality State, yet all too often a wife is a second family income and may bring in the health care insurance. They are then asked to accept treatment for the good of the family that men might not accept.
---
Tuesday, June 26, 2018 1:56 PM
Changing Computer Science
The paradigm is changed for Computer Science Education. I have followed these committees for a long time. They have struggled mightily with how to shoe-horn in "one more course." I realized it needed to be taught right along with other "tools" that our young people use. In effect Peanut Buttering it across the entire curriculum.
---
Tuesday, June 26, 2018 10:35 AM
Taking on Liberal Progressives
I've added more info on my efforts to take on a small group of liberal progressives that have taken over the Hoback Ranches Service Improvement District board. Read more at this tab.
---
Sunday, June 24, 2018 6:15 PM
Bondo Barbecue 2018
See the new photo gallery of the 2018 Bondo Barbecue.
---
Wednesday, June 20, 2018 7:24 AM
The Income Tax folks are at it again. In this article the author speaks only from a State Level Tax "diversity" perspective. To be fair he doesn't propose the unstated premise that current spending "just fine." He attempts to make the case that Wyoming will get through a bust side of the cycle if it just puts an income tax in place, thus diversifying our state's revenue stream.
---
Tuesday, June 19, 2018 9:57 AM
Here is an interview with Rep David Miller, House Majority Floor Leader. He discusses Wyoming's choices for its underfunding given the reduction in federal mineral receipts. The author of this article presumes that current Wyoming spending is necessary and sufficient without excess. Woven throughout his article is the theme that the only true fix for our underfunding is to install an income tax. I believe the people of Wyoming should insist that the legislature take its sharp, red pencil to the budget first.
---
Sunday, June 17, 2018 10:07 AM
I am currently taking on a small group of liberal progressives that have captured the board of the Hoback Ranches Service Improvement District in Bondurant. There is a full story under my Getting Things Done Tab.
---
Friday, August 12, 2016 12:38 PM
The NRA's Political Victory Fund has rated me as Aq in their candidate ratings. I'm a long standing NRA member with a solid view of the Second Amendment. I believe it is quite clearly worded.
---
Tuesday, July 19, 2016 1:38 PM
Cliff Creek Fire - Day 3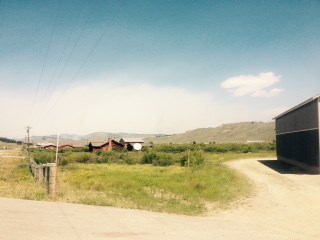 Cliff Creek Fire
Bondurant (taken about noon 7/19)
This looks from near the firehouse out over Dell Creek.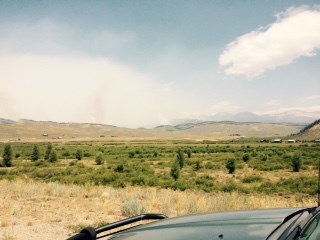 This looks toward Hodges Peak. The fire appears beyond the ridge and homes may not be at risk. The fire appears to be moving East Northeast.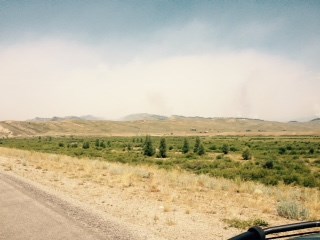 This pic looks to the left of the above one. It looks toward Deer Ridge.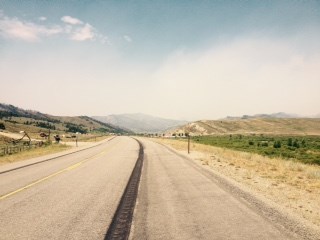 This pic looks toward the Elkhorn Cafe. You can see the fire is moving to the right in these as there was little in the above areas yesterday.