Letter of Support
July 29, 2020
Representative Landon J. Brown
PO BOX 20729
Cheyenne, WY 82003
Republican Voters of House District 22,
This letter is sent as a letter of support for the Republican nomination of Bill Winney in House District 22.
I have had the pleasure of getting to know Bill over the past 4 years of my service in the Wyoming Legislature. I am not sure that there is a more devout citizen to the process and involvement of the legislative process than Bill Winney.
Bill has a vast array of knowledge from his time in the Navy that he brings to nearly all committees. His expansive experience has helped shape and develop policies over the past 4 years that I have been involved and I appreciate his words of wisdom and knowledge.
I believe Bill has a great understanding of what it takes to draft, develop, and pass good legislation for our state. As a Republican, I believe he is the right fit for the Republican nomination for House District 22. I would encourage your support and vote for Bill Winney on August 18, 2020 for the Republican nomination for House District 22 Representative.
Sincerely,
Landon J. Brown
Voting with your Feet
Seems California is losing business because of its business climate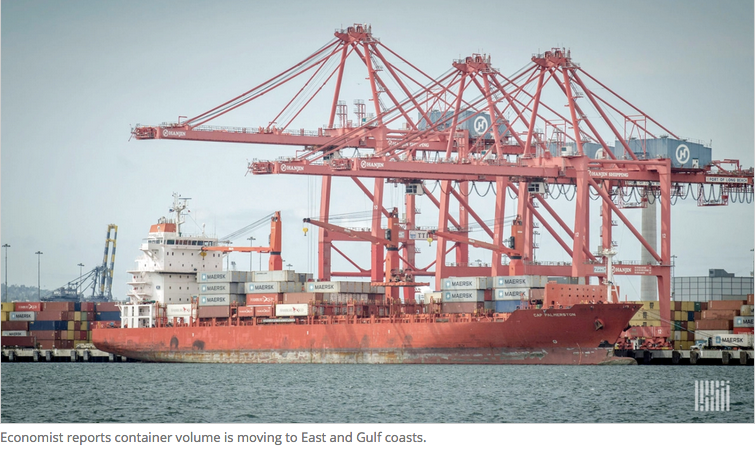 Turns out that California is losing out on container shipping because of its business climate. This is in part influenced by the newly widened Panama Canal enabling trans-Pacific shipping to go directly to US Gulf and East Coast destinations. The widened Panama Canal opened for business in 2016. In other words the business climate that a state government creates by the legislation it passes makes a difference. When a state assumes that they are indispensable the world around them can change.
As Wyoming goes forward in seeking to solve its revenue problems it must carefully consider what kind of things it imposes on businesses. I will keep a close eye on such proposed legislation and ensure businesses are not hobbled in some way.
The Port of Savana is mentioned in the above linked article. I saw the beginnings of the Port of Charleston's container shipping efforts while operating a submarine out of the Navy's Weapons Station. The business then was pretty hefty and dredging of the channel was in progress to accommodate the larger ships that the widened Panama Canal would bring. Notably the Porsche company (Volkswagen AG is the parent firm) had set up Charleston as its US terminal in that era.
California is in more trouble than just their taxpayers leaving.

Pro-Life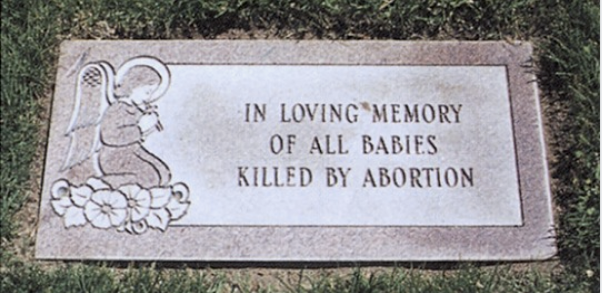 I believe that life begins at conception and should proceed until a natural death. Children are part of life, when they become inconvenient, we have lost our soul...
2nd Amendment
I believe the Second Amendment is simple and clear. There are many efforts that nibble around the edges of it. I do not agree. Red Flag laws are just this kind of nibbling. Our nation's laws have long required a judicial determination to take away someone's rights. In the end "Shall not be infringed" means what it says.
NRA member.
Endorsed by the NRA-PVF.
Member of WyGO.

Law Enforcement Funding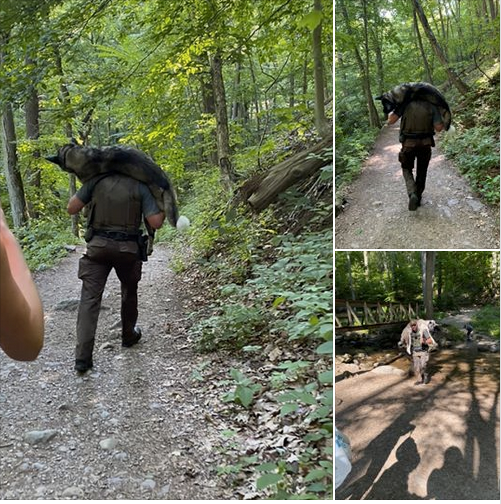 There is much going around on "defunding law enforcement." I doubt that will take root here in Wyoming, but here is an example of something Law Enforcement does that seems out of the mainstream, yet is just the kind of thing they do as a way of supporting society. Keep in mind that this Park Ranger was physically fit and strong. There's a reason they keep themselves fit like this.
At the end of the day say a prayer for these men and women that are out there doing things like this:
"[Lexie Daniel needs] to make a huge shoutout to a Park Ranger at Mt Tammany in NJ. His name is K. Salapek. Upon heading back down from our hike, we see a dog panting with heat exhaustion laying on the ground. A Park Ranger was with him. We gave them the water we had left, but were afraid that would do little help with how much the dog was already struggling. This Park Ranger picked up this huge dog, threw him over his shoulders, and carried him down an incredibly rocky hill all the way down to the stream (it was a LONG distance) and laid him in the water as he knelt beside him and poured water on him. The ranger then picked him back up over his shoulders and walked all the way back down towards the street with this heavy dog. This was a couple miles of an incredibly rocky path. This ranger SAVED this dogs life. This is a HERO. This dog probably wouldn't have made it without him. We are so lucky to have Rangers like this that put even animals before themselves. This Ranger deserves insane recognition and a standing ovation for his bravery, selflessness, and strength
***clarification: dog was not not dumped. Owner was there also and visibly upset, just couldn't carry the dog himself****"
(This was taken from a Facebook post.)

State budget
We are now facing a truly draconian future. Clearly the legislature should have taken some small cuts in spending in previous years... well, "woulda, shoulda, coulda..."
How do we go forward now with what we have. That is the problem the Legislature must solve.
A recent analysis of state funds indicates that Wyoming may exhaust savings before the next Budget Session convenes. Then it has been said recently that Wyoming may not be able to meet payroll. This is a tough time coming.
Recent news articles have spoken to this. Specifically Gov Gordon has directed a 20% cut in spending by the State. Will that be enough? In all likelihood... No, yet it is the start. The Legislature must look carefully into budgets. There will be a tendency to "slash & burn." That must be avoided, even though it has some emotional appeal.
Covid-19 $$

Louise & I received the Covid-19 money. We began looking around to make sure we spent it locally. We decided to buy local beef & pork... but then we needed another freezer to put it in. Hm-m-m... A to Z Hardware in Pinedale: come back in August: Hunters in Afton: Maybe late July: Home Depot & Lowes... well, sometime in the summer.
Scarce as hen's teeth...So how can you spend money locally when the freezers are just not out there to be had?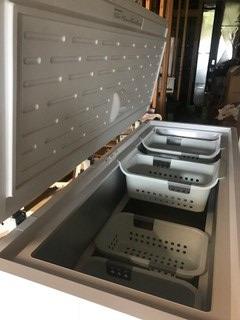 Then called Allred's Appliance in Afton... They had some coming in! Great, put a deposit on one! Picked it up today (Wednesday 6/3), got it home, wrassled it out of the Suburban onto the Ranger, drove it down to the basement level, wrassled it off the Ranger and into the basement door... slow but sure I got it into the basement... Louise likes it!!
By the way, Allred's in Afton had a better price than Home Depot's advertised price for the same model by $100...
Now to get going on the beef & pork... I hear Thayne has a good place...
Resolution of the 65th Legislature
Commending My Service to the Legislature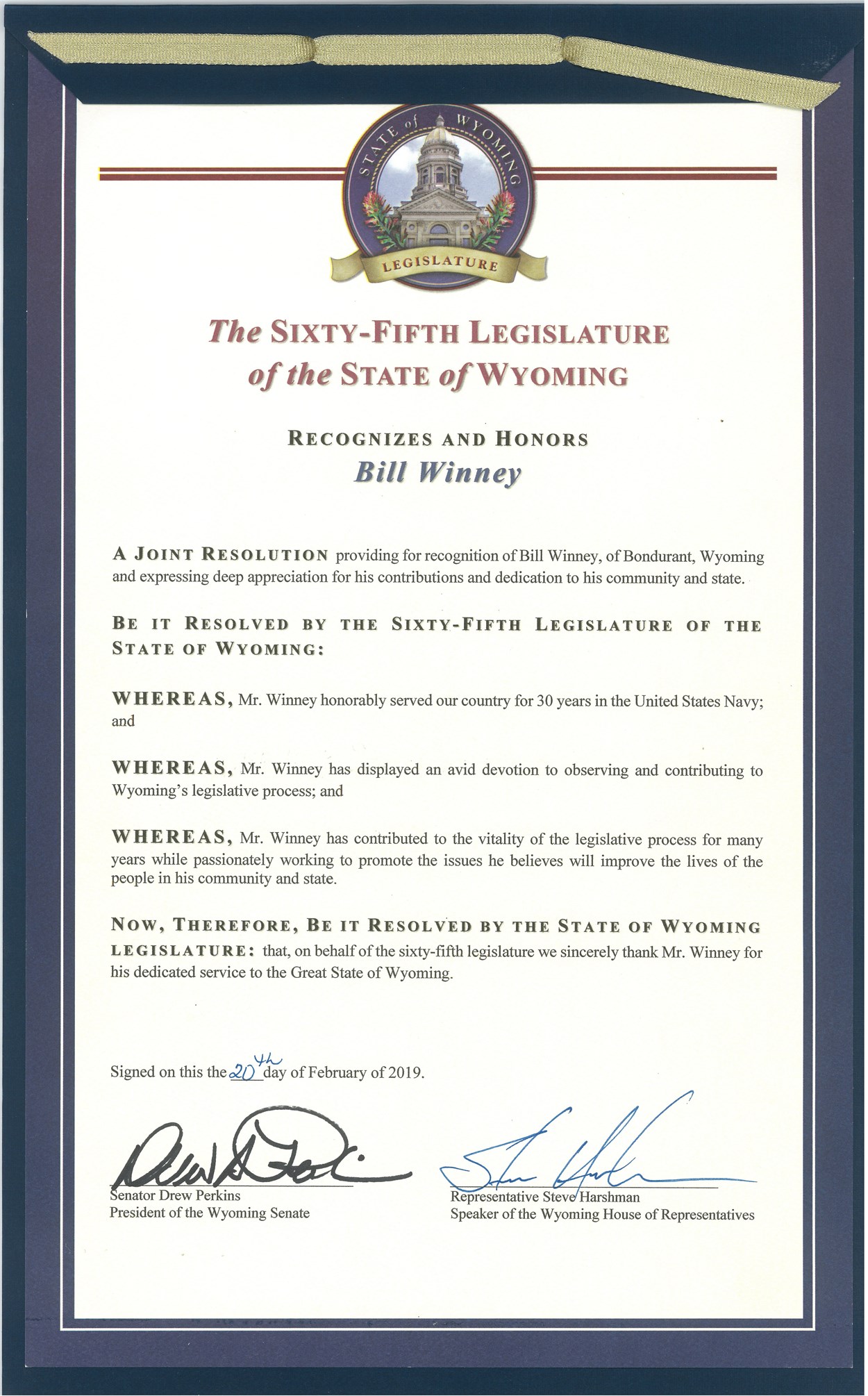 I thank Speaker Harshman and President Perkins.