Wyoming Education Assn
The Wyoming Education Assn - PACE has chosen not to endorse any candidates for the Wyoming House District 22 race.
The PAC did label my Campaign as "Education Friendly." It is notable that they did endorse my campaign in the Primary as you can see below.

A Recent Example:
Making Change
Just a few days ago I observed an example of California School System failure. A young 8th grader whose family moved to Wyoming after the Covid-19 California School shutdown was a cashier in a store. This young person had a problem making change... I was buying a cup of coffee: $1.75 and I handed her $2. This young person had real trouble figuring out that the correct change was a quarter... she ended up giving me two dimes and a nickel after I quietly said 25¢.
A few years ago I was in a Denver area Sams Club. I bought a pizza slice and two sodas for my self and my wife... the cost was $4.30... I handed the cashier a 5 dollar bill and 30¢... this cashier then got out a calculator to figure out the change...
My perception is that our young people are better prepared by Wyoming's education system... but we must keep our eyes on things...
Reservation schools move classes online, cancel sports
By Seth Klamann
Casper Star-Tribune
Via Wyoming News Exchange
CASPER — Four Wind River Reservation-based school districts have announced they'll keep their students at home and learn virtually for the first weeks of this school year, as Fremont County remains the Wyoming county hit hardest by the pandemic and tribal governments continue to institute a limited shelter-in-place order.
The four institutions — Fremont County school district Nos. 38, 21 and 14 and St. Stephens Indian School — moved together earlier this month to move their first quarter of instruction entirely online, removing more than 1,500 students from the classroom and onto computer screens. They also canceled all of their fall sports. The decisions represent the first move by Wyoming school districts to do anything but reopen for in-person instruction in the coming weeks.
The county — and tribal communities in particular — have been especially hard hit by the virus. As of Thursday, 431 cases of the novel coronavirus have been confirmed in the county (with 371 recoveries). The county also has the most deaths — 12 — all of whom are members of the Northern Arapaho Tribe.
The tribal councils have had a shelter-in-place order in place for months, the only one of its kind in Wyoming (Teton County briefly had such a mandate in the spring). On Thursday, that order was loosened slightly, removing a curfew and allowing for businesses to reopen. But it still expressly blocks schools from opening for in-person instruction.
Superintendent Frank No Runner, who leads St. Stephens, said the decision was undertaken to protect students' elders. While the virus isn't particularly dangerous for younger people, the risk is that the students would bring the disease home and infect more vulnerable groups. That's been a persistent concern across the state and country; indeed, it's the heart of the debate whether to reopen schools.
Superintendent Debra Smith's Fort Washakie-based district sent out a survey to parents, 60% of whom said they were uncomfortable sending their students back to school. Superintendent Michelle Hoffman's Ethete district conducted a similar survey, which had slightly more even results but still indicate widespread apprehension about school returning.
"The majority of the community is relieved that we are being very cautious because of our small community and the situation," Smith said. "We do not want kids to be spreading that virus back home to community members, to elders, to family members. That's something the board and administration are taking very seriously."
The decision to cancel fall sports was particularly hard, officials said. No Runner said his son was set to start this year, for which he been waiting "forever."
Hoffman said that it just made sense to cancel sports, given that students weren't allowed to congregate in other settings.
"We have a lot of students that go out for cross country and volleyball, and I know that disappoints them," she said. "You don't want them in school, so you don't want them out participating in sports. It kind of negates the whole idea of doing virtual learning if you still take them and throw them back into the same situation you're trying to avoid."
All four districts will reevaluate their distance learning in October, when the first quarter ends. In the meantime, they'll all begin standing up a virtual learning program. They, like the rest of the state's school districts, had little time to prepare when school was canceled in March. Now, they're distributing laptops and training staff.
Hoffman said that in March, the district had to install a Wi-Fi hot spot in the parking lot of the high school so students could park their cars and use it. She said the tribes are working with the schools to expand access to technology and internet.
No Runner said St. Stephens would be distributing laptops in the coming weeks. Hoffman said days have been set aside to train staff.
The decision — and the particularly vicious outbreak on the reservation — has been influenced by the tight family structure of tribal families. No Runner said he grew up in a household with multiple generations and with different branches of his family under one roof.
"Native Americans, we really value family, and that's our wealth, is our family," he said. "So that's what we value a lot, and it's really important that we keep our elders safe because they have a lot of valuable traditional knowledge and cultural knowledge that can't be replaced if they're lost."
Bill Winney Endorsed by the Wyoming Education Assn PACE

Thank you WEA. I have worked long and hard to improve education as a private citizen. I promise to take the same effort and skills into the Legislature.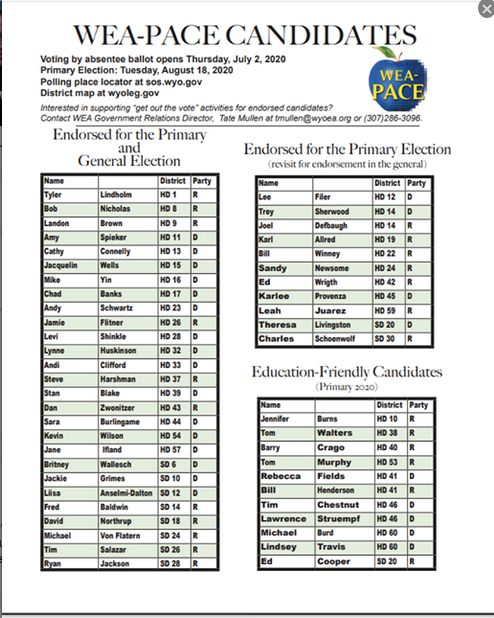 How will the loss of revenue affect Education?
In this Wyoming Revenue discussion by key legislators on Wyoming PBS, Education reflects about $500 M in revenue lost. So should education also have reductions along with the rest of Wyoming government expenditures? Although said quietly, it is clear that education will also sustain cuts. Where can money be pulled from education? As I see things, if the checkbook is empty, in the realm of education you look at what must be protected.
In my view classroom teachers are at the top of this list, then key support staff (eg library, instructional facilitators, food service, maintenance, and similar positions). More to follow as I talk with people in HD-22.

Solving a Complex Problem
The House & Senate Education Committees, both in regular session and interim meetings, struggled with how do you shoe horn in one more computer course?
They were always running up against two problems: The breadth of information required to be provided to students on computer science and the already required courses in a curriculum. I stood back from the problem and asked why can't we figure out how to spread the elements of computer science across more grades? The reality is many of our young people are already computer literate by 4th or 5th grade.
So as I reflected the issue became one of how many grades could absorb computer science elements and could the curriculum of those grades be adjusted to then use computers on a regular classroom basis. The answer seemed to lie in what is being done with some foreign language instruction: Total Immersion.
The Committees liked the thinking and sent it on the the Wyoming Department of Education who developed it into a fully fleshed out revised curriculum across all grades. In the 2018 Budget Session Senate File 29 then put this into legislation and Gov Mead signed it into law..