At the LWV Forum Monday August 13th
Computer Science was a hot Topic!
Candidates were asked to speak about what they would really do in the coming Legislative Session. I spoke briefly on what I had done in the education world of Computer Science and then went on to speak about the $50M I thought could be pared out of education monies. However this caused some sparks with my opponent. The body language is not apparent, but you can infer it was as testy as the words here. I believe my opponent was simply unaware of what was done in this realm.
Along the way of this exchange you'll also hear words about whether a hard look was taken at education funding. My point was simple: the legislature, for all of their looking into education, did not approach things with the attitude of "we must seek efficientcies in places we never looked hard at before."
Then a real dig at our "citizen legislature" was made by my opponent. My opponent's words about computer science were blamed on the faiings of a Citizen Legislature in not controlling a bureaucracy. I believe our citizen legislature works rather well, particularly given the ability of our citizenry to in fact influence legislation.
Here's the audio of the interchange:
A New Paradigm for Computer Science Education
As a private citizen I directly influenced the future of Computer Science Education in Wyoming.
• I attended Education Committees & the Interim Committee meetings for years,
•• I observed them struggle with shoe-horning in another course into an
already packed curriculum
•• I offered a way of solving the years long struggle

In essence, spread it out grade by grade:
Early grades

• Keyboarding taught right along with the abc's and printing letters, in other words being able to interface with a computer is a common skill.
• Use of common low level software ending up in something like Word & Excel & PowerPoint
Mid grades

• Beginning programming, writing simple programs,
• Intro to coding, moving from programs to putting those programs into code and running them on computers
Higher grades

• High level software, introduction to hardware and computing
• High level coding, real world software & computing products
The Committees liked this thinking and translated the above into a Senate File (SF-29), and the legislature passed it in the 2018 Budget Session.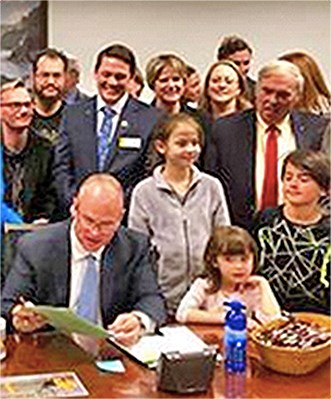 This picture is of Gov. Mead signing Senate File 29, the bill that put all of this in place. I am just beyond his left shoulder.
Throughout my Navy Career I showed a strong ability to distill tough problems to key overarching issues and then develop seemingly simple solutions. These solutions enabled a head and shoulders above the rest performance by my crews. That is precisely what I did here. I had heard the same theme expressed by the Education Committees again and again and again without a way ahead. Then the solution appeared for me... and Chairman Northrup and Chairman Coe saw value in my thinking.