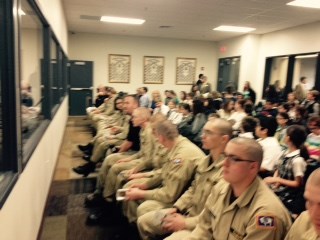 These young men & women across the foreground of the picture are part of the Wyoming National Guard ChalleNGe Program. They are observing the recent Budget Session in the House. This program takes those that dropped out of High School and through a voluntary residential program puts them through a High School equivalency regimen. About 75% of them will achieve their diploma.
I spoke up in Public Comment in front of the Appropriations Committee in favor of this program, my goal was to ensure the program was funded properly. This past Budget Session was a time when every state program was "giving at the office" as a direct result of the severe reduction in state revenues.
General Luke Reiner, the Adjutant General, presented the program to the Joint Appropriations Committee and spoke to the programs success rate and efficiency in using state funds.
I then rose and spoke up as a citizen. My words were simple and straightforward:
This program is about Wyoming's future and our young people. The young men & women in this program can either be a load on the state ten years out or they can be productive citizens. I've read the CREG Report and I know what you're facing in the budget. You have to pay the bills today. But there are a few, probably very few, programs that still should be fully funded. This is one of those few programs.
The Appropriations Committee fully funded this program