Honest Straight-Talking Government

Aa a private citizen I began speaking up in Public Comment in Legislative Committee meetings. My goal was to speak to things for the people.
I have done that at home in Bondurant. The local Service Improvement District set about a path of deceiving the people in 2013.

• An illegal Special Assessment was put up for a vote designed to get people's thinking beyond a tax cap
• They sought to expand their powers far beyond those granted them on formation
• They have proposed unlawful rules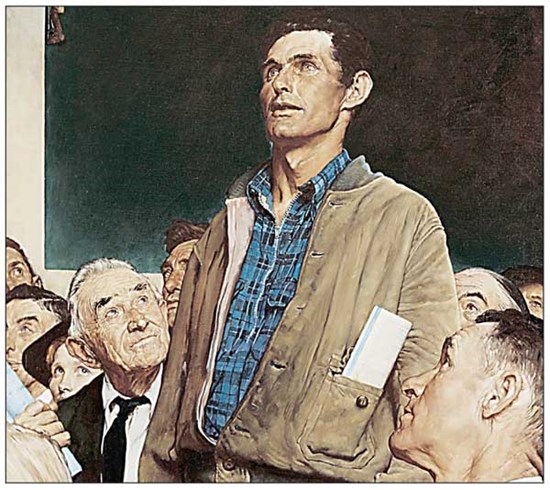 I've spoken up to this board like this man in the Norman Rockwell painting.
In my mind he's standing up to say that "the Emperor has no clothes on."
I have spotlighted their actions. This board ignores limits on their authority and have sought to silence me by:
• Threats
• Petty vandalism
• Veiled threats of arson

What I saw in this Service and Improvement District taught me that government without limits must be reined in. It is the Legislature's duty to provide sufficient framing statutes to corral such behavior.
As your Representative in Cheyenne I will stand for:
• Limited government that observes their charter or Constitution

• Limits on taxation, a government with a free hand on money, always overspends

• Hardnosed, effective oversight of Wyoming Departments to
•• Control spending
•• Ensure responsiveness
•• Minimize and reduce regulation of private industry

In the Nuclear Submarine world education is everything. I have observed my wife, Louise, teach many places around the world. I have followed education in Wyoming closely.
• Education is our future. Our system has too many paper-pushers.
•• There is at least $50M being spent on too many administrators.

I have oberved my wife in Wyoming.

• I believe women are not compensated equally.