In our Legislature's recent General Session (2015) I asked the Education Committee Chairmen to speak to their Committees for 10 minutes. I had observed that the Legislature sends funding out to school districts for special purposes and restricts how it can be spent. Yet they had no mechanism to ensure proper spending of funds.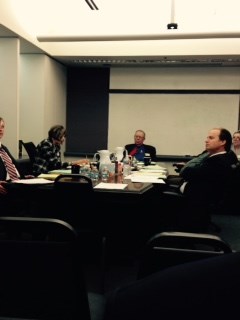 Both Chairmen gave me the requested time. It took a lot of work for me to prepare the presentation and preposition appropriate copies with each Committee Secretary. With the assistance of the secretaries I was ready on very short notice. and the presentation went very well. The Chairmen and Members quickly picked up the copies of the presentation I provided and were looking at them carefully as I spoke to them.
<< Here's what the setting looks like in the temporary quarters for the legislature. The picture at left is the Senate Health & Social Services Committee.
Interestingly the Committee Secretaries have remarked that my presentation was one of the top, most professional ones they have seen. I have long understood that if you respect people in positions like the committee secretaries the skids may be greased for what you want to do. In part one simply has to pay attention to published ways of doing business such as: how may copies of a presentation one brings to them.
Many thanks to the secretaries I have worked with over the years. They work some long hours during a session and have to get the various elements required to support their chairmen perfectly. It isn't easy and having someone follow the guidance for speaking to the committee makes things go more smoothly. Their remarks to me indicate they have been surprised by presenters in the past!
I have spoken to the Education Committees during interim meetings. In June of 2015 at a hearing in Saratoga one topic had to do with how school districts handle newly graduated teachers (from UW). The testimony and conversation was along the lines of how districts get rid of poor teachers.
I stood and spoke because I disagreed with the direction and tenor. I focused on the responsibility of leadership to develop new teachers. In my observation Wyoming's education system gives poor leaders a pass. My thrust was simple: UW produces good entry level teachers and it is the responsibility of a district's leadership to develop them into good, solid journeyman level teachers. Quite simply our education system in Wyoming ignores the responsibility that should attach to a district's leadership.
In essence I believe the Legislature should look out at School District leadership and say "OK, we delivered a good, entry level teacher to you... what have you done to improve and train them?" My perspective is straightforward you can build a system designed to throw teachers on the trash heap... that's the easy way out, or you can build a system that says "We gave you a good product leaders, get to work and develop these teachers." Building such a system takes work and I believe the legislature is obligated to do that work.
In another aspect I have spoken up on testing. An enormous regimen of testing, testing, testing was initiated in an effort to identify "poor teachers" and attach to them a mechanism designed to force them out of the system. This was misguided.
First it mandated an enormous amount of classroom time to testing to the clear detriment of teaching time. Second it ignored the longitudinal importance of any given teacher to next year's teacher in a system. It was as if the legislature could focus in on an isolated teacher. Third it produced a major incentive for a teacher to "teach to the test." Despite the good intentions, it actually produced a very clear negative impact on education.