Yellowstone's open for business!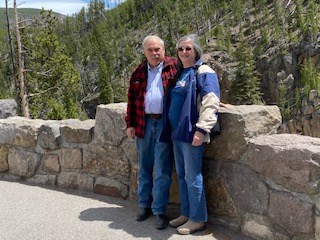 Last week Louise & I went up to Yellowstone. It's open for business (limited). Here's a picture of Louise & I at Gibbon Falls.
The General Stores at Canyon and Old Faithful are open for business. They ask for social distancing and masks. Restaurants are closed. Gas stations are open although some like Grant Village are credit card only at the pump (no one is available).
Other things like the displays at Canyon are closed. So things are limited to what you can see and walk to.