The Bondo Barbecue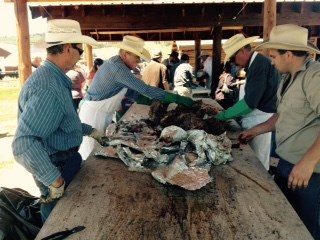 The Bondo Barbecue
Here are "The Hands" carving up the barbecue meat. I worked the barbecue (but not at this table!). Folks like these have been doing the cutting for 75 years! The Sheriffs department is there to keep the Hwy 191 traffic down to a dull roar...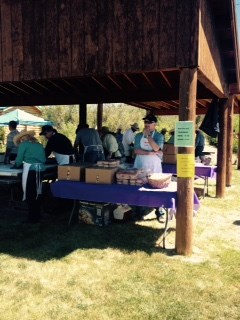 Many hands make light work for all. Here's those serving up the barbecue. The hot sauce & onions, salad & Potato salad, and dessert were further down the line. The turnout was good!
I was there to work and Strawboss Irene gave the orders. I was encouraged that, although I was not politickin' and didn't bring up the House District 22 race, quite a few folks came up and talked to me about it. Saying keep it up we need ya!
Many thanks to those who spoke with me. It's encouraging.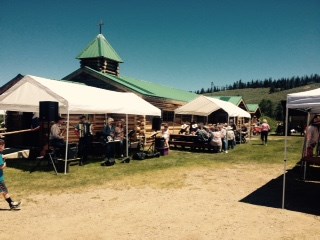 Events began with an Episcopal Church Service at St Hubert the Hunter. There is some interesting history about this church and how it was established. It seems there was a blizzard that trapped an Episcopal Bishop in Bondurant in 1937 and a diamond bequeathed to the Episcopal Church to be sold to establish a church in a remote part of the US.
The Band played and people enjoyed the food. Just a good time. People came from as far away as Sundance! Along with many people just happening by from many parts of the US.