Gov Gordon extends current Covid-19 restrictions to 15 July
Governor Gordon has extended the restrictions related to Covid-19 through July 15th. From the SweetwaterNow website.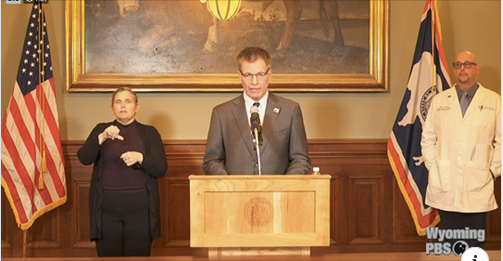 "The Wyoming Department of Health and the Governor continue to recommend the use of face coverings in public settings where it is not possible or reasonable to stay physically apart. On Wyoming's COVID-19 dashboard the number of new cases continues to be rated, "Concerning."
"The continuing orders allow gatherings up to 50 persons in a confined space to occur without restrictions and permit events of up to 250 persons with social distancing and increased sanitization measures in place. Faith-based gatherings such as church services and funeral homes will continue to be permitted to operate without restrictions, with appropriate social distancing encouraged. All public health restrictions that apply to restaurants, bars, gyms and performance spaces will remain in place.
"As of June 29, Wyoming has recorded 1144 lab-confirmed positive cases of COVID-19, 299 probable cases and 20 deaths. The current health orders will remain in place until July 15.
"The continuing orders are attached and can be found on the state's COVID-19 website."
---