Finding a freezer... Scarce as Hen's teeth...
Covid-19 $$

Louise & I received the Covid-19 money. We began looking around to make sure we spent it locally. We decided to buy local beef & pork... but then we needed another freezer to put it in. Hm-m-m... A to Z Hardware in Pinedale: come back in August: Hunters in Afton: Maybe late July: Home Depot & Lowes... well, sometime in the summer.
Scarce as hen's teeth...So how can you spend money locally when the freezers are just not out there to be had?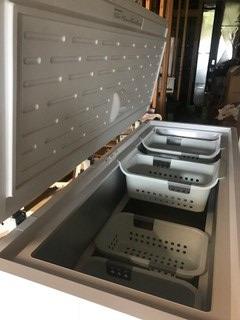 Then called Allred's Appliance in Afton... They had some coming in! Great, put a deposit on one! Picked it up today (Wednesday 6/3), got it home, wrassled it out of the Suburban onto the Ranger, drove it down to the basement level, wrassled it off the Ranger and into the basement door... slow but sure I got it into the basement... Louise likes it!!
By the way, Allred's in Afton had a
better price
than Home Depot's advertised price for the same model by $100...