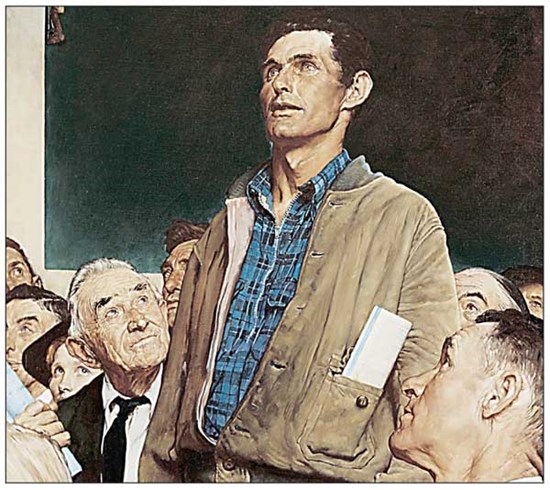 I began following specific House Bills (HB) & Senate Files (SF) shortly after I began observing our legislature. I decided that was the best way to get to know the thinking of the legislature and its members. As I did this I began to sense that my background gave me the opportunity to speak up and maybe even add to committee deliberations. For example I have run large organizations, taught both as an instructor for two years and as a flight instructor, and worked large budget processes.
Along the way I have also attended selected interim committee hearings around the state. The result is that I have seen some "inner workings and hidden mechanisms" of the legislature.
I feel like the man in the Norman Rockwell painting above who stood up in a town meeting and spoke. You wonder if you have an impact. The good news for Wyoming is the process of our legislature is one that does allow one to have an impact, if one speaks carefully, from experience & the heart, and keeps it short & sweet.
One conclusion I have drawn throughout my time observing our legislature is that those that get legislation done speak to that. While those that get little done explain it away with words like "I'm fighting for you." As if hot air influences the process.
Here are the bills I spoke up on in our recent 63rd Budget Session.
SF 14 Student Data Privacy - Fail
Spoke up from my background as a Search Warrant approval authority as a Commanding Officer. Spoke neither for nor against. Spoke to the Senate Education Committee to ensure the committee understood the key issues of a search warrant; because there were many, many people intending to speak to the House Education Committee, I chose not to speak so that I would not slow things down. The presentation of this bill and all of those wanting to speak up took all of the time available to the committee. I then sent a detailed email to House Education Committee Chairman Northrup.
HB 73 Suspension or Dismissal of Teachers for Felony Prosecution – Fail
Spoke regarding the Professional Teaching Standards Board process.
SF 4 Military Service-member Protections - Pass
Spoke up neither for nor against but rather on a related issue: that of protections for spouses. Later asked by the Chairmen to submit a proposed interim topic and it was approved. I am now working to develop this into actual legislation with the WyNG Adjutant General's Office.
SF 11 Youth Challenge Program (e.g. for full funding) - Pass
Spoke in favor in the Joint Appropriations Committee. Chairman Harshman & one other member nodded in agreement as I finished speaking. This is mentioned in a separate Pull Down Tab.
SF 45 Rural Health Care Districts Funding Authority - Pass
Spoke up as VP of Sublette Rural Health Foundation supporting this bill.
HBs 55 & 56 Nurse Compacts - Both Pass
Spoke up in favor briefly noting the military system that requires a license in one state but then medical personnel practice worldwide; this was a 'no brainer.'
SF 24 Supplemental At-Risk Funding for Early Childhood Education - Fail
Spoke up and both committees voted unanimously for 'Do Pass' yet it failed at the goal line in the House on another issue, this failure surprised me yet the unanimous 'Do Pass' from both committees indicated a degree of success. Rep Kinner later talked with me and thanked me for speaking up because it allowed him to frame things well.
HB 66 Retired Firefighter License Plates - Pass
Spoke in favor given my experience as a veteran who fills out similar paperwork.
HB 40 Watercraft operation under influence of alcohol - Fail
Spoke up in favor from my background as a Flight Instructor.
HB 86 Repeal of Gun Free Zones Act - Fail