Thank you.
There were many people who greeted me warmly at their front doors as I traveled the district. We had many good conversations and I learned things along the way. Good, tough questions always cause me to learn things. About the people, about their needs, and most importantly about how they view the future and what they expect of Cheyenne.
Thank you to all of the people of HD-22. There were very few "grouches" in the district, a few to be sure, but many, many who want a functional legislature.
Thank you!

Bill Winney
News Flash
I have gotten wind of something...
About two weeks ago I had coffee with Greg Erickson of Etna. He then spoke with some neighbors. It later came back to me via Dan Dockstader that someone had attributed to me saying that Dan Dockstader had "endorsed me." Not so. I closed the loop with Greg Erickson on this and he responded:
"Bill, You did not say, nor did I say the word "endorsed" in any conversation in which I was involved. I'll call Dan if you would like.
Greg"
What ever has been said about this is hearsay and untrue.
Leadership
I believe that leaders are obligated to go to the people and talk with them directly. It is not enough to talk with other local leaders. One must go to the people, listen to and compare their needs and views with others. Then put these into action. One must be careful about going to a smaller, comfortable group of people. You only hear what you want to hear when you do that.

I have gone to many doors throughout the district and been received warmly. Thank you. What I hear is frustration with the process. Somehow what seems to happen is an agenda plays out, not what the people want.

One hears ground truth at the front doors. There is no audience to play to, no friends to assure of like mindedness, just what a person thinks. Be assured that I will carry your messages to Cheyenne.
I ask for your vote tomorrow, Tuesday, August 16th in the Republican Primary.

Hard Working Veteran & Republican
As I see things there are three big issues facing Wyoming: (1) dealing with the large reduction in revenues, (2) getting education on track, and (3) ensuring that Wyoming does not seek a tax increase as a fix for the revenue problems.

Making these things happen means HD 22 must have a powerful Republican voice.
Wyoming's revenues projected in the CREG report (April 2016 update) are starkly declining.
The core of the primary campaign season is that many, many people have had enough of politicians that say one thing at home and perform differently in Washington (or Cheyenne). The core of how I do business is to go to and meet with people. I listen and compare then put what I hear into action. That is my promise to you as I talk with you at your doors.
I believe my opponent's record is clear: empty rhetoric and harsh conservatism.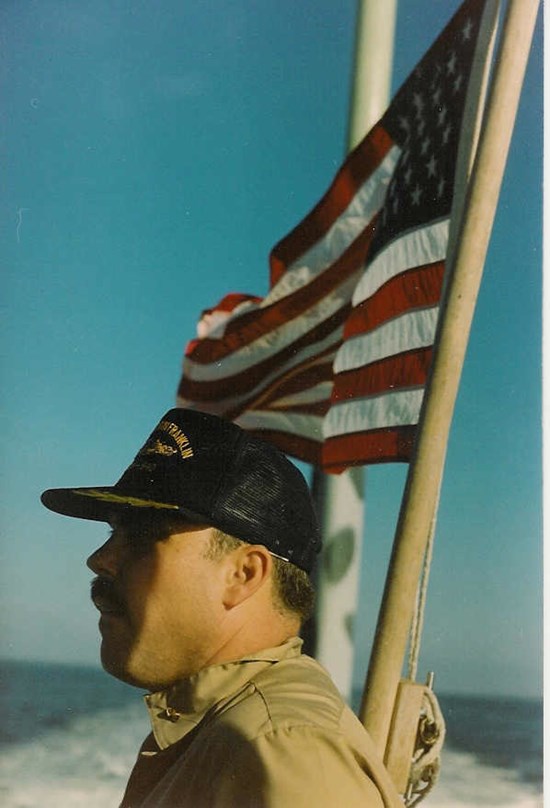 Throughout my 30 years of active duty in the Navy I had a strong ability to look beyond the horizon and recognize problems and get them fixed before they became problems. I did this primarily by looking hard at how I did business and how the policies and procedures I put out affected my people. I paid great attention to what I said ensuring that I did not speak in hollow language with no capability of putting things into action.
In our case the horizon is now and shows limited state revenues. Comfortable talk-talk won't get us where we need to go.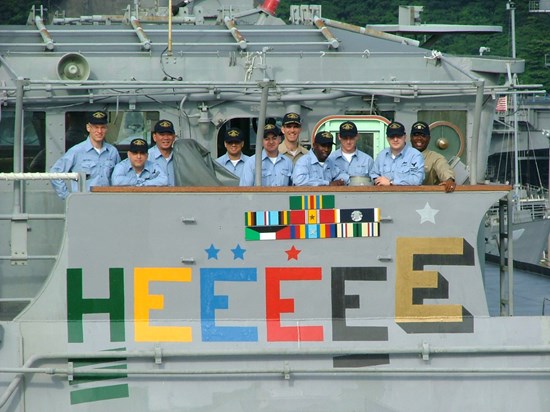 Everything I did throughout my career was done through people. Say it any way you want to: the people did the hard work. In this picture to the right of another ship's crew, the crew members of the USS Chancellorsville in 2014 show off their awards. They did the work!
My first initiation to budgeting was in 1985 where the early flush Military budgets turned over and vast reductions in those programs were on the way. Later in my career I managed large funding programs. For two years I served as the Program Director for the Virginia Class Attack Submarine Program. One submarine in acquisition has a budget almost as large as the Wyoming State budget (and there were between 6 & 8 in production at any one time).
One important skill I developed was the ability to interact with the legislative process. I've used this skill as a private citizen in front of our legislature, most recently speaking up on education issues. I earned the Competent Toastmaster Certificate and it has made a real difference in my ability to speak and convince in settings such as Public Comment in front of our legislature.

This past Budget Session I spoke up on behalf of Military Spouses and was then invited by the Committee Chairmen to submit a topic for interim studies. I am now working with the Adjutant General's Office developing this. I was honored with this as I did not expect my words in front of the committee to turn into an invitation and then become a real topic.
Private Citizens can make a difference.

News
Friday, August 12, 2016 12:38 PM
The NRA's Political Victory Fund has rated me as Aq in their candidate ratings. I'm a long standing NRA member with a solid view of the Second Amendment. I believe it is quite clearly worded.
---
Friday, August 12, 2016 11:40 AM
The article incorrectly states that I support decriminalization of Marijuana. The question was specifically about medical marijuana. My response was that when the medical community finds marijuana has a place or utility in medicine then laws should follow. That is not an endorsement of decriminalization.
---
Thursday, August 11, 2016 5:39 AM
JHN&G Published positions on key issues.
---
Wednesday, August 10, 2016 8:18 AM
Recap of candidates for House District 22.
---
Wednesday, August 10, 2016 8:02 AM
In this article the author doesn't get my position correct on Public Lands. I believe that federal lands should be returned to the states. I find the premise that states cannot properly manage lands is wrong. Read down and look at what I actually said in responding to their question.
Curiously, this paper, in contrast to the JHN&G, did not ask any in depth questions. For example 'Why are you running?' All PJH did was forward 5 questions for response.
They did review my website and capture the essence of why I'm running: My opponent's harsh rhetoric and empty words. Her record in the House is one of ineffectiveness.