Friday, 20 January, Day 9

As I drove home on I-80 I saw this view. I thought that Elk Mountain was particularly beautiful. If there's wind in Wyoming, it starts at Elk Mountain... the good news is that the wind warnings were only for 40 mph...

In General File or Committee of the Whole, the Senate debated SF-86, A Countermand Amendment to the US Constitution. The essence of this amendment is to incorporate a Constitutional mechanism whereby states, as group & not individually, have a way to countermand Congressional or Federal Judicial actions. In other words a Constitutional mechanism for nullification. At left is Senate President Eli Bebout speaking on this bill.
The debate took over an hour and then passed.


In the House a bill on Ski Safety brought equally extensive debate. It was a cliff hangar in the vote with the Chairman breaking a 28-28 tie... it passed Committee of the Whole, 29-28.
The Joint Appropriations Committee worked through much of the day taking a second pass through the state budget. They worked until 7:30PM. This committee has carried the lions share of the work so far this session and their hearings dominated the time of the Legislature so far. This is as it should be given the immense reductions they must put in place. As I have looked at them day be day, they appear more and more tired from the long hours. May they have safe travels this weekend.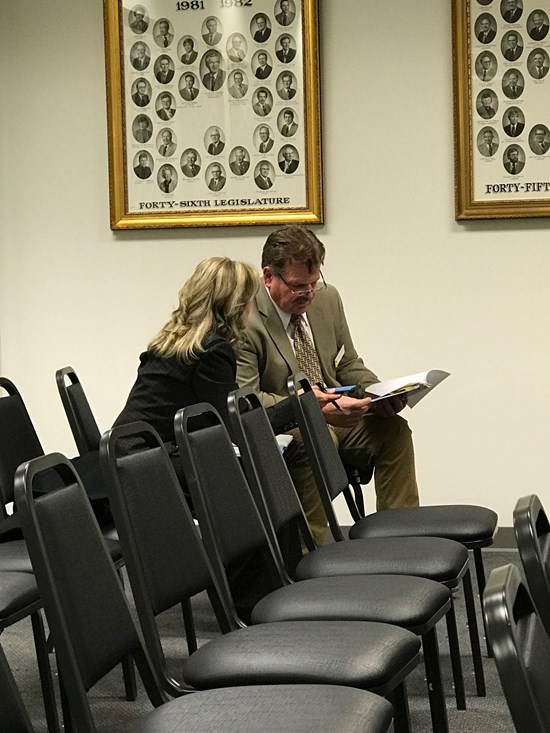 Sometimes Senators and Representatives must take timeout of daily activities to speak at length with constituents. Here is Senator Christensen. He spent over half an hour with this woman on district business.
Thursday, 19 January, Day 8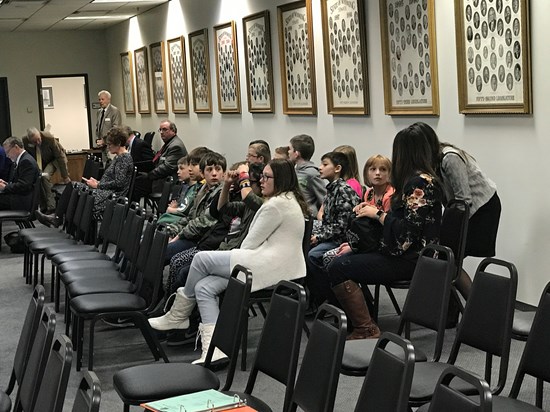 Thursday, Legislative Day 8: 5th graders from Granite Elementary School visited the House & Senate today.
In the Senate the Bill on Peace Officer Recordings and a Bill on Military Spouses progressed. Interestingly a bill on Legislative Appropriations brought much discussion in the Senate regarding per diem costs for legislators living within 50 miles of the capitol. House Joint 2 regarding a national balanced budget passed the House today.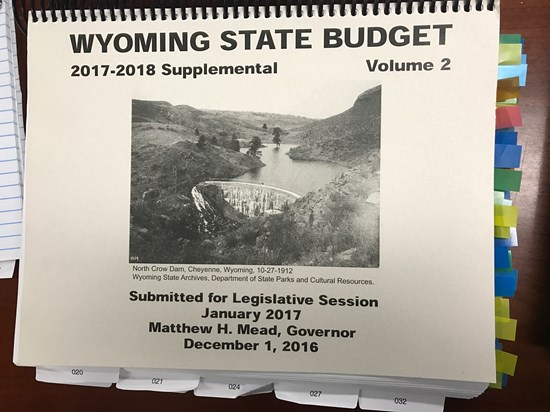 The Joint Appropriations Committee completed its first pass thru the Wyoming state Budget.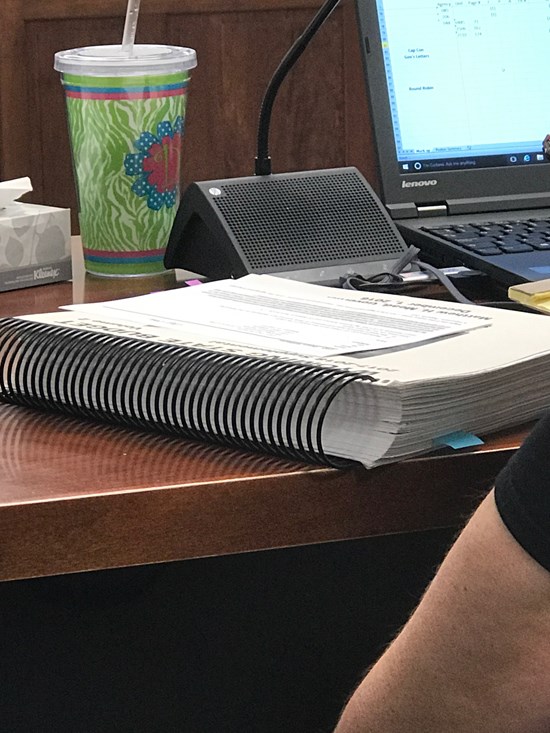 Here is the budget book.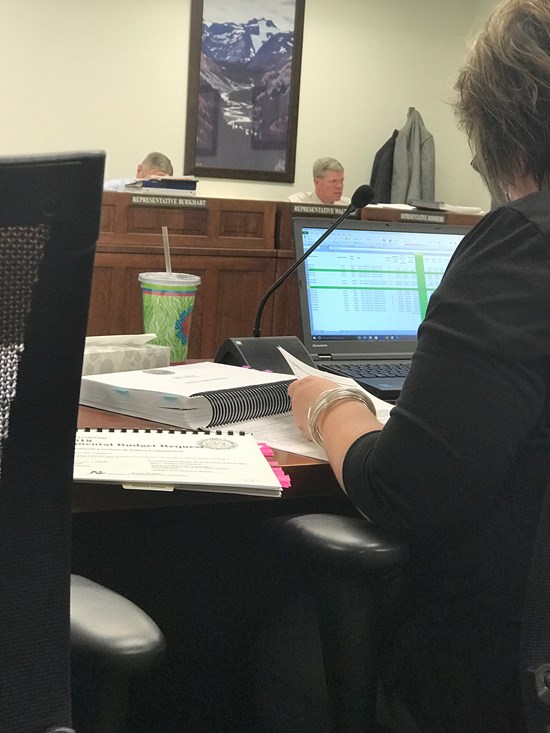 There are two dedicated staffers working the computers for the committee. The committee is going line by line.

Tuesday, 17 January, Day 6

Tuesday, Jan 17, Legislature Day 6. The Highlight of the day was UW Football Coach Bohl visiting the House & Senate.He spoke of how he developed a winning team in the past three years.

In the House much debate was held on HJ2, Balanced Budget Resolution to Congress. This is Rep Tyler Lindholm defending the Resolution. It passed but curiously with only 37 ayes.
Also in the House HB19, collecting sales tax from out of state sellers passed with several amendments including one that was ruled out of order as it was a separate topic. The legislature is looking to find money wherever it can.
In the Senate a bill I expected to be heard was laid back a day. SF 36 on Leader Evaluations brings much debate although generally accepted by most. The sticking point is establishing evaluation criteria for District Superintendents.
Week One Retrospective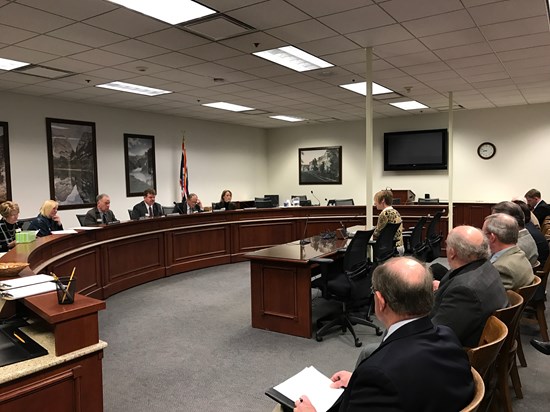 Looking back on the First Week of the Legislature there are some themes that can be discerned. First is that of taxation. Governor Mead touched on raising taxes in his State of the State Speech when he spoke of taxing businesses. Allied with that were words by Senate President Bebout opening the Senate saying 'we must live within our means.' The potential for a Tug of War seems apparent.
The Second theme is that of Education. Two elements: that of what do we do when there is potential information on a student's electronic media that might reveal something truly serious in the offing; and then how do we evaluate leadership? Both of these had solutions that seemed ready for prime time. Yet in the end one failed completely after tough debate and the other has been laid back several times for more work.
Finally seemingly in the background is the looming budget elephant. The Appropriations Committee has been methodically taking testimony from various State Government departments. They have not tipped their hand. The talent put in these two committees is very good, yet looming over them is the Sword of Damocles... There is much more to be seen when they tip their hand. When the cards are shown what will the Appropriations and Education Committees do? We'll see.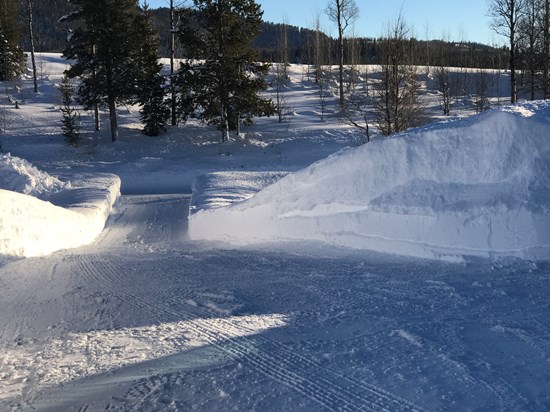 I traveled home this weekend and here's what my driveway looks like. We got 3 & 1/2 feet of snow Monday-Wednesday.

Friday, January 13th
Friday, January 13th, the Legislature continued work. The bills so far are straightforward in the main with a few that take some debate thrown in. Except for the Appropriations Committee, work wrapped up mid-day. The Appropriators continued work until nearly 4 PM. It is clear from the manner and attitude I see in them that Legislative Leadership clearly understands the work to be done by this committee.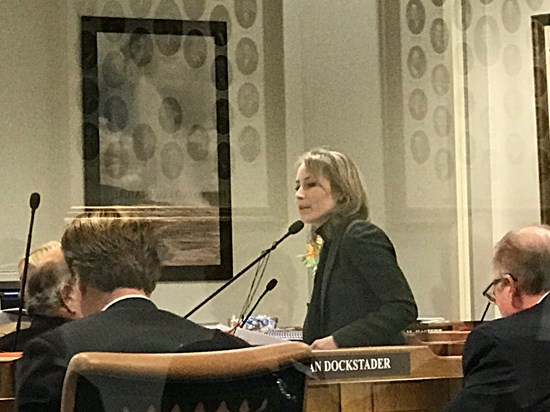 There are now three women in the Senate. This is Tara Nethercott addressing the Senate Friday morning. Her District is Laramie and she is Republican. Also is Affie Ellis, Republican, Laramie, and Liisa Anselmi-Dalton, Democrat, Sweetwater.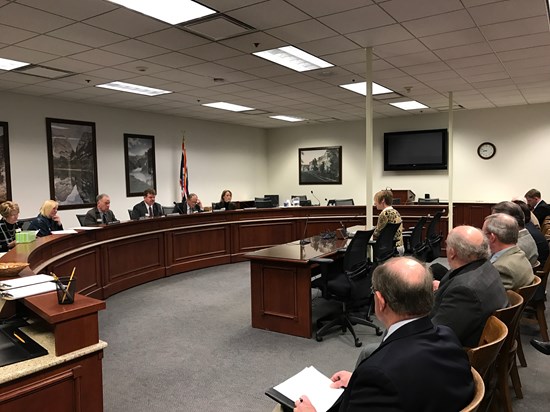 The Senate Judiciary Committee heard testimony on SF-32 regarding procedures for handling body camera recordings. Testimony went on for over an hour. Interestingly, Wyoming Supreme Court Chief Justice Burke attended this hearing. I believe he was there more for the Bill (SF 81) regarding Circuit Court Judge salaries than this bill. He was afforded the opportunity to comment and, of course, he declined.

In the Senate Education committee a bill was heard for the second time on Leadership Evaluations (SF-36). This bill is turning out to be a tough nut to crack and it was laid back until Monday. The Committee Room was Standing Room Only.
Thursday, Jan 12th Report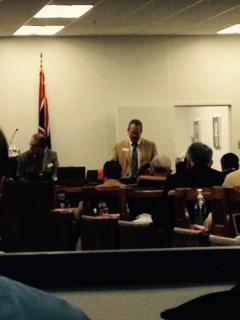 Thursday the 12th the Legislature settled down to work. Of note was extensive debate in the Senate on SF-20 Student Data Privacy. This debate was carried over from yesterday. Since several members were out at Appropriations Committee hearings and the vote was close Sen Scott voted to ensure further debate. Today that happened and it failed. Another bill of interest was SF-25 Wildlife Location & Research Information A bill limiting how information on specific locations of wildlife could be misused. The in the House was an Adult Protective Order Bill ensuring that such situations could be handled and keep the subject in their own home.
The Governor's State of the State Speech
&
Chief Justice Burke's Speech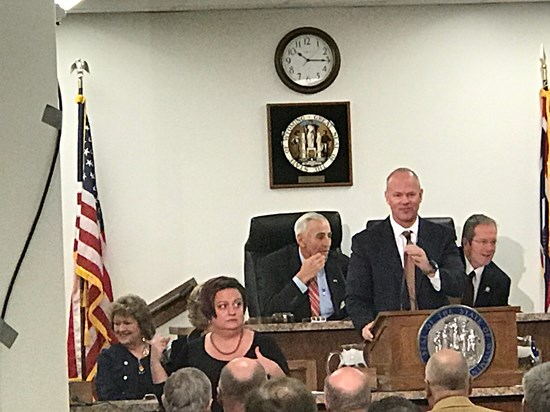 January 10th Governor Mead gave his State of the State Speech. Chief Justice Burke then followed with a State of the Judiciary Speech. This link goes to my recording of these speeches.
The Legislature Opened up Today

Today's events were mostly proforma... just to get things going. Tomorrow morning the Governor will give his State of the State Speech. That will really kick off the festivities... The left hand picture is of Rep Harshman taking the oath as Speaker of the House. ...And on the right is Sen Dockstader hard at work...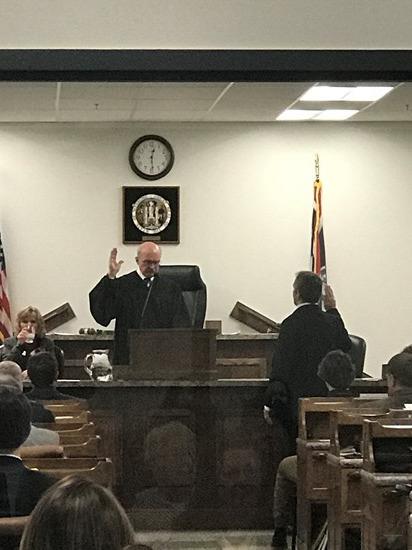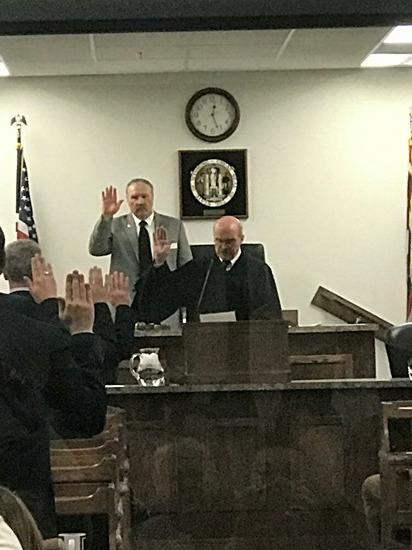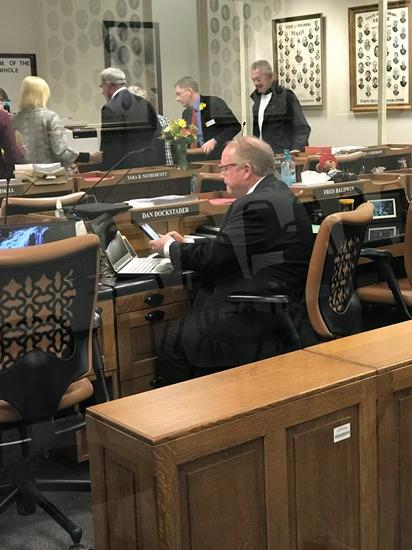 Did the Russians Meddle in the Recent Election?
This question reminds me to the old saw: "Is the Pope Catholic?" Of course they did, such actions have been an arrow in their quiver for nearly a century. Give this article a read. If you read little else read the last 5 paragraphs.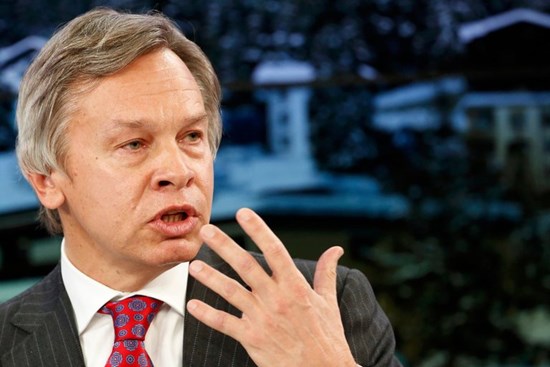 Were they meddling? Of course. Was it directed by the highest levels? Probably not. It probably began as a matter of normal business on some bureaucrat's desk. Then, the election happened and they said 'What happened'?
This is Alexey Pushkov of the Russian Parliament.

Happy New Year to all of my Shipmates


Look closely at the Patch in the center: World's Greatest Tender. My shipmates made it so, I was honored to serve with them. God Bless and Godspeed.
Happy New Year!!
New Years Eve day was electrifying for granddaughter Peyton!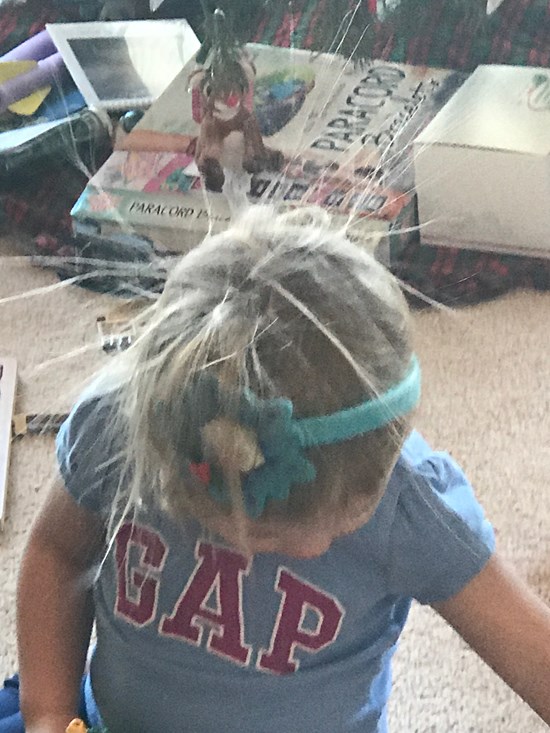 Went to see the skiers come down the hill New Years Eve!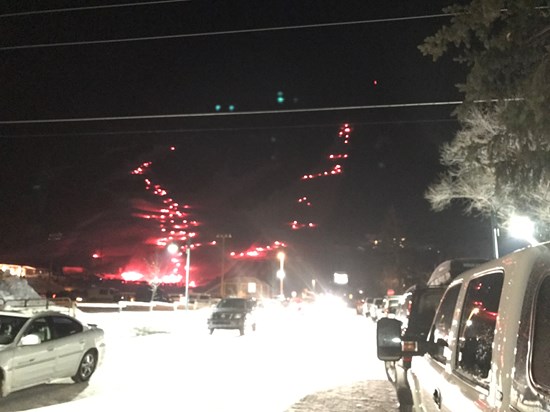 ...And a glorious New Years Morning over the Wyoming Range! Happy New Year!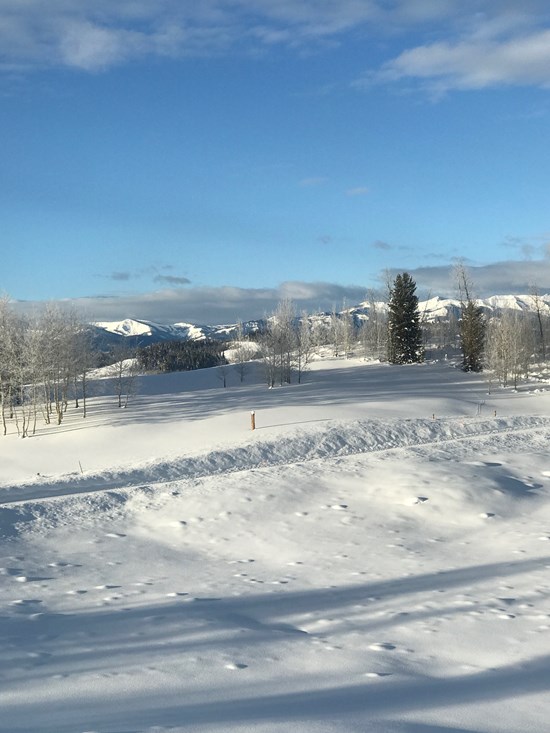 I'll bet they're Quaking in their Boots
Late breaking news: Putin disdains response.

Saw this article in the Early Bird: Obama administration is close to announcing measures to punish Russia for election interference.
Let's see now... The Russians annexed the Crimea from another sovereign nation and we did: nothing of any substance. The Chinese began a progressive takeover of what is the Open Seas (in the South China Sea) and we did: little, even in the face of an International Court Judgment against China. We drew a red line in the sand in Syria and it was worthless.
So why should Russia be worried about "measures to punish." What they did was to behave exactly as they have for nearly a century. Why are we surprised? The only true question this nation faces is just how will President Elect Trump handle this three weeks from now? I'll bet they're wondering...

Jackie Evancho

Jackie Evancho, a well known singer since appearing on Got Talent as an 11 year old. In that show jaws dropped as she sung. She has agreed to sign at Donald Trump's inauguration and is taking hits from those unhappy with the results of the election.
The good news is that her albums are hitting new highs in sales! Here's a link to her singing the Star Spangled Banner at a football game last year.

What a voice, what a range... enjoy!

Came Across this editorial...

Worth a read, but it'll bother you. My take? Let me get this straight... Laws passed by the elected representatives and senators of the people of the United States are to be flouted by other elected officials?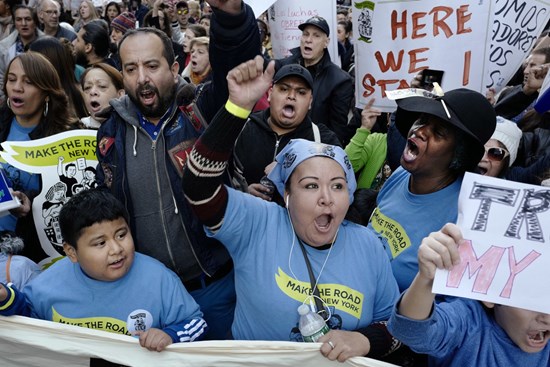 To be clear our Constitution does separate the powers of the states versus the federal government. Typically state level law enforcement does not enforce federal law. That's a good protection from the ever growing power of bureaucracies, I got it. This concept is found in the Constitution within the Tenth Amendment.

Still, for good law enforcement professional interactions and communications are very important. For local, or state, authorities to publicly flout the laws passed by the elected senators and representatives of the people of this land is non-sense. The federal government provides extensive funding to states and localities.
I believe such non-sense by local governments should be stopped. I believe it would be fully legitimate for the federal government to withhold federal funds for any governmental entity flouting the laws of the United States.
Local governmental entities have discretion as to how they expend their funds. They should not become proxies for the federal government. Yet there comes a point when local law enforcement, being knowledgeable of violations of federal law, become complicit in those violations.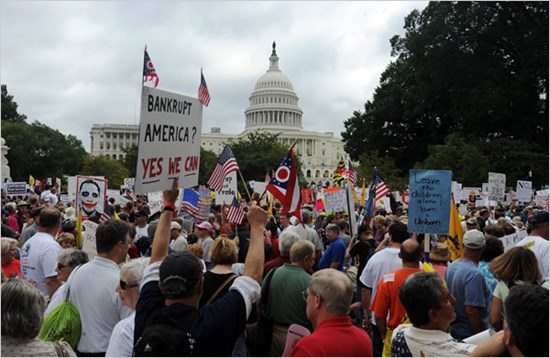 If you don't like the laws as they stand get off your duff and get them changed. A key part of our nation has long been that we rely on the people's voluntary compliance with the law. Thus we avoid the police state mentality. The right to protest is very much a part of our nation, but don't pick and choose which laws you'll abide by.
But this nation cannot survive if local government entities openly flout the law of the land.

As We Celebrate the Prince of Peace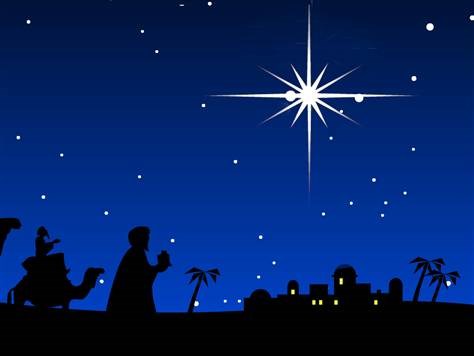 Merry Christmas. This is a time for reflection on the hopes of generations and the prayers of all. The Prince of Peace calls all peoples to greater things. Let us so focus on this that we can look ourselves in the mirror, without audience, and do our best. Godspeed.
USS Eisenhower
Departing Marseilles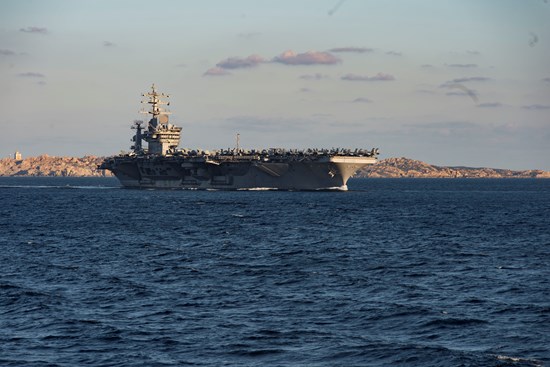 Meetings, Meetings, Meetings...
Briefings, Briefings, Briefings...

President Elect Trump has come in for criticism about his decision to reduce the number of briefings he receives. As I see things these attacks are simply more of the same from those that cannot accept that he ran a better campaign than hrc...
Here's why: When I took Command of USS Holland my predecessor was holding Department Head meetings Monday-Wednesday-Friday. These meetings filled a room with some 15-20 attending and took up an hour and a half. The first thing I noted was that only about 5 or 6 normally had any real business to discuss. The next thing I noted was that very little changed between the Friday meeting and the Monday meeting.
So I changed the scheduling to Monday and Thursday. My rationale was there needed to be enough time between meetings for people to actually accomplish something before we had another meeting.
Then I changed the makeup of the meetings. There were those that actually ran the ship and with whom I needed to talk frequently and those who ran departments that were separate from the running of the ship. As a service organization we had those that provided services, the Supply Department, the Medical Department, the Repair Department and so on. They had little direct impact on the running of the ship.
So I broke up the group into ship specific department heads with whom I met Monday and Thursday and the whole of Department heads who were then invited to the Monday meetings, only.
What did this do for me and the ship? The reduction in meetings meant that people were more productive instead of sitting around listening to others talk. Second it meant that people weren't "saving information" for the next meeting in order to have something useful to say. An element of the discussion in the media is along the lines of "if it's from the CIA, it must be important..." How could you not possibly want to hear us talk every day?

I asked my Department Heads to come in and talk directly if there were things of immediate interest. So I then had real time information.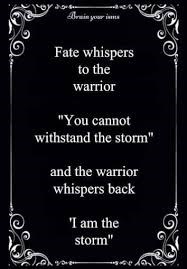 In my view President Elect Trump's reduction in meetings is probably an indicator of less pro forma business being done. As I see it this means more real action on his part. Meetings and Briefings provide an illusion of progress and business, but really just absorb time to little benefit for most. In other words, important people sitting around watching important people...
If he has a good cabinet, these 'Lieutenants' should be trusted to keep him cut in on emerging things of importance in real time. Otherwise he has business to get on with... and so do they.
A good friend, Herb Hazen sent the quote to the left side. It concisely captures why Donald Trump is the President Elect.
The media's self satisfied bleating about meetings is so much bunk.

Insight into a Soul...
And a Dose of Propaganda Along the Way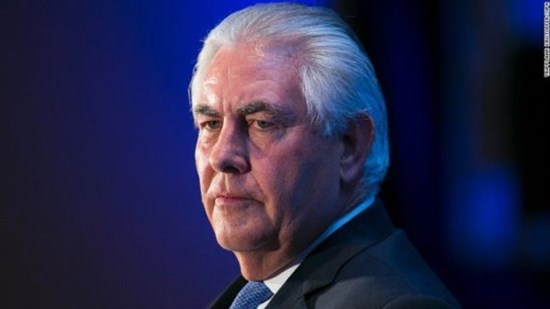 Speaker Kermit Brown posted this article on his Facebook page. What it illuminates is the true nature of the man Donald Trump has nominated for Secretary of State. This article illuminates the heart and soul of Rex Tillerson in a way nothing else could. I've been troubled by the drumbeat building against Rex Tillerson.
Drumbeats like this seem to have begun many years ago when then Senator Teddy Kennedy went after Robert Bork. That drumbeat was so vicious as to coin a word: "Borking." But let's be clear: Borking is propaganda.

For those who have served on a jury (I've done so twice) I think the ability of one member to bring people along to a position is invaluable. That he does so with quiet courtesy and effective argument is more than invaluable. Hung juries do not serve us well.

At the end of the day here I think this small article also illuminates far more than one man's readiness to speak for the United States. I believe it shines a light on just who and why Donald Trump has chosen certain people for his cabinet.
The key question for Rex Tillerson, and every other choice, is simply how will he speak for the United States? Will he leave loyalties created over a career in Exxon behind? Will he speak and negotiate equally effectively for this nation?
Such shifting of loyalties happens all the time in the military. Change of Command ceremonies are more than show, they serve the purpose of ensuring both the unit, and the incoming persons change their loyalties. That is what this nation expects of the members of Donald Trump's cabinet. Our Senate should probe whether Rex Tillerson will make that shift. I believe that this article also shows that he can and will make such a shift in thinking.

I believe Kermit Brown's article shines very brightly. A good man has been chosen for the job. Let's forget the Borking, get on with putting him in place and then stay out of his way allowing him to serve the nation. Here's the link again.

A Two Day Winter Storm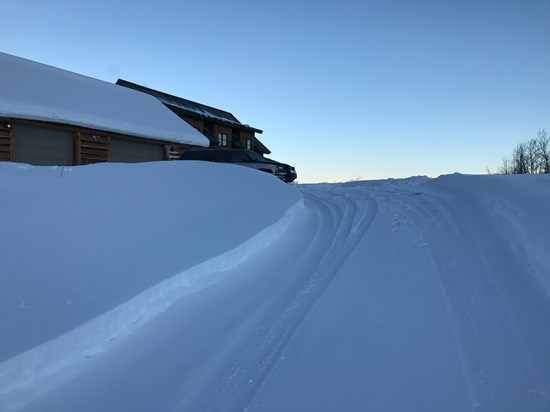 Morning 17 December, 2016

Two days of a winter storm left this with us out here in Bondurant. What a nice dump of snow... it was hovering around 31-32º F throughout the storm, but now the temps are dropping and it was 9º when I got up this morning. It's now about 1º with the sun up & a clear sky.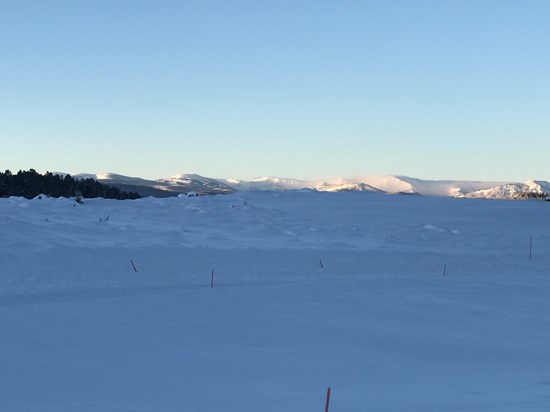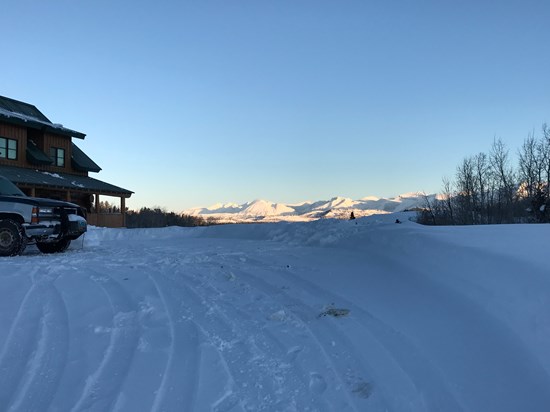 The immense natural beauty of the Wyoming and Gros Ventre Ranges shines so, so beautifully this morning.
The sun highlights the peaks and snow cover.
God's Country for sure.

The Presbyterian Pilot Passes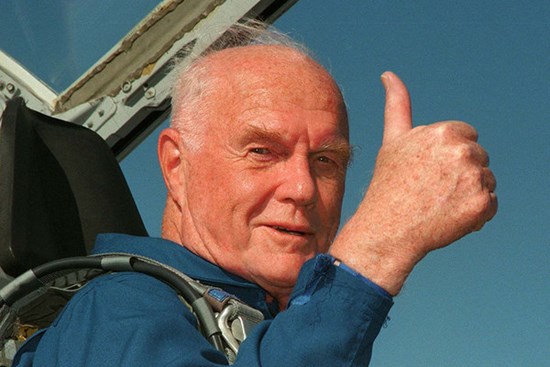 The recent passing on of John Glenn is worth reflecting on. Tom Wolfe's book, "The Right Stuff," reflected on Glenn's sober life, labeling him a "Presbyterian Pilot." More importantly, the "Full Throttle" nature of his service to the nation came through Tom Wolfe's flamboyant literary style. This article in the Christian Science Monitor encapsulates his life well.

One might reflect on the scene in the movie adaption of The Right Stuff where in a phone call he is asked to go up on the third of the Mercury 7 flights. The "Program Director" is explaining the great hazards and John Glenn interrupts with 'we're ready, 110%.' In responding 'we're ready' he was speaking both for himself and his lifelong love and wife 'Annie.' In his eyes she was as much a part of the team as he was.

He was once accused of never having held a "real job" whereupon he shot back at a Veteran's Day ceremony that his accuser should look across the graves and tell those veterans they never held a real job. In the end he served this Nation and its People well throughout his life.
I found Tom Wolfe's The Right Stuff an inspiring read at the midpoint of my submarine career (circa 1982). In some respects it led me to pursue his vision of 'we're ready 110%' for the remainder of my career. That served me well.
110%, Full Throttle: Well done good and faithful servant, well done.

Sophistry... Just Plain Sophistry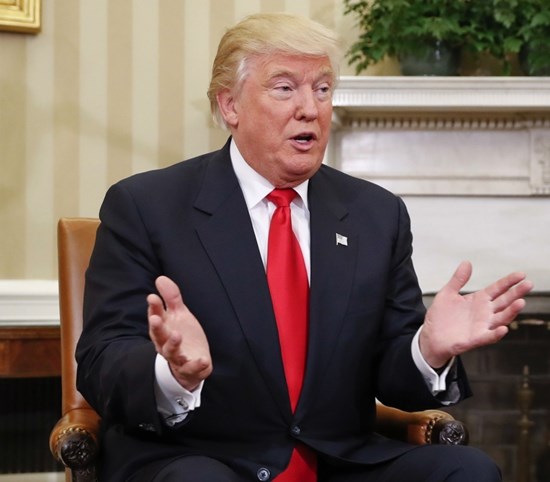 I read this article this morning (December 4th, 2016). It is a nice history of the evolution of how our nation controls nuclear weapons. But, in reality, it was designed to diminish our President elect. It is another element of the efforts to show that our nation erred in his election.
Many years ago as a Plebe at Annapolis I had to learn a canned response to the question: "What time is it?" The response included being ill informed and un-knowledgeable of the "inner workings and hidden mechanisms" of a clock. The author of that article has no idea of the "inner workings and hidden mechanisms" of how decisions are made and how our forces are then controlled.
A sort of fond memory: What time is it?

Sir, I am greatly embarrassed and deeply humiliated that due to unforeseen circumstances beyond my control, the inner workings and hidden mechanisms of my chronometer are in such inaccord with the great sidereal movement with which time is generally reckoned that I cannot with any degree of accuracy state the correct time, Sir. But without fear of being to greatly in error, I will state that it is about X minutes, Y seconds, Z ticks past "W" bells, Sir.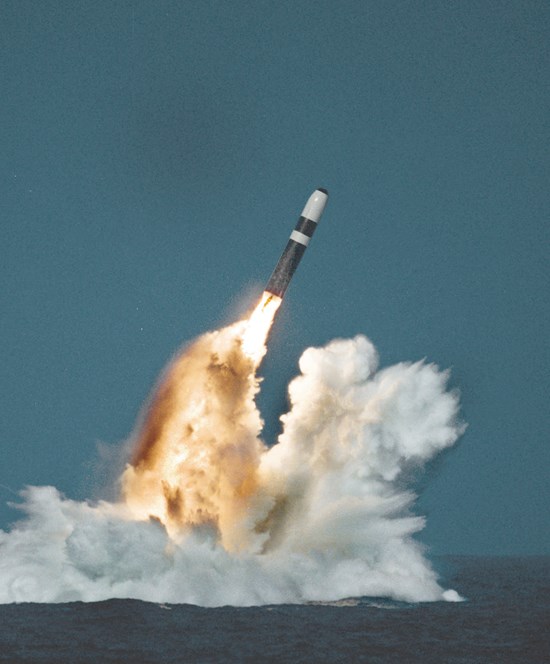 As the first Chief of Command and Control at the then brand new US Strategic Command (circa 1992), and fresh out of Command of a Ballistic Missile Submarine, I had the career opportunity to develop and publish the first set of weapons control documents for that brand new outfit. The President cannot, out of the blue, direct a nuclear strike. Come on.
Sophistry, pure sophistry.
Secretary of Defense (Designate) Mad-dog Mattis

There's a lot of speculation on the selection of Marine 4 star General Mad-dog Mattis. I submit that Theodore Roosevelt's words of "walk softly and carry a big stick" are precisely what we need. The walking softly part should come from the Secretary of State. Once we get to the point of using that big stick, the one we must have ahead of time provided by an effective Secretary of Defense, then we must use it powerfully and mercilessly. Those who would object to my using mercilessly, don't recognize that getting a war over quickly is the merciful part of the deal. He must conquer the defense bureaucracy, that is his true mission. If his words on the picture are accurate, with luck he will deliver and it will be a gift to the nation.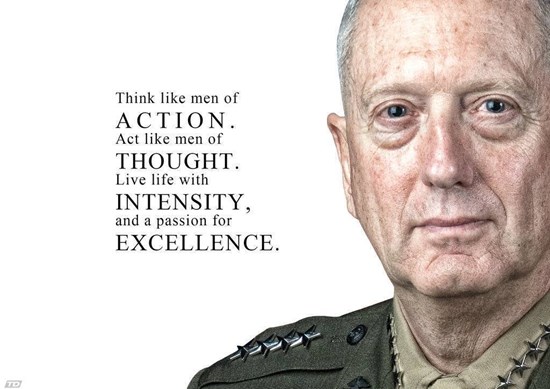 Conquering a bureaucracy is no small task. This is his first beachhead. The Marines have had a long history of alternating the Commandant from skilled warrior to skilled bureaucrat. There was a reason: the survival of the Corps. I infer from the quote next to this photograph that Mad-dog Mattis is precisely the right guy, at precisely the right time for the job.
As you pull your oar, Godspeed.
A Gorgeous Frosty Morn
When the sun broke over the ridge this morning there was a gorgeous show of frost on the trees.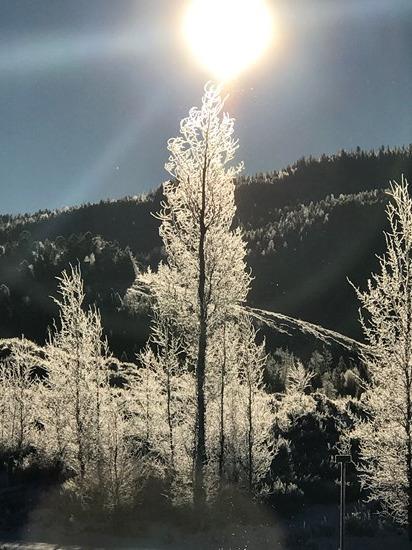 Then I turned to look west and the Wyoming Range leaped out at me.
Saw this article on Facebook
from Buckrail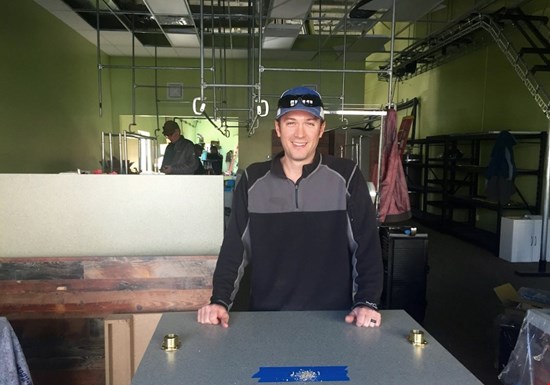 The fire of December 30th 2015 destroyed a business in Jackson: the Ryan Cleaners. The article is a good read, go take a look. But I believe there are some real good business things in it and a bit of leadership. Work hard, know your business, insurance is as important as any expense, treat your people well. In this case Matt Ryan figured out how to hold on to those employees (80% of them) and they're back as he is opening the rebuilt business.
The leadership inside this is really self interest. Those people were trained and knew his business as well as he did, they were motivated to do the job he wanted, and in the end his loyalty will be repaid in spades I suspect.
Want to see what loyalty to one's employees does for a business? Go look at the market performance of Costco over the years.

Fake News...
Also known as Rumors...
The current craze on Facebook and even in the media more generally is the idea of "Fake News." This seems to really be another way of generating news copy when things are slow. Anyone remember the late 70s media era of global cooling? How about the media's "Y2K" craze as we approached the turn of the century?
This article on Fake News kind of sums things up. Call it what you will, fake news has been around for thousands of years. A biblical reference calls it "Rumors of Wars." The Biblical context is different than the more modern usage, nevertheless the idea is straightforward: people spreading half truths.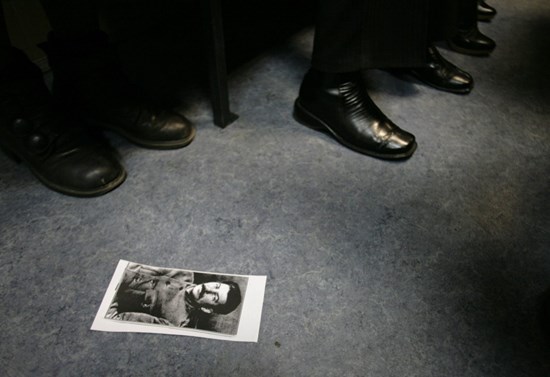 In an earlier post I spoke of the Soviet Union's work during the Viet Nam era. The work of totalitarian regimes has long depended on half truths and innuendo. (Photo of Stalin outside a courtroom in 2009 from the linked article above - an AP file photo)
In a world of ever increasing technology Facebook has just provided another venue for ever faster and ever widening rumors.

I believe the foundation of our First Amendment is actually focused on the idea that the people of this nation are capable of sorting things out for themselves. Thus the government has no business inserting itself into what people read. Let the free market of ideas swirl and froth. People will figure out what is truthful and act accordingly.
The risk Facebook takes in such a free market is that people may turn away.

A Grandmother's Touch Goes a Long Way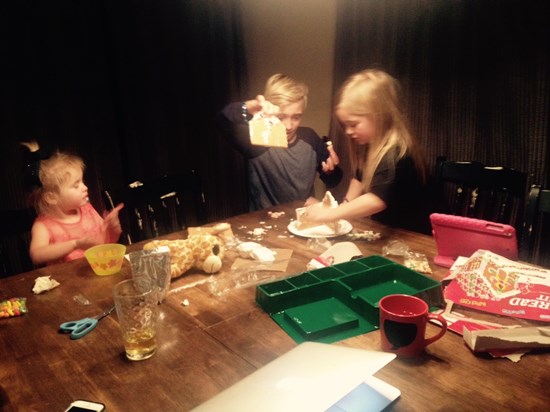 Another GingerBread House bites the dust on Thanksgiving...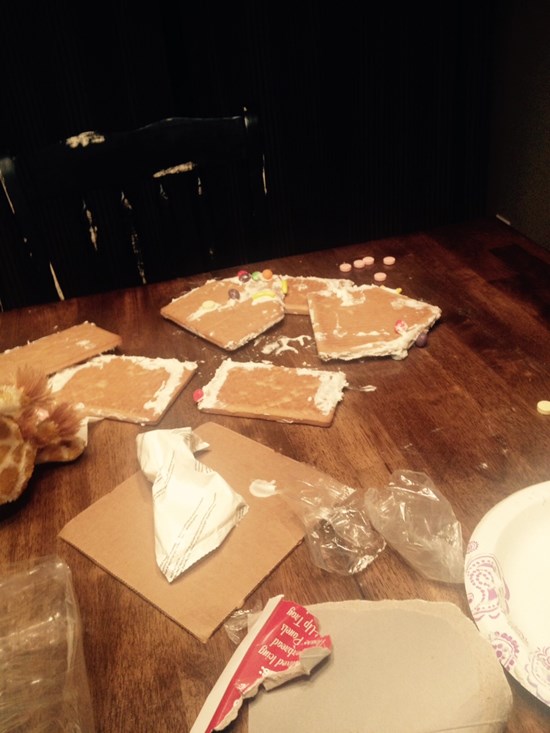 But Grandmother steps in and saves the day...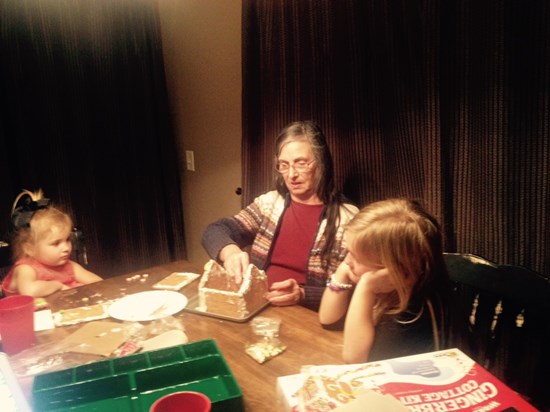 They're All Good When You're Home
And Remember Those Who Are Not Home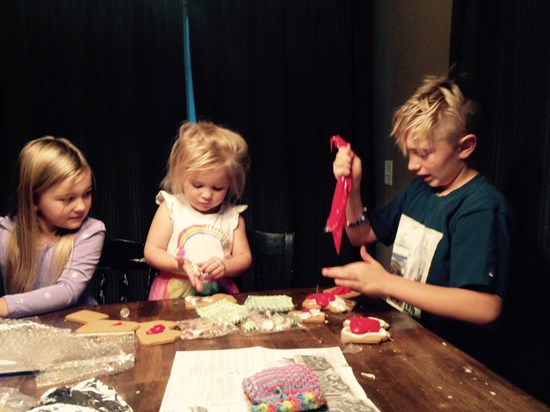 The grandkids making a Gingerbread Train for Thanksgiving this morning.
Please add to the dinner blessing a thought for those on watch near and far (Military, Law Enforcement, Fire, EMS), and for those medical folks on watch (Emergency Rooms, ICUs and such), and for those for whom family and a family dinner are a distant memory.
Thanksgiving was first put up in our earliest years. It is a testament to the role of religion as a call to something greater in our people. We must take a moment as we ask the blessing today to affirm that role on the body politic of this nation.
...And we must note that such is precisely what enables us to be a nation, warts and all, that does a greater good in this world. Godspeed.

In Casper for Thanksgiving
Wandering Casper's streets is Thomas Gobbles. He has a facebook page and everything. 1500 followers I hear... And here he was checking out Durbin street Wednesday morning.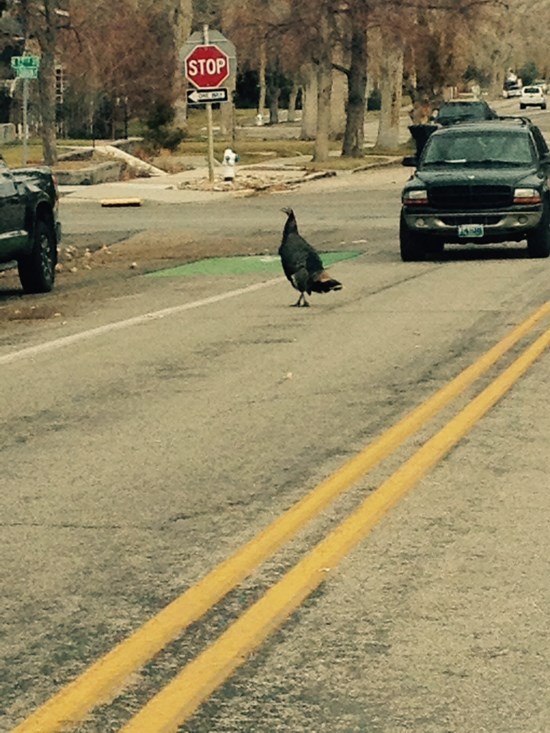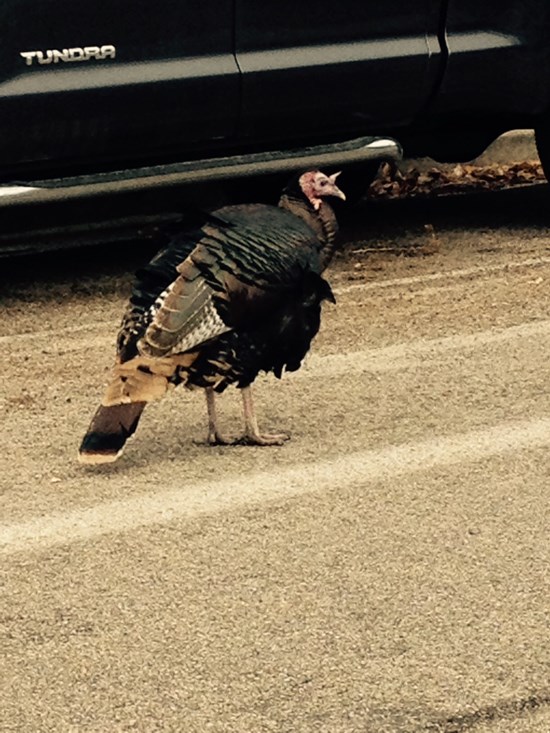 Joint Interim Education Committee
Casper College, 11/14 & 15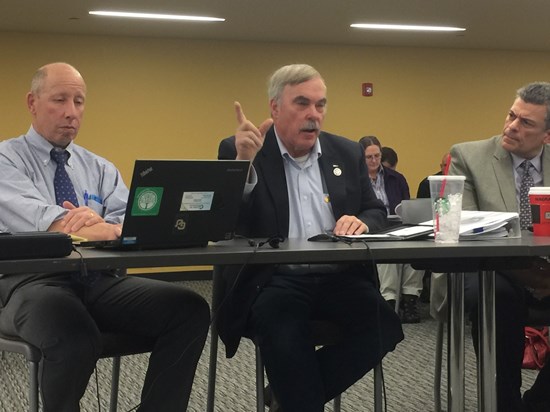 I spoke up at the Joint Interim Education Committee Tuesday (11/15). As I see things they are on a treadmill. One more study, working group, contractor is "going to solve all their problems." But then, you know, those things cost real money.
Over the years I've been observing the education committees little has changed. Lotsa good words, study upon study, but somehow not much changes. Note the guy on my left in the picture, he must be one of those PhDs that do studies... He looks not too happy with me!

As a young irreverent Navy Lieutenant I taught at the Naval Reactors Facility out near Arco, ID. There was an "Absolute Standard" by which students were measured. If they didn't meet it they didn't qualify or so it was said. By the time I was sent on to duty as a Chief Engineer, I was calling it the "Continuously Variable Absolute Standard." (Irreverent... but I didn't say that to my bosses...)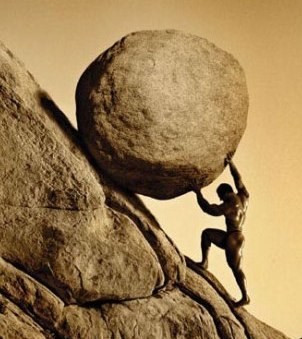 The Committees have worked hard over the years. But this is like the Greek myth of Sisyphus who was doomed to push a stone up a hill only to have it roll back down just before getting to the top. Just one more study...

I'm often cast in the role of bringing outside thinking to their task. I don't talk of doing studies. I focus on how the organizations work, what teachers need to be successful. Any leader of merit knows that when you reach the point of "making your people do things," you have lost control.
The Wyoming Accountability in Education Act seeks to "make" teachers get better yet gives a pass to poor administrators. I believe it is important to understand that administrators can hold teachers back. In my view the elusive fix for education lies not in more studies but in a restructuring of the bureaucracy and going after administrators.

It is often said that the crew of a ship will never be better than the Commanding Officer. We must recognize that our faculties will never be better than their administrators.

The Story of this Nation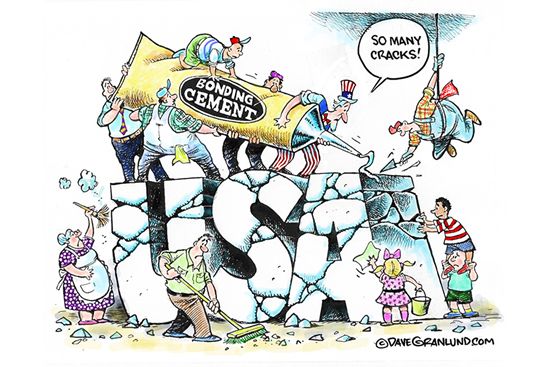 With appreciation: the Christian Science Monitor

From the beginning we were a hodgepodge of people. So what else is new?
Somehow we figured out how to make things work. Compromise was the key, without it there would not be a United States.
No person should embark on a great endeavor without first seeking the guidance of our deity. It was common practice to ask for blessings for our newly chosen leaders. Somehow we've lost that. ...And the result is the protests in the streets. We can do better, like it or not our people and our system have spoken. Get over it, ask for divine guidance, and remember, without compromise there would be no United States.

A Plurality is a Plurality... Right?
Or...
Why hilary really lost the popular vote!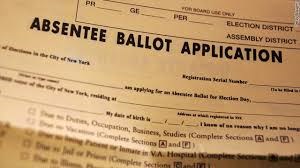 Well not so fast... if you look into things and ask what was the true and accurate plurality and did it really favor hilary... we just don't know. In fact a case can be made that she did not receive a plurality.
Why? Because this nation actually does not count every ballot cast.
Many jurisdictions only count absentee ballots if they could change the results.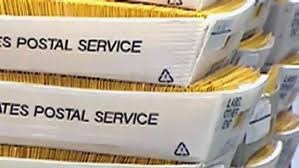 Saves time, saves money, right? This article offers an analysis of the potential for the probably 2 million absentee ballots received in California alone to go to Trump by a 2/3s margin.
Throughout my active duty in the Navy I voted by absentee ballot. Does it bother me that my ballots may not have been counted? No.
I understand that local funds are tight. If it will not change the outcome it is a reasonable decision to not continue counting.

So, did hilary actually win the popular vote...? Probably not.
Since the seeming plurality is smaller, by a good margin, than the outstanding number of uncounted ballots, in my view the Democratic Party should either fund the counting of these ballots or drop it. It maintains a fiction to continue beating that drum.
In order to maintain future credibility, Democratic Party leadership should come out foursquare against the continuing drumbeat that hilary won the popular vote.
I'm sure County Clerks across the nation know the truth.

Speaks for Itself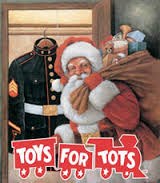 Time to start thinking about Toys for Tots, the Marine's Christmas campaign.
Click the link, you'll like it. Watch the Marine's left hand. May even bring a tear to your eye.
In past years I've done the Salvation Army Kettle Bell Ringing duty. I've always found it interesting to see the Hispanic families go by. Frequently they will use the opportunity to teach their children to donate by giving them some coins and showing them how to put them in the Red Kettle.
At any rate, time to begin thinking about helping some folks for either Thanksgiving or Christmas.
The Viet Nam Era Veteran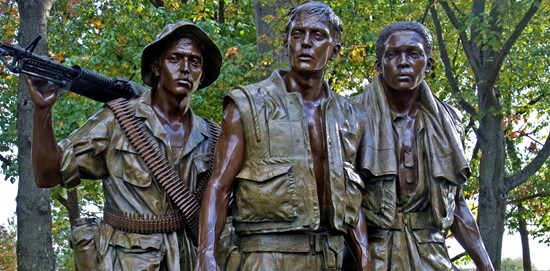 We should take a special moment this Veterans Day, November 11th, 2016, and say a quiet thank you to those vets that went off to the Viet Nam war.
I think of them as lost warriors. They went off to war expecting to be received home as their fathers had in 1945... only to be castigated for their loyalty.
A characteristic of this generation is a nearly complete absence from veterans organizations. I've long thought they felt abandoned by the nation that sent them off to war. I saw this era up close & personal albeit from the seeming safety of the Naval Academy in the late 60s. Then I saw them at home throughout the 70s & 80s. They would talk of their experiences only with other vets and the sense of abandonment was palpable. In my observation these scars will never heal. Still, do what you can.
The symbolism of the above bronze memorial is lost on those who were not of that era: "we can rely on each other brother... but not our nation."
An example of this is the oft repeated history of the Tet Offensive of 1968. It is commonly accepted history that our forces were caught with their pants down and the Viet Cong & North Vietnamese forces won a big victory. The reality is far different.
Our intelligence folks had figured out something was up a couple of months earlier, they knew that diversion tactics were being used in order to draw our forces forces away from population centers. A realignment of our forces to be ready was ongoing.
Viet Cong forces began things a day early because of a difference in the Lunar New Year for North & South Viet Nam. So we had a days notice that the trigger was being pulled.
Virtually all but a very few of the attempted takeovers by the Viet Cong/North VietNamese were stamped out the first day or so. Only the US Embassy in Saigon & the historic capital of Hue lasted any length of time.
The reality is that the Tet Offensive was a serious loss for this enemy. The Viet Cong never again operated with any independence, their forces were decimated. North Viet Nam had to send down far more forces than prior because of this. The expected uprising of South Viet Nam's people in support of the offensive did not occur.
...And yet the CBS commentator Walter Cronkite jetted over to do a famous interview clip declaring the victory of these enemy forces. He never sought to research, let alone understand, the back ground. He simply put out his personal opinion as to these goings on. Thus a serious defeat was turned into a strategic victory.
From my perspective it is no wonder these warriors felt abandoned.
So find a way to say a special thank you to the Vets of the Viet Nam era.

Honoring Veterans
In the wake of this election and the rancor following the results...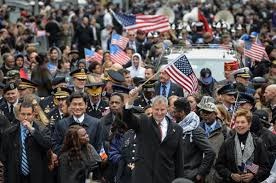 There is no better way to honor our veterans who went forth into a dangerous world defending our nation than to simply get on with the results of this election.
Our system, as it stands, has chosen a leader, do not go back ex post facto and seek to alter the results. To do so dishonors our veterans. If you're one of those who believe the system should be changed, get on with it.
If you believe the system should be changed, that is as part of what veterans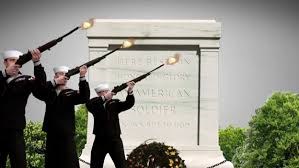 fought for as honoring the result of the election as it is. Get on with things.
But these protests of election results, these appeals to Electors to somehow alter the result, in my opinion, dishonors veterans, their service, and particularly those who gave all in that service.
This nation is capable of something greater than this rancorous protesting. Godspeed.

Veterans
I believe that those who have served on active duty have something that they should carry into civilian life. It took me 5 years to accept the core dishonesty of the civilian world and today I still find my self brought up short when I think someone will behave honestly. That's life in the big city, I suppose.
Call me naive if you will, guilty as charged, that's me. Consider, Boy Scout in High School, Eagle Scout, right into the US Naval Academy with its Honor Concept, then right into the Navy's Nuclear Propulsion Program with its extraordinarily strong emphasis on straight talk and technical excellence, and even then when retired after 30 years service into a firm for a few years founded by some of the founders of that program.

But, if veterans would hold people, media, and politicians accountable, perhaps we could change the nation. There is no greater indicator of the bankruptcy of a major part of the civilian world than the ebb & flow of the news cycle propaganda during this election coupled with the protest of the liberal-progressives to the election results.
These protests show the true rot in the liberal/progressive thinking. They bally-hoo diversity, they push up free speech, and so on. Yet when the election results roll in, they cannot bring themselves to accept that, under our long standing system, their candidate lost.

So what should veterans push? I think loyalty is a key. Loyalty is a two way street in the military, it is not in the civilian world.
Then personal responsibility and independent action. All to often in the civilian world employees are constrained to think and act in specific ways. In my experience in the military when leaders ensure goals are understood within the context of required programs (for example the Deep Diving Submarine Safety program has some pretty specific requirements) and stay out of the way of people, productivity goes way up.
Then accepting that one can only change your own small corner of the world. ...And doing so.

I've often used an allusion to a 10,000# marshmallow. You can only move it if you get up close & personal and apply firm, steady pressure. If veterans could link arms and apply that firm, steady pressure this thing could be surely moved.
Serving this nation and being given the opportunity (& responsibility) of leading them as a Commanding Officer on two ships, was the highlight of my life. My people would do anything, do it better, and do it faster than I felt I could ask of them. The key was I had to stay out of the way. All too often in the civilian world employees, party members, and organization members are expected to think in specific ways and castigated for independent thinking.

Our Constitution offers us the capability of our society to do things in a better way. For the most part this nation has done so over the centuries. A key to this was the normal human desire to be called to something greater than themselves. Such calling is part & parcel of military service.
Somehow our nation has slid into a denigration of this human desire to be called to something greater. Veterans can change that. Veterans have been there, veterans have done it. I believe we should quietly commit to change this feature of our modern nation. The issue is not that our nation has some warts, the issue is the greater good in this world our nation is capable of. Veterans should find a way to trounce this slide into denigration of the call to something greater than ourselves.

God Bless.

The Electoral College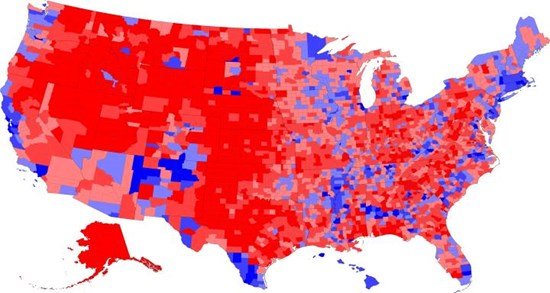 I've been part of an ongoing exchange over the Electoral College vs a democracy on Facebook. It's been proposed that somehow our nation (although a republic) is undemocratic. The idea that a republic is not really a democracy doesn't seem to stick in some.
It was then pointed out that some states are changing things and awarding electoral college ballots based on how their vote turned out. So I responded:

They are certainly entitled to do that... but I suspect that for those that did so there will come a time of reflection and retraction. Other seemingly neato-keeno ideas have turned out that way. There is a reason we are not a democracy. Once the Roman masses figured out how to vote themselves food & circuses Rome was doomed.
My take is that this idea of proportional awarding will go the way of the Equal Rights Amendment which was the child of the optimistic and idealistic 60s movements. Many states then thought better and began rescinding their approvals.
In the end our Constitution is a network of Checks & Balances designed to prevent any one group from attaining too much power. I believe that the Electoral College provides one of these checks & balances. In this case on the tyranny of the masses... and once states realize that, this proportional thing will quietly die.
Then there are those that say 'how could they have done this' in framing our Constitution? Those 13 colonies were independent and sovereign. They could have walked away from the table. Instead they sought compromise, like the Electoral College, without which there would not have been a United States. Thus, despite making compromises warts and all, they created a greater good in this world. Far greater than anything else ever tried before.
Godspeed this nation's travels.

The Bankruptcy of the Left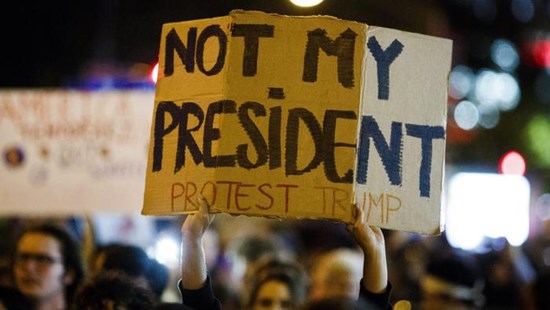 The very people who so wanted President Elect Donald Trump to pronounce that "he would accept the election results" are now protesting since he won. You can't have it both ways, either you accept the results of the election, win, lose, or draw... or you are not the diversity people you propose to be.
This summer talking with people I was frequently asked if I supported Donald Trump. My answer was straightforward: He wasn't my first choice, but he was a lot of people's first choice, so let's get on with things. Yes, I support him. Our republic operates on the willingness of people to engage in hard nosed debate, then followup with unity of action when people have decided. The very essence of our republic is simple: you will get your say, but you may not get your way.
Get over it: Donald trump won the election.
If those of the left truly believe in their "diversity," open debate, and the will of the people, then they must accept the will of the people expressed through the ballot box. But, at the end of the day, it is becoming clearer and clearer that they do not followup their beliefs with appropriate action.

What will we tell our Daughters
Part 2
The obvious inference of that phrase is somehow not electing hilary was to let down our daughters. So now what do we tell our daughters?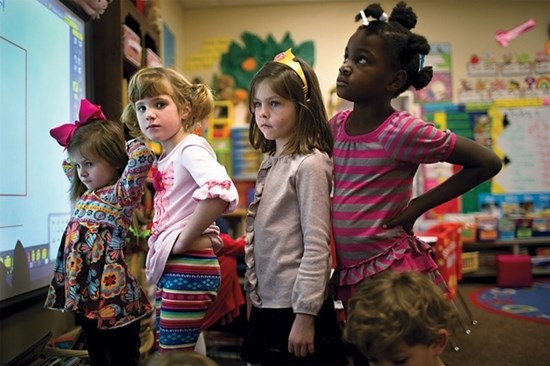 Simply that it is important to elect the right woman, that it does no good for women to elect someone with more rhetoric than action. On a larger note Abraham Lincoln's words come back to me: You can fool all of the people some of the time, some of the people all of the time, but you can't fool all of the people all of the time.
I believe the biggest losers this election are the media propaganda merchants.
Ya know, for the future, electing the 'Right' Woman kind of has a ring to it. As CO of the USS Holland, a support & repair ship for the Submarine Force based on the Island of Guam I found Women are as capable, productive, and inventive as men. They problem solve differently than men and that's good, really good. Innovation should have no limits.
But in my observation, hilary was no innovator and the American people saw that. So let's get on with electing "The Right Woman."
Where to for America? I believe that we must take on the following:
1st - revamping the thinking of our Supreme Court
2nd - getting control of our budget & reducing the debt
3rd - re-establishing America's economic infrastructure
4th - the United States has long been the hope and light of the world, Teddy Roosevelt once said, 'Walk softly and carry a big stick.' It is appropriate to deal courteously and honestly but firmly with other nations. In order to deal firmly one must have a strong military, let's get on with this.
5th - ...And finally, lets get on with rebuilding our media. I published a short paragraph from the US Office of Strategic Services of the World War II era. It analyzed the propaganda methodology of Germany in the 30s. I found today's media eerily close to this. I believe that if we want to get the media's attention, we reduce their income.
How? Advertising is their lifeblood, so change their cash flow.
The "Right Women" must be interwoven throughout the above, not because they're women, but because they are as capable as men. The workload carried by women in bearing and raising children is heavy lifting and calls for skills different than men have. Our nation must recognize these skills.
Let's get on with the business of this nation.

There's Still a Real World out there...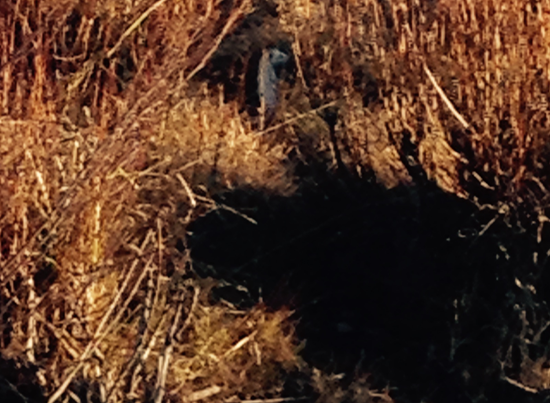 This Election Day was also the meeting day for Bondurant's Cub Scout Pack 9. The Cubs went on a hike to look for animal evidence, tracks, burrows etc. They saw a Weasel running around and he was an albino! :-) Kind of hard to see, but he's standing tall in there. This guy was quick and hard to get a picture of. These young folks bring you back to earth despite all of the election hoopla.

What will we tell our Daughters?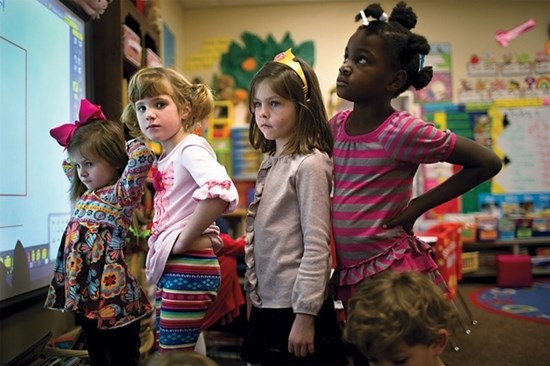 A good friend posted on Facebook an article entitled "What Will we Tell our Daughters." This is a huffingtonpost article so take it with a whole jug of salt. This friend was the spark behind establishing Sublette County's Rural Health Foundation, which is how I came to know her. She's a solid democrat and we disagree on much... that happens.
Throughout this campaign season I've seen her FaceBook Posts, she's as dedicated as any democrat, but I've not responded until this Sunday morning. Mostly out of friendship and respect.
But in the end I posted this to her Facebook entry this Sunday morning:
...You & I differ. What I see in Hilary is a person devoid of empathy, someone who thinks rules are made for the little people, and who feels no obligation to actually deliver on things she says. So what does one tell their daughters? That electing a person with those attributes would have harmed this nation and women specifically.
Buried amongst all of the political hype and braggadocio there are entries showing Trump to have a big heart, to quietly do good things in this world just because... Along my way to command at sea I developed a great respect for those leaders I served under who just quietly did good works. Sure there are those things that bother people about his behavior, but I've seen my share of truly awful leaders with truly awful people skills during my Navy time. Some of these guys achieved very high rank.

So what, get over it. In the end one should be judged by what one actually does in this world. It has bothered me that Trump's campaign cannot figure out how to get the word out about his good works.

If you take the time to ferret out his good works, by any measure Trump stands head & shoulders above the clinton foundation and hilary specifically. He actually does things in this world. Another element of my approach to command at sea was the idea that if you're not sometimes falling short you're not trying very hard. Unless your reach occasionally exceeds your grasp, you're no leader.

It does women no good to elect a woman who is more interested in keeping women as victims because without victims she has no constituency in this world.
PS Sadly my friend couldn't take the heat... she wouldn't leave my responses up... I think I'm now unfriended... That happens... Years ago she did much good work setting up the Sublette Rural Health Foundation.

The Election Approaches
As Election Day approaches we hear many things from many directions. There are two things that stick out to me: 1st is the morals of the two candidates and second is the readiness to be Commander in Chief.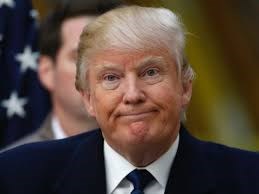 Commonly some in the religious world seek to cast Donald Trump as immoral disqualifying him. I got it, but in the end if one peels back the onion there is a history of a big heart, of a man who quietly does good in this world, of a man in business who recognized talent, male or female, and promoted women of merit. I've frankly been baffled at why his campaign has not made sure these good works are part of the campaign talk-talk. Call his locker room talk unacceptable if you will, but one must also look into deeper things.

In contrast I see a very calculated dishonesty on hilary's part. In her I see a candidate who has artfully used rhetoric without any sense of obligation to actually deliver on that rhetoric. The gathering storm of the Clinton Foundation (& don't forget there is a Clinton Family Foundation) gives great pause. The unprotected server represents a very serious disdain for inconvenient security rules and therefore the National interest.
Second is that issue of readiness to be commander in chief. One of the standout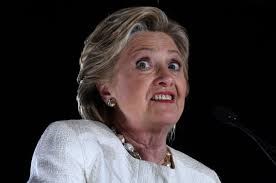 issues that percolates up periodically is having ones finger on the nuclear trigger. I've looked at the arguments made by hillary's advertising and find them without merit.
As my Navy career progressed I had two key jobs in the area of "the nuclear triggers." I served as the CO of a nuclear powered Fleet Ballistic Missile Submarine. Later I served as the first Chief of Command and Control at the then brand new US Strategic Command (92-94). My office had the unique opportunity to conceptualize, formulate, and publish the very first set of Nuclear Weapons Procedures issued by this new Joint Command.
What I see in Trump is a man who made his way in the business world. A world where one makes his way by posturing, braggadocio and getting a leg up on competition. That's just the way of that world.
His success always had to come by listening to advice and ferreting out the good from the bad. That is precisely what a Commander in Chief must do. In contrast in hilary I see a person artful and practiced in manipulation. I believe the Benghazi drill offers insight into her qualifications: specifically a failure to act when the situation was obvious. She wasn't there when that 2 AM call came in.

I make no presentation on religious authority or piety. Throughout my career certain things from my upbringing guided me. In this case Paul's words 'render unto Caesar that which is Caesar's, render unto God that which is God's' enabled me to see my way through the decisions I was called on in Command.
Added Sunday, 11/6: I came across this article offering a Catholic Church perspective. I thing it's worth reading and pondering. Many people of faith are curious about how to make a decision, as if they are "Kind David dividing the baby." Here is a Catholic ArchBishop offering his solution to that quandary.

Louise & I raised three boys and at the end of the day we hope that our nation's families raise our young men better than Trump's locker room talk. Juxtaposed against this is the clear and present danger of hilary's long standing and calculated dishonesty. For her it's a way of life.
In a world where no one is without sin, I believe the choice is readily apparent. Godspeed our nation.

Late breaking on the Huma Abedin/Anthony Weiner

Email Drill
It now has come to light that an "auto-forward feature" was set up apparently by Huma Abedin. So the issue of how 650,000 emails showed up on the computer she shared with her former husband, seems clear. Some have wondered how emails that are usually stored on a remote email server (E.G. Hotmail & others store them for you on their system) but yet showed up on this home computer/laptop.
hilary & the Weiner Investigation:

650,000 Emails...
This article in the Wall Street Journal spoke to the 650,000 emails to be reviewed by the FBI in hilary clinton's ongoing travails. Reviewing that volume of "stuff" is no party, but it is a "doable do."
In supporting my wife in a lawsuit over extraordinarily poor treatment by Sublette County schools, I personally reviewed all 29,000 pages of information they provided in discovery, much of it emails. I think they thought they could inundate us, but they didn't. And it painted a very poor picture for the district.
This was certainly tedious, but it is not like climbing Mt Everest. I found many thousands of emails that were so quickly recognizable as irrelevant as to make quick work of them. In one file over 13,000 emails made up the entire file, they were all on the subject of the Pinedale Aquatic Center, and the file was disposed of within a couple of hours.
Since the FBI has far more resources than I had (just Louise & I...) I believe they will get through these emails, all 650,000 within a week or two.
Don't take the bait about an "illegal search" proposed by some in the media. The facts are that the FBI was legally searching the computer file for the Anthony Weiner investigation. They came upon these other emails in the course of that investigation.
The FBI was then faced with a decision as to whether to reopen the earlier investigation of hilary clinton's server. On deciding to reopen that investigation they then applied for another search warrant and received it.
Note that on applying for the new search warrant they demonstrated "probable cause" to a federal judge. Thus there is more here than a bunch of tangential emails about who knows what.
At the end of the day, I believe that Director Comey found himself under such internal fire, that he felt an obligation to those of the FBI to reveal this information. Also recall that IRS Commissioner Koskinen is undergoing impeachment precisely because he did not "close the loop" with Congress under similar circumstances within the IRS.
So he was caught between the proverbial rock & a hard place. The rock being the proud, professionals of the FBI and the hard place of his "political bosses."

Submarine Force Comes out of the Dark Ages
Well Hallelujah...
the Submarine force has finally dumped the 6 hours on watch 12 hours off watch day. I long thought that counterproductive and just (expletive deleted) awful! I thought it so unproductive that when I was CO of Benjamin Franklin I put in place a policy that key ships leaders (Department Heads & key Chief Petty Officers) would be in 6 hours on 18 hours off watchstanding.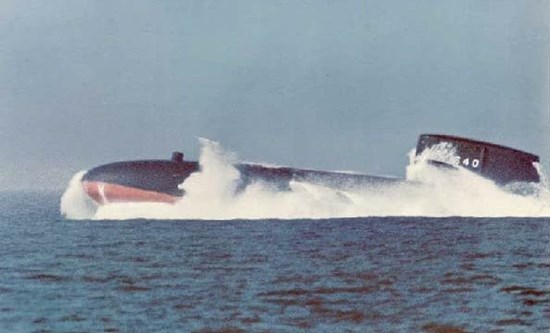 There was a long tradition in the Navy of 4 hour watches, going back hundreds of years. This in effect meant that when at sea the crew did little more than stand watch running the ship. That was a holdover from the days of wooden hulls and sails.
In the world of Submarines the manning of the ship was such that the crew was small and the only real way was the 6 hour watch leading to the 18 hour day. But frankly what was needed was senior level review of what that did to people. So someone finally thought through the world of modern high tech ships and the demands they put on their people.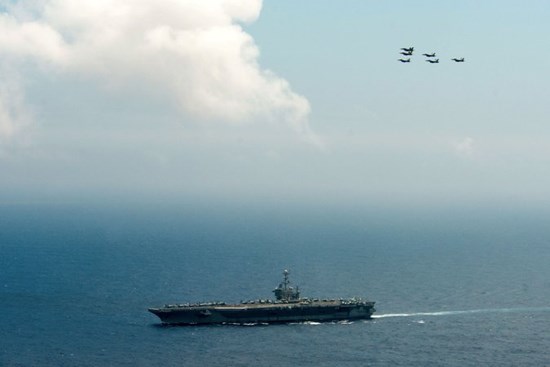 In order to do this several top level documents with the force of law had to be changed. This was no small feat since the Naval Services have long been accused of hundreds of years of tradition unmarred by progress. One might reflect on what it takes to just run any ship in far distant places and then add things like repairs, administration, and health and welfare of the crew.

Searching Anthony Weiner's Computer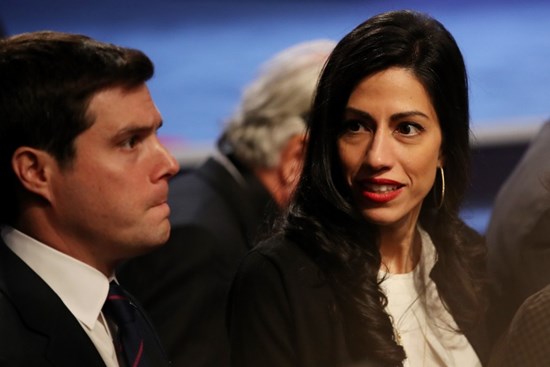 As the FBI investigation proceeds there is some misinformation in some news articles. What they are saying is that a new search warrant had to be obtained to search the computer for other information than the initial investigation into Anthony Weiner's actions. This is untrue. The principle of law is simple: if the initial search was legitimate (presumably with a warrant) then what ever is turned up in that search is usable in any investigation without another warrant.
In another article it was stated that a new search warrant was obtained to expand the search. Certainly this can be done. Unless the initial search warrant did not cover the whole of the desired search or if the information uncovered led to a need to search another computer, an additional warrant was not needed.
It is proper, once another investigation is determined to be needed, to then initiate another search warrant under that line of inquiry. But, what they found in the Anthony Weiner investigation remains legitimately obtained.
It is of more significance to reflect on the fact of a new search warrant. A judge has now looked at the evidence discovered and determined that there is a legitimate basis for opening an investigation. In other words the emails uncovered are more than tangential daily chatter.

FBI Director Comey & hilary...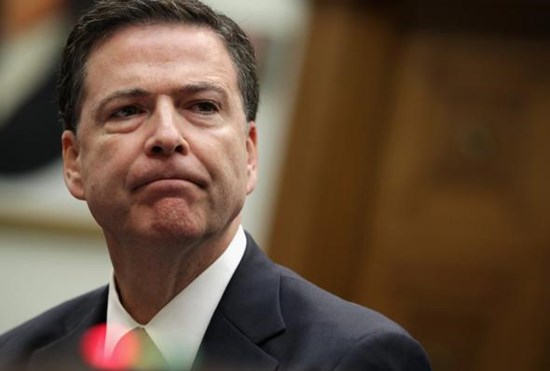 As I watch the unfolding befuddlement of the Democratic Party with the new revelations by FBI Director Comey, it comes to mind that bureaucrats have many ways of working their will back on politicians.

What Director Comey did in last summer's announcement of 'no further action' against hilary had to be after an offer he couldn't refuse. One from the highest levels of US government. His logic in that news conference was just too flawed.
This brings to mind a scene from the original Star Wars movie. There was a holo-chess game going on and Chewbacca was losing. C3PO was talking to Han Solo and this conversation took place:
Han Solo: Let him have it. It's not wise to upset a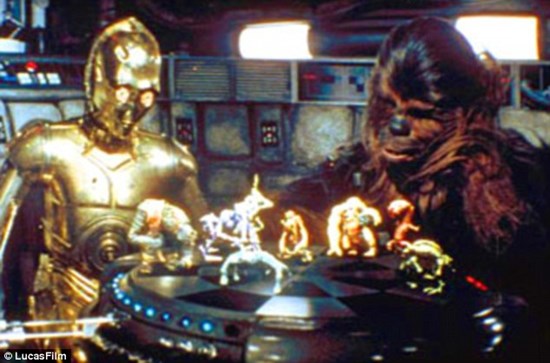 Wookiee.
C-3PO: But sir. Nobody worries about upsetting a droid.
Han Solo: That's cause a droid don't pull people's arms out of their sockets when they lose. Wookiees are known to do that.
C-3PO: I see your point, sir. I suggest a new strategy, R2. Let the Wookiee win.
I think Director Comey was told to take the fall last summer. He did so. But bureaucrats have many ways of getting the word out when they see corruption. These recent revelations are just that: Dir Comey didn't like what had been done to him, he is now closer to a different boss, farther from any ability of a politician to take him out, he had something new, and he decided to set the record straight. His sense of timing was quite good by ensuring the drip-drip-drip of corruption "just keeps going and going and going" like an Energizer Bunny.
Dir Comey surely was trampled, but one should be careful of trampling any bureaucrat. Bureaucrats have time on their side, they can outlast you. Being a bureaucrat means never having to say you're sorry. When a politician threatens a bureaucrat... stand by... for every action there is an equal and opposite reaction. What happens when hilary's irresistable force strikes the immovable object of a proud & professional FBI law enforcer? If your political arrogance causes you to forget this you'll be caught.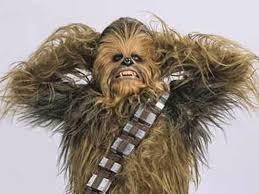 These revelations are the equal and opposite reaction of a professional law-enforcement community that was shocked by that news conference last summer. They didn't like being threatened with their arm being ripped from its socket. If you look closely Dir Comey seems to have equal strength & toughness as a Wookiee. The old adage "be careful what you ask for, you might get it" seems to apply to whomever told Dir Comey to take the fall last summer.

This Touches your Heart
Over on Facebook Geri Boerbon Hockhalter posted this article: Pulitzer Prize winning photo Husband's final request. It goes through a series of photos of Katherine Cathey, the wife of Marine 2nd Lt James Cathey, as she said goodbye to her husband. He had been killed in an IED blast. There was so little left that the Marine Escort Officer could only say 'touch the shroud here, you'll feel him.'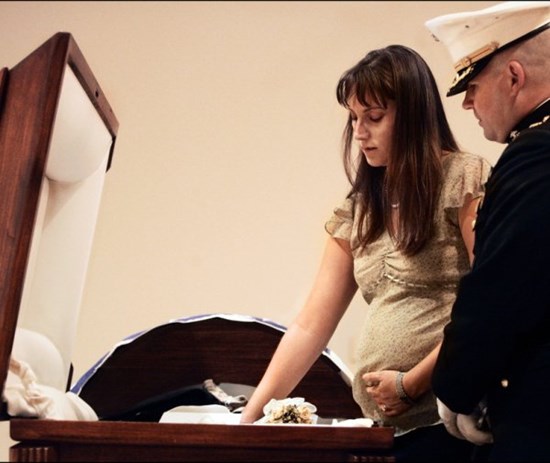 This is a Photo journalists presentation of her journey.
She said goodbye in various vignettes of grief.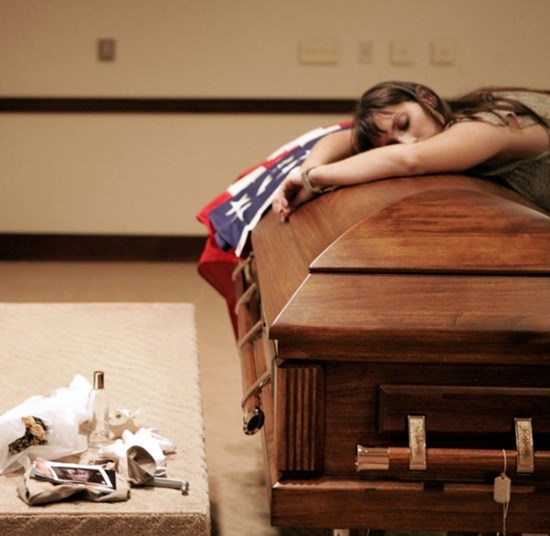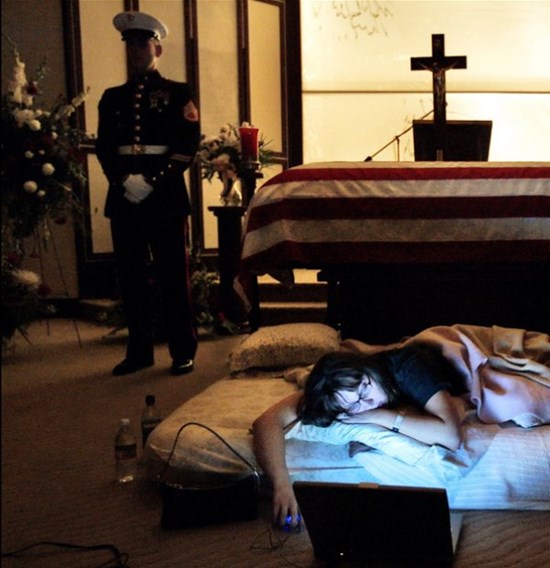 Note the Marine Standing Guard over the casket all night (there were several Marines standing Guard that night). As Katherine went to sleep near the casket that night, she was listening to music she & James had shared together and enjoyed greatly.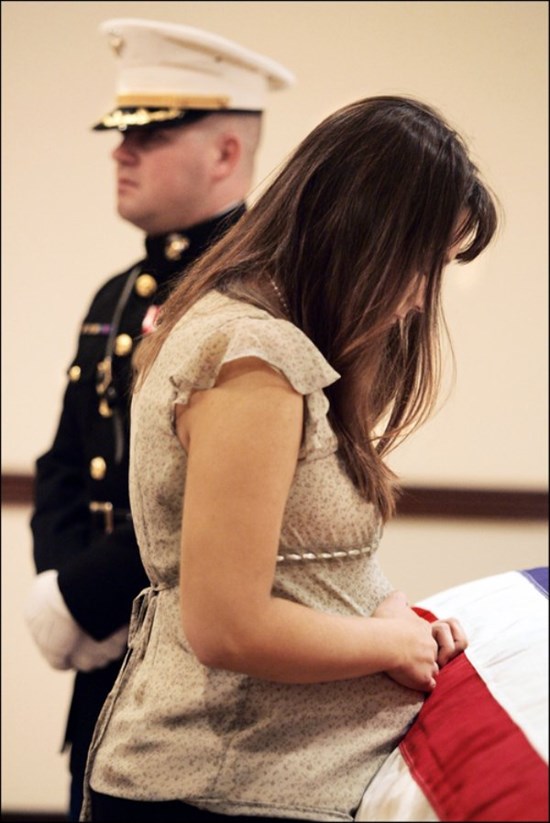 Finally Katherine had found out she was pregnant (with a boy) just a few days earlier. ...And there is her hope for the future as she touched her body to the casket perhaps in hope that her and James now growing son might know of his father. Hoping that somehow James might be aware of his son's presence.
I have sent Sailors home from distant duty on Guam in our Nation's Submarine Service. I have conducted memorial services for them aboard USS Holland. This Nation asks much of those on watch in far distant places and of their families at home awaiting their safe return. These vignettes are both a recognition of the world as it is and the far greater power of our hope for the future.

Godspeed good and faithful Marine, Godspeed. May Katherine know the comfort of the Lord and a grateful Nation.
The Troubling Media
Part 2
It now appears that the media is buying the line from Democrat Operatives that the Wikileaks stuff was "really stolen by the Russians" and "only revealed by those bad, bad Russians to interfere with our election process.
Lets be clear, hilary's campaign is not denying the accuracy and authenticity of these troubling emails. That is telling evidence. Rather they are simply trying to distract people from them by labeling them as "stolen" by those bad, bad Russians & Vladimir Putin to be specific.
Don't bite. What you are hearing is the true measure of hilary's heart and how she will run the White House.

The Troubling Media

Analysis of the third debate is now out. Of course each side has declared victory, that's how politics works. I believe the true key is that for the first time in the Presidential debate series we had a skilled moderator running the show. A moderator willing to let the chips fall where they may.
If there's one thing I have learned in this campaign it is that the media crossed the line from favoritism to propaganda some time ago. The selection of Chris Wallace enabled the American people to see into the soul of each candidate. I believe the choice is now obvious.
I have been long unhappy (what conservative hasn't been!) with what I perceived as moderators openly driving the debate in favor of the democratic candidate. I have long scanned and read articles in the Washington Post, New York Times, and others, taking what I read with a grain of salt... The Christian Science Monitor did seem to offer an anchor along the way.

Yet from things like the WikiLeaks revelations and the clear contrast of Chris Wallace with previous moderators, it is now quite clear that the media has long ago crossed over from advocacy for a position to propaganda.

Here's an interview with Chris Wallace wherein he says flat out Donald Trump could be President. I was surprised to find him a registered Democrat. But the reality is if you look past the hoopla generated by the media in order to support hillary's campaign, underneath is a guy that's done things in this world. Stories of true generosity coupled with indicators that he hired and promoted purely on merit keep bubbling up, but are ignored.
Stories of hilary's vicious petulance also keep bubbling up. They are legion throughout the WikiLeaks revelations. I still find troubling that hillary has spent a career benefiting from and exploiting the public purse.
What a contrast!
Finally consider this article about hillary's seeming revelation of top secret information. The core issue revealed isn't that she named the correct timing (If it was even correct). The core issue is that she named a time at all. It is as if she's entitled to reveal whatever information she wants. Then the follow-on issue is that were she to be elected she becomes a final classification authority entitled to reveal what ever she chooses without penalty.
So why hasn't the media leaped on this one? I've learned something about how propaganda works... The passage below was prepared by the US Office of Strategic Services during World War II explaining how the German people were deceived. This passage is eerily applicable to what we are seeing today.

"[The] primary rules were: never allow the public to cool off; never admit a fault or wrong; never concede that there may be some good in your enemy; never leave room for alternatives; never accept blame; concentrate on one enemy at a time and blame him for everything that goes wrong; people will believe a big lie sooner than a little one; and if you repeat it frequently enough people will sooner or later believe it."
The Russians are Coming, the Russians are Coming...
Wednesday night's debate brought to the fore the role of WikiLeaks in opening doors into the soul of hilary. Yet she proposed that it was all "just the Russians" doing it to influence our election. Of course they will try and sow disinformation, that's their methodology.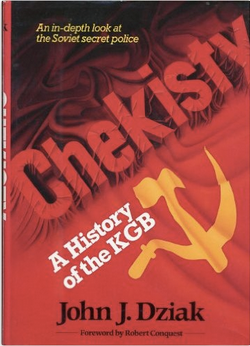 During one of my tours of duty in the Pentagon arena I happened by a bookstore in the mini-mall that is part of that huge structure. I saw this book in the window and bought it, I think about 1988 shortly after its initial publication. It's a good read, but more importantly it shows how the Russian/Soviet/Putin mind works.

One of several things I took away from this book is that the Soviets did indeed covertly support the Anit-Viet Nam movement in our nation. This book made clear that the KGB in fact sent over money to various Anti-Viet Nam protest groups within our nation.
Vladimir Putin cut his teeth as a leader in the "State Security Apparatus" of the Soviet world. So why are we surprised that the Russian (nee Soviet) mindset seeks to worm its way into the inner workings and hidden mechanisms of our election?
Bottom line: I don't see WikiLeaks as part of the Russian efforts, whatever they may be. In any event the WikiLeaks has produced a vast pool of incriminating emails, all of which seem to have the necessary context within them to be standalone and credible on their face.
So why don't the general media dig into these emails? That's the real question. Blaming the Russians for WikiLeaks distracts from any possible vetting of those emails. Of course if the goal is distraction from the true issue such a characterization fits right in.

At 3AM Sec'y Clinton was not there when
Amb Stevens needed help.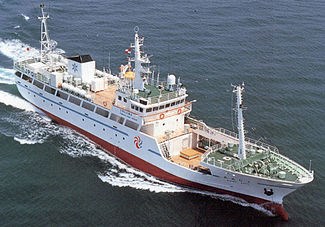 Wednesday morning (19th) I saw the TV ad by the wife of Ty Woods, one of the Navy SEALS killed in Benghazi. As I've listened to the back and forth on what happened there, the one item that keeps coming up is the failure of US Leadership (eg the Dept of State in this case) to call for help from the US Armed Forces.
I had the opportunity to see personally just how fast the US Military can react for real when the USS Greeneville sank the Ehime Maru off of Oahu in 2001. I was the senior officer in the SubPac HQ. I handled the initial hour and a half of the incident until the Coast Guard took over search and rescue (SAR). There are requirements to inform Washington quickly (as you can imagine). The response of Washington was equally fast. There is no doubt in my mind that our military was ready that Benghazi night, only needing the go signal from Dept of State. Given the time/distance issues for our forces to get there, someone needed to say "Go" very quickly.
Yet no one did.
At the end of the day, Sec'y Clinton was not there when the "3AM phone call" came in. Can we afford to have someone in charge of our nations ability to respond (including the "Nuclear Keys") who is so indecisive?
Here's the NTSB Report:
http://www.ntsb.gov/investiga…/AccidentReports/…/MAB0501.pdf
App C includes a timeline. This time line does not mention reports to Washington as they were not important to their report. I can tell you Washington was interested and paying attention.
Went to Jackson the other day and visited with the Jackson Hole Tea Party
Chatted with Kit Carson from Cheyenne briefly and we spoke of the Presidential campaign. Of course how the dems do business came up and I mentioned what I believe to be the core of their ethics. I later posted this on my Facebook page (BillWinney22):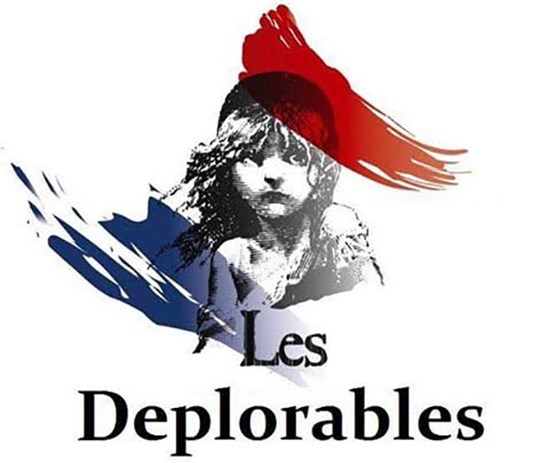 As I'm listening to the discourse and the revelations of the Wikileaks, the core ethic of liberalism comes to mind:
'Since what [the liberals] are doing is for peoples own good anyway, it is appropriate to lie if necessary to lead them along the way to their future.'
We have now seen things like commentator Chuck Todd fiddling the numbers to show hilary as ahead when in fact the numbers show the opposite. Similarly, the media was passing questions for debates to hilary ahead of time.

So, in a nation that believes in the 1st Amendment and therefore trusts the media to dig out and reveal the truth, where do we turn in holding people accountable?
Our nation had a long history of the First Estate (Clergy) setting the tone for calling people to greater things. A generation ago the Second Estate (Judiciary) began invading that realm. They have then become enablers of the liberal ethic.
What do we do? Whatever else is on the table, ensuring that the Second Estate is brought back from the precipice of 'defining a liberal religion' is of vast importance. Our founders had great faith in the media, but they never foresaw the possibility that the vast bulk of the media would begin carrying water for a single cause. Despite all of the distracting and stomach churning stuff in the media today, we must focus on ensuring the future of this nation and its adherence to our Constitution as envisioned over 200 years ago endures.
Wikileaks has shown the true nature of the campaign behind hilary and the role of the media in bringing that about. That must be stopped.
The next time you hear of hrc's international diplomatic experience consider this: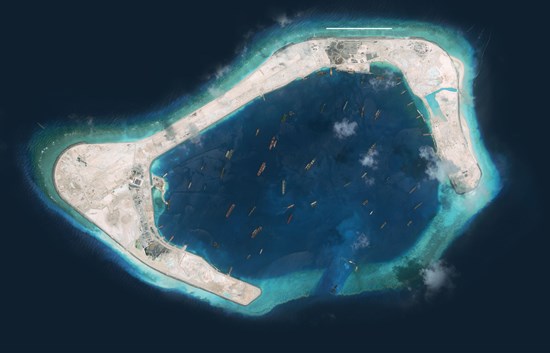 The US response to China's burgeoning takeover in the South China Sea has been extraordinarily weak. So weak as to bring a comment by the Chinese Navy's equivalent to the Chief of Naval Operations in a public forum regarding their beginning of island building in the South China Sea: "We... didn't expect the Americans would be so slow to react."
This in a public forum shows brazenness. They are a clear adversary intent on expanding their access to resources. They are violating international law as found recently by international courts. For those who think they want another 4 years of the kind of weak diplomacy of the current administration, think again. We stood by while Russia walked into the Crimea, taking it away from another sovereign nation. We are in the process of watching China take over the South China Sea. We cannot sustain a continuation of the diplomacy of the past 8 years as our nation goes forward in the 21st century.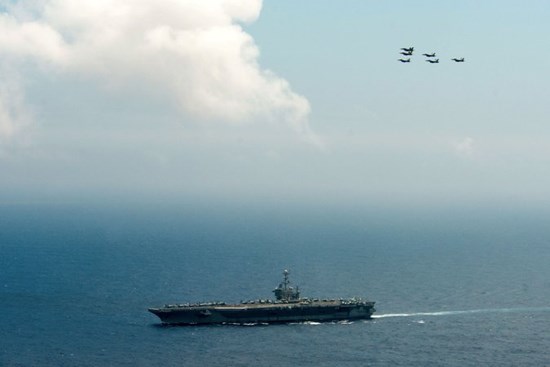 When you hear words like "Innocent Passage" associated with Freedom of Navigation Exercises don't be fooled. The term "Innocent Passage" is associated with a warship transiting sovereign waters of another nation. To apply it in this case is wrong. A Freedom of Navigation Operation makes a statement under international law that the waters transited by a warship are international waters. The issue is simple: if a nation makes a claim and it goes unchallenged, eventually it becomes recognized as fact. The intent of Freedom of Navigation Operations is to prevent any standing under international law of that assertion.
In the end, it is true that China did not begin island building until 2014, after hrc departed the State Department. Yet from my perspective she is clearly of like mind to the current modus operandi of the Obama Administration. If experience tells us anything it is that on things like this, standing by and hoping for the best is not the best policy. I am therefore skeptical of any claim that hrc has valuable experience in the realm of diplomacy.
Here's the article: http://www.nytimes.com/…/a…/philippines-south-china-sea.html
Taxes & Such


I find the discussion on Donald Trumps taxes self-servingly disingenuous by the media. Here's what they ignore. The clinton foundation took in enormous monies which were then used for travel and other "expenses" by the clintons. A recent article analyzed how much of what they took in actually went to charitable benefits: 5%! :-( That is a truly significant, and tiny, number. What it means is that their foundation was simply a vehicle for gathering money and using it without paying taxes on it. In contrast Donald Trump carefully used the tax code to minimize his taxes: That is as American as Apple Pie. Come on.
Here is an analysis of the foundation's Tax Form 990 filings.
This is worth watching: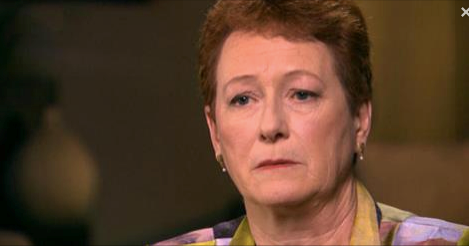 "http://www.cbsnews.com/videos/preview-dont-mess-with-mary-quin/"
Military Wives are tough in their own way. Mary Quin shows this. As I saw my wife, Louise, cope with the demands of my service to the nation, I developed a vast respect for her. More importantly a respect for what military wives face and how they problem solve those demands while bearing children and then raising their family.
An example is when Hurricane Hugo struck Charleston, SC. My ship, the USS Benjamin Franklin, newly out of a 2-3 year overhaul, was scheduled to deploy on its first patrol two weeks later. Many families had significant damage to their homes, it took many weeks for electricity to be restored, and there were many other lesser problems to be dealt with. Louise, along with several other wives such as the Ships Ombudsman, got things going, ensured that the Navy's support network was focused on the most pressing of needs among our families, and just made things work.
USS Benjamin Franklin deployed on time and performed as the nation needed for the next nearly 3 months with almost no communication with families. We overlook the importance of a serviceman's family in such deployments. Our servicemen and women can only perform to the level this nation asks if they are confident their loved ones are taken care of.
The support network built by wives is of vast importance to this nation, but it is often unseen. These wives "just do it" to borrow a phrase. Our nation should just say Thank You and ensure this is not forgotten. Mary Quin is the wife of a US Marine Officer, a graduate of the US Naval Academy, 1970.
In her own way Mary Quin, shows this toughness of mind and spirit.

Star Valley & Wyoming deserve far better than This
This Facebook Post was false.

Once I learned of the above false posting I went back to the only person it could have come from. Here are his Facebook message responses: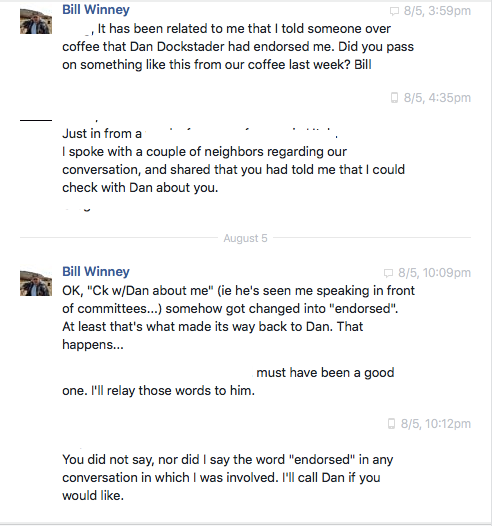 These make it clear:
1st I did not say what was alleged
2nd No one sought to check or verify what was said.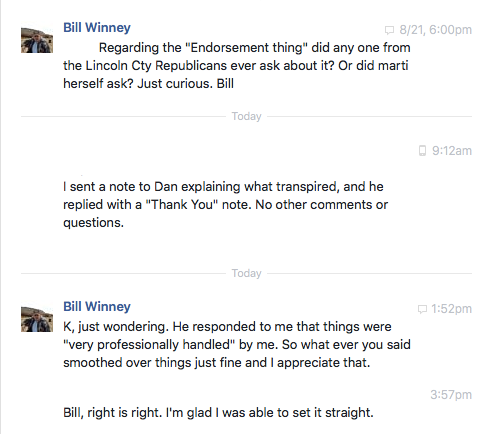 The question facing Star Valley, Teton County, & Sublette County voters is starkly clear: can you trust this person. Will they actually do what they say they will do when they get to Cheyenne.
The second question is as a conservative this candidate proposes to be a keeper of core conservative values. The above does not jibe with such values.
Hotel California
Whose Ox will be Gored
in the coming General Session

As Wyoming's Legislature deals with the reduced revenues where will the money come from to keep promises made over the years? Here's a look into how CalPers (California Retirement Systems) does business with two sets of books: Hotel California, you can checkout any time but you can't leave

During my summer campaign I spoke to protecting certain areas... and was called a budgeteer out of the 30's... Yet it is always the way of those in the financial world to figure out how to transfer costs to others. If they can do it in a seemingly non-monetary fashion while reducing expenditures they'll take it every time.
What our legislature faces come January is 'realpolitik.' How do you fund all of those vastly necessary things without dinging someones funding stream. Well you pick those least able to come back at you in the next ballot box.
Out of the 30s?

My Service as a Commanding Officer
of a Nuclear Submarine

I have now heard a rumor that it was spread during the summer primary campaign that I had not really served as a Commanding Officer of the USS Benjamin Franklin (SSBN 640)(Gold). That somehow I was just making this up to impress people. The SSBN designates her as a Nuclear Powered Fleet Ballistic Missile Submarine.

Go to www.ssbn640.com, then click on the "640 Roster" on the left side of the page. Then scroll down alphabetically. You'll find me there. Serving from1988 to 1991.

'Nuff said.

Donald Trump's Women's & Families Initiative
Last May, shortly after the Republican National Convention I penned a letter to the Republican Nominee for President of the United States. One of the issues I felt important to him was that of how women are treated in the workplace and my letter addressed that from the perspective of a perception I developed in the summer of 2014 in campaigning across Wyoming.
Very simply about halfway through that campaign I began to sense what I called a 'subterranean anger' in the women I spoke to at the many, many doors I knocked on. This anger was very simple and straightforward: Women feel that they do some heavy lifting within society in bearing and raising children and supporting families. Frequently they end up as a second breadwinner within a family. The end result of this second breadwinner role is that their careers do not develop.
Candidate Trump has now published a plan regarding families and women. I am heartened that he has done so and can only hope that my letter may have had a teensy-tiny smidgeon in forming his thinking. Here's that portion of my letter:
"In the summer of 2014 I campaigned statewide in Wyoming for Superintendent of Public Instruction. Although I didn't win I noted something that I feel will be critical to you in winning over women voters.
"I hit something on the order of 17,000 doors across all of Wyoming. Not every house had someone home, but you can figure the hit rate for talking with people at their door.
"About halfway through my campaign I began to develop a sense of how women think about their relationships with men. Quite simply there is a "subterranean" anger. Women feel that they are not given a fair shake in the world in general. They feel they do a lot of hard work in raising the next generation, keeping themselves out of the mainstream (in my observation within my marriage a baby takes about 5 years from them). They accept that as part of raising children.
"But they expect to be able to re-enter and, based on their ability and performance, be accepted and progress in their profession. But they find all sorts of subtle barriers in their way including the legal system which they sometimes resort to when treated poorly.
"Women operate in the workplace differently. They are the workplace organizers, they find solutions and make the system around them operate better, and they are those that make the social side of businesses operate more smoothly. In contrast, the workplaces they all too frequently face have been organized by men who ascribe to Napoleon's dictum: a commander does not seek a bigger tent, he seeks a bigger command. Yet, in contrast, many women seek to make "their command" work better and more smoothly.
"In essence women just "suck it up" accepting that as the price of bearing children. Yet they remain angry.
"So how do you fix this? You find those subtle barriers and strike them down. I observed and assisted my wife in her efforts against an ungrateful school system. Yet at every turn the system gave what I believe were dishonest administrators a pass while holding her to a higher standard.
"I served 30 years of Active Duty in the Nuclear Submarine Force. My DD-214 reflects 30 years and 24 days of active duty, she was my wife for 30 years and 22 days (and still is my wife). I have been disgusted by the recent dishonest treatment she received and the more so because during our 19 moves in 30 years, she had little time to develop a career. She did the best she could as we moved around, but in the end when convenient for administrators her frequent moving was held against her instead of being seen as her bringing vast experience to the table.
"Once she did begin to develop a career, for example making National Level Conference presentation in the Reading and Literacy field, she ran up against a system designed by administrators (mostly men) to "keep teachers (by far mostly women) in their place." Every level of Wyoming State government and the NEA were useless. They all hid behind various chimeras or buzz phrases as "local control" or "right to work."
"You want to fix education? Make the system treat teachers as professionals (a good system for this is the US Public Health Service where doctors readily find themselves working under nurses). If you talk with teachers you'll find disrespect for most administrators (who all too commonly have far less blackboard time). You'll hear teachers say things like "so what's the flavor of the week" referring what is the new shtick by their administrator."
Good luck Donald Trump, there is still some heavy lifting to be done here.

Proud to be one of Les Deplorables

Just saw this on Fox News...
Someone has done a takeoff on Victor Hugo's Book about the French Revolution "Les Miserables" and for those who may have struggled through reading his book in HS English in years past it's just too good to pass up.
Les Deplorables... Those of this nation who believe in conservative principles and the constitution. Just saw this on Fox News... Proud to be one of Les Deplorables!

Thank you.
There were many people who greeted me warmly at their front doors as I traveled the district. We had many good conversations and I learned things along the way. Good, tough questions always cause me to learn things. About the people, about their needs, and most importantly about how they view the future and what they expect of Cheyenne.
Thank you to all of the people of HD-22. There were very few "grouches" in the district, a few to be sure, but many, many who want a functional legislature.
Thank you!

Bill Winney
News Flash
I have gotten wind of something...
About two weeks ago I had coffee with Greg Erickson of Etna. He then spoke with some neighbors. It later came back to me via Dan Dockstader that someone had attributed to me saying that Dan Dockstader had "endorsed me." Not so. I closed the loop with Greg Erickson on this and he responded:
"Bill, You did not say, nor did I say the word "endorsed" in any conversation in which I was involved. I'll call Dan if you would like.
Greg"
What ever has been said about this is hearsay and untrue.
Leadership
I believe that leaders are obligated to go to the people and talk with them directly. It is not enough to talk with other local leaders. One must go to the people, listen to and compare their needs and views with others. Then put these into action. One must be careful about going to a smaller, comfortable group of people. You only hear what you want to hear when you do that.

I have gone to many doors throughout the district and been received warmly. Thank you. What I hear is frustration with the process. Somehow what seems to happen is an agenda plays out, not what the people want.

One hears ground truth at the front doors. There is no audience to play to, no friends to assure of like mindedness, just what a person thinks. Be assured that I will carry your messages to Cheyenne.
I ask for your vote tomorrow, Tuesday, August 16th in the Republican Primary.

Hard Working Veteran & Republican
As I see things there are three big issues facing Wyoming: (1) dealing with the large reduction in revenues, (2) getting education on track, and (3) ensuring that Wyoming does not seek a tax increase as a fix for the revenue problems.

Making these things happen means HD 22 must have a powerful Republican voice.
Wyoming's revenues projected in the CREG report (April 2016 update) are starkly declining.
The core of the primary campaign season is that many, many people have had enough of politicians that say one thing at home and perform differently in Washington (or Cheyenne). The core of how I do business is to go to and meet with people. I listen and compare then put what I hear into action. That is my promise to you as I talk with you at your doors.
I believe my opponent's record is clear: empty rhetoric and harsh conservatism.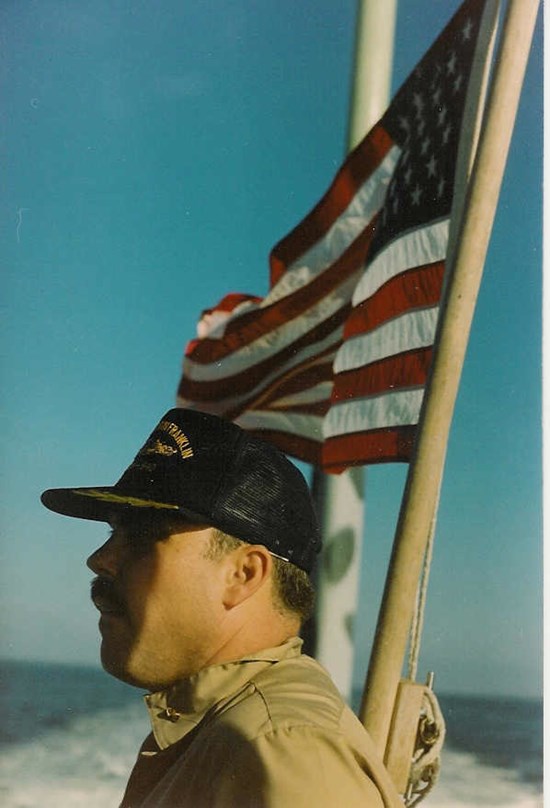 Throughout my 30 years of active duty in the Navy I had a strong ability to look beyond the horizon and recognize problems and get them fixed before they became problems. I did this primarily by looking hard at how I did business and how the policies and procedures I put out affected my people. I paid great attention to what I said ensuring that I did not speak in hollow language with no capability of putting things into action.
In our case the horizon is now and shows limited state revenues. Comfortable talk-talk won't get us where we need to go.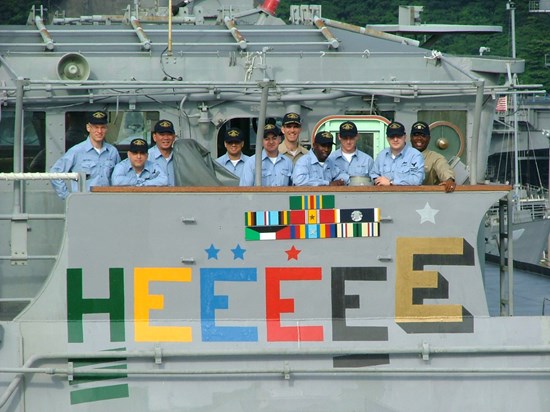 Everything I did throughout my career was done through people. Say it any way you want to: the people did the hard work. In this picture to the right of another ship's crew, the crew members of the USS Chancellorsville in 2014 show off their awards. They did the work!
My first initiation to budgeting was in 1985 where the early flush Military budgets turned over and vast reductions in those programs were on the way. Later in my career I managed large funding programs. For two years I served as the Program Director for the Virginia Class Attack Submarine Program. One submarine in acquisition has a budget almost as large as the Wyoming State budget (and there were between 6 & 8 in production at any one time).
One important skill I developed was the ability to interact with the legislative process. I've used this skill as a private citizen in front of our legislature, most recently speaking up on education issues. I earned the Competent Toastmaster Certificate and it has made a real difference in my ability to speak and convince in settings such as Public Comment in front of our legislature.

This past Budget Session I spoke up on behalf of Military Spouses and was then invited by the Committee Chairmen to submit a topic for interim studies. I am now working with the Adjutant General's Office developing this. I was honored with this as I did not expect my words in front of the committee to turn into an invitation and then become a real topic.
Private Citizens can make a difference.

News
Friday, August 12, 2016 12:38 PM
The NRA's Political Victory Fund has rated me as Aq in their candidate ratings. I'm a long standing NRA member with a solid view of the Second Amendment. I believe it is quite clearly worded.
---
Friday, August 12, 2016 11:40 AM
The article incorrectly states that I support decriminalization of Marijuana. The question was specifically about medical marijuana. My response was that when the medical community finds marijuana has a place or utility in medicine then laws should follow. That is not an endorsement of decriminalization.
---
Thursday, August 11, 2016 5:39 AM
JHN&G Published positions on key issues.
---
Wednesday, August 10, 2016 8:18 AM
Recap of candidates for House District 22.
---
Wednesday, August 10, 2016 8:02 AM
In this article the author doesn't get my position correct on Public Lands. I believe that federal lands should be returned to the states. I find the premise that states cannot properly manage lands is wrong. Read down and look at what I actually said in responding to their question.
Curiously, this paper, in contrast to the JHN&G, did not ask any in depth questions. For example 'Why are you running?' All PJH did was forward 5 questions for response.
They did review my website and capture the essence of why I'm running: My opponent's harsh rhetoric and empty words. Her record in the House is one of ineffectiveness.